Donald Trump's Reported Contender for Border Czar Wrote One of America's Most 'Mean-Spirited' Anti-Immigration Laws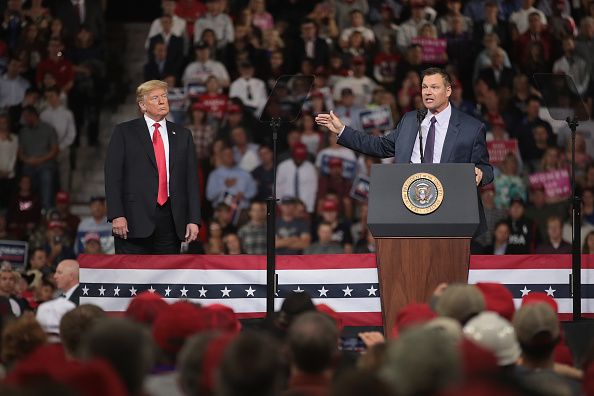 President Donald Trump is reportedly considering adding a "border czar" to his administration, and the individual said to be at the top of the list of potential candidates is Kris Kobach—a Republican who helped author one of the harshest anti-immigration laws in recent history.
"In this administration, it does not surprise me at all. He exemplifies the view of this administration, which is contrary to American history because immigration is very much the story of success in this country," Joyce White Vance, a former federal prosecutor, told Newsweek on Tuesday.
"Kobach is anti-immigration in the most mean-spirited way possible. And that's clearly the policy that this administration has chosen to adopt towards immigrants," Vance added.
According to an Associated Press report on April 1, the White House is looking for someone to spearhead the president's immigration initiatives amid a surge in migrants crossing the southern border. On the shortlist of possible appointees is Kobach, the former Kansas secretary of state, and Ken Cuccinelli, the former attorney general of Virginia.
While both men are immigration hardliners, Kobach once lent a hand in the creation of Alabama HB 56. The 2011 law is seen as one of the strictest anti-immigration policies in the nation and was once heralded by state lawmakers as an initiative for people to "deport themselves."
The law, officially titled the Alabama Taxpayer and Citizen Protection Act, was aimed at curbing illegal immigration. Its net effect was to make the state inhospitable to undocumented immigrants by essentially creating new immigration-related crimes.
Under HB 56, renting a house or giving a job to an "illegal" became a crime. It required state police officers to investigate or detain people based on a "suspicion" that they may be undocumented. Educators were also told to collect information regarding the immigration status of the students and their parents.
"That, of course, tamped down on school participation and school attendance," Vance said. "If you're a 7- or 8-year-old kid missing a year of school while that litigation went on, that's a huge game-changer for the rest of your life. But that was what it was intended to do."
Vance was serving as a U.S. attorney during HB 56's passage and successfully challenged key provisions of the law in court in United States v. Alabama. The Obama administration essentially argued that the state could not create its own immigration law that is contrary to federal policy as it would be a violation of the Supremacy Clause of the Constitution.
The law has continued to unravel as many of its most substantial provisions have been blocked in court.
Even Trump, whose administration's "zero tolerance" practice resulted in hugely controversial family separations, couldn't get on board with the idea of self-deportation for undocumented immigrants. After the 2012 election, he told reporters that the policy was "maniacal" and that it "sounded as bad as it was."
The White House would not comment on whether Kobach is being considered for the immigration czar position or whether the administration supports this law.
But now, the president faces what his immigration agencies have deemed a "breaking point" at the U.S.-Mexico border. Last week, U.S. Customs and Border Protection officials reported that over 4,000 migrants were arriving per day. CBP chief Kevin McAleenan said it was just a "matter of time" before tragedy will strike at an immigration facility.
Photographs also went viral showing hundreds of men, women and children trapped in parking lots at the border, prompting an immediate backlash by Democratic lawmakers.
"It's without a doubt a reflection of what white nationalism is doing to our country. As a country, we have to acknowledge that this is how people are being treated here and decide that we are better and we must do better," Ilhan Omar, a freshman congresswoman, tweeted in response to the photographs. Alexandria Ocasio-Cortez shared the sentiment and encouraged Americans to reflect "on the course of action" the country has chosen.
But Trump's response was to threaten the closure of the southern border entirely. In a tweet last week, he said he was "not playing games" and that they would keep the border closed "for a long time." The president also warned that he will cut off hundreds of millions of dollars in aid to Central American countries.
On Tuesday, Trump told reporters that he was "ready to close" the southern border "if I have to close it." The president also praised border patrol for their work but continued to call the country's immigration system "maxed out."
According to the Associated Press, a Department of Homeland Security official noted that "immigration czars" have been used in the past when there's an "urgent need" for coordination among several federal agencies.
Kobach already has experience working in the Trump administration on the president's election fraud commission, which was eventually disbanded. Recently, he has been working on the advisory board of WeBuildtheWall Inc., a nonprofit raising money to build the president's long-promised border wall.
"Sometimes we need to all just need to take a step back and look at what's really in the best interests of our citizens," Vance said. "We obviously need comprehensive immigration reform in this country, but this sort of legislation is not the way to get there and Kobach's policies are not what's got the best interest of folks at heart."