Despite the reluctance to begin impeachment proceedings against President Donald Trump, Representative Al Green, a Texas Democrat, on Wednesday urged his colleagues to remove the president from office before the 2020 "election becomes the focal point.
"I stand where I stood 659 days ago and I will continue to stand until this president is removed from office," Green said on the House floor.
"We can investigate to the extent that we engage in what Dr. [Martin Luther] King [Jr.] called 'paralysis of analysis,'" Green continued. "Just investigate until it's time for another election, and then the election becomes the focal point.
"My dear friends, my dear brothers and sisters, those who desire to wait may do so. I will not wait. Impeachment is not dead."
Green has leveled several accusations of misconduct against Trump since he first called for the president's impeachment more than 21 months ago, and forced two votes to begin proceedings that failed by large margins.
Citing investigations of the president by Democratic lawmakers, Trump said the 2020 election race had started and that he would fight them on the campaign trail.
"Basically they've started the campaign, so their campaign begins, but…their campaign's been going on for the last two and a half years… They could not stand losing in 2016… And they just haven't gotten used to the fact that we won a lot of states that haven't been won by Republicans in a long time," Trump said. "But essentially…the campaign begins."
Green is mostly alone among lawmakers in pushing to impeach Trump, and for calling for impeachment regardless of what special counsel Robert Mueller's investigation finds. Democratic leaders, including House Speaker Nancy Pelosi, have repeatedly said they wanted to wait to see Mueller's report before considering impeachment.
On Tuesday night, Trump slammed the other major voice in the call to remove him from the White House, a billionaire Democratic donor who has been holding impeachment town halls across the country.
"Weirdo Tom Steyer doesn't have the 'guts' or money to run for President. He's all talk!" Trump tweeted.
A Quinnipiac University national poll released Tuesday found that the majority of American voters, 59 percent, don't believe Congress should start impeachment proceedings, while 35 percent believe it should.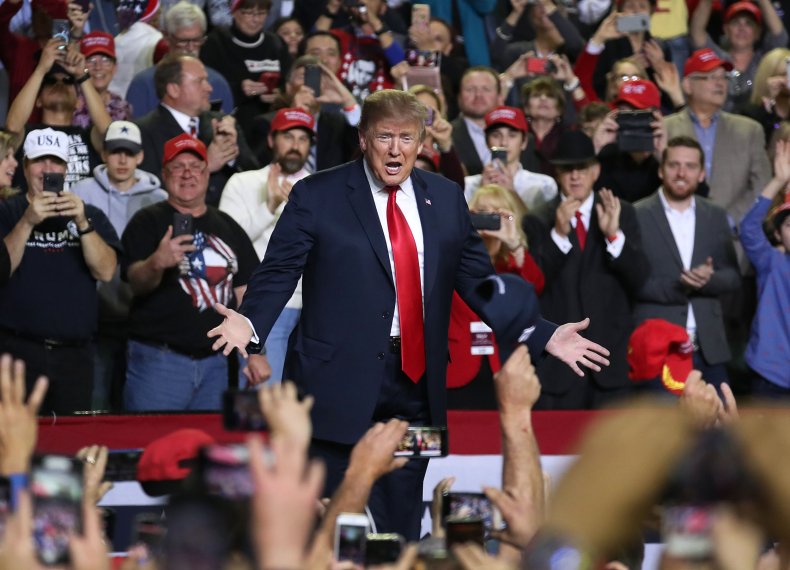 Besides the 2020 election around the corner, Green reiterated the reasons he had previously cited for why Trump should not remain in office. They included Trump's immigration policy that led to family separations at the southern border, calling African nations "shithole countries" and blaming, and than praising, both sides in a white nationalist rally in Charlottesville, Virginia, that turned deadly.
"Yes, the evidence is there because the president was putting in his policies, these bigoted, bigoted statements," Green said. "These statements went beyond his word. They became a part of his policy, and for this, he can be impeached."