Support for Donald Trump's Impeachment Is Higher Than His Approval Rating, Poll Indicates
President Donald Trump is a mere 1 percentage point away from former commander in chief Richard Nixon when it comes to the number of Americans who want him impeached, according to a new poll released Friday.
A wide-ranging SRSS poll conducted for CNN touched on a number of topics, including Trump's handling of the investigation into Russia's meddling in the 2016 election, and whether or not the president should testify before special counsel Robert Mueller.
But the question of impeachment stood out most, especially vis-à-vis the only president who ever resigned: Nixon.
Forty-two percent of those polled answered that Trump "should be impeached," compared to 51 percent who answered they "don't feel that way" and 7 percent who registered no opinion.
Five months before Nixon would eventually leave office in disgrace over the Watergate scandal, 43 percent of Americans thought he should be impeached, per a poll from March 1974, CNN reported.
The current poll also reflected a 39 percent approval rating for Trump, his lowest mark in the SRSS poll since February, when it was 35 percent. Results from March and May were far stronger, at 42 and 41 percent, respectively.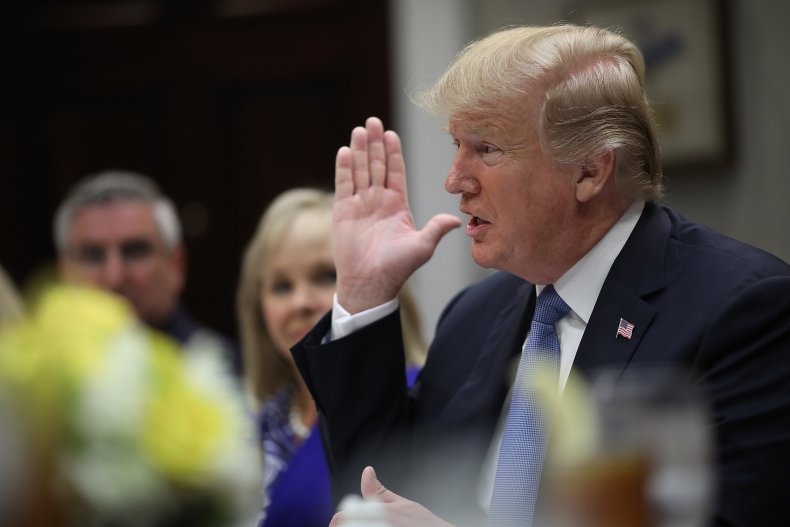 Trump's three closest predecessors did not receive a number higher than 33 percent of Americans wanting them out of office. Between August and September 2006, George W. Bush had 30 percent of the country saying he should be impeached, while 33 percent felt the same about Barack Obama in July 2014.
Bill Clinton notched 29 percent twice in two September 1998 polls, at the height of the scandal involving Monica Lewinsky.
Overall, Trump's average approval rating has increased steadily over the past several months. Recent polls indicated 43.7 percent of the country approved of Trump's work in office, compared to 51.1 percent who disapproved, according to RealClear Politics' average.
Trump had been polling in the mid-30s as recently as last fall, but the U.S. economy has surged and the unemployment rate has continued to fall, giving the president stronger approval ratings.
The SRSS poll, however, showed Americans strongly rebuking Trump's claim that he had the power to pardon himself. Seventy percent of those polled answered they would disapprove of Trump issuing himself a pardon, while only 21 percent said they would approve.
Trump said it would be unnecessary to pardon himself because he had done nothing wrong, but his critics and even Republicans were quick to state that it would be wrong for a president to use his constitutional pardon power in such a manner.
"As has been stated by numerous legal scholars, I have the absolute right to PARDON myself, but why would I do that when I have done nothing wrong? In the meantime, the never ending Witch Hunt, led by 13 very Angry and Conflicted Democrats (& others) continues into the mid-terms!" Trump tweeted June 4.