Democrats Search for a 'Path Forward' on Impeaching Trump in John Dean's Testimony
It might be 2019, but Democrats are looking to John Dean to be their guiding light.
The former Richard Nixon White House counsel will testify before the House Judiciary Committee next week as part of a series of hearings about the Mueller report, offering Democrats a prime opportunity to further publicly highlight what a growing number of members believe to be impeachable offenses committed by President Donald Trump.
Democrats are increasingly split on opening an impeachment inquiry into Trump, as more members across Capitol Hill defy leadership's wishes and join their dozens of colleagues in advocating for such a proceeding—and they hope Dean can help their position and messaging.
"It will be very, very helpful to us, as we think about the path forward," Representative Pramila Jayapal, a Judiciary Committee Democrat, told Newsweek. "What were the things that were relevant from Watergate? What were those tipping point moments? What do the American people need to know about what was in the Mueller report? This will help us to continue to get the information out in front of the people about what exactly has happened."
The divisive topic of impeachment continues to loom large over the Democratic Party — whether they like it or not — as they seek to force the Trump administration's hands in complying with their congressional probes into obstruction and abuse of power. Dean knows all too well about those topics, having pleaded guilty to obstruction of justice for his involvement in the Watergate scandal in the 1970s that led to the unraveling of the Nixon administration. His cooperation with a special prosecutor and his testimony before Congress about key Watergate figures — including the president — helped to move lawmakers and the public on impeachment and push Nixon to resignation.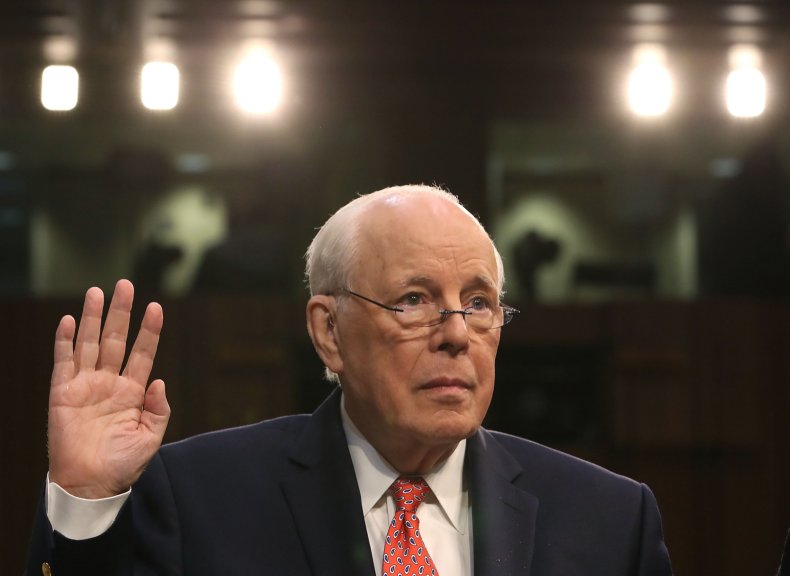 Now, decades later, Dean's testimony could sway Democrats and help to shift the public's perception on impeachment for a different president.
"We're still doing what we wanted to do in the very beginning: to make sure that the public has as much information as they possibly can, and that we continue to lay out a case to begin impeachment proceedings," Representative Val Demings, a Judiciary Committee Democrat, told Newsweek.
Democrats reiterated it was not their intent to hold such hearings for the sole purpose of persuading anyone's particular mind on impeachment, it's to "be sure that the American people understand the contents of the Mueller report," as Representative David Cicilline, a Judiciary Democrat, told Newsweek.
But the former special counsel's public remarks last week, in which he simply highlighted information already revealed in his 448-page report, acted as the tipping point for many House Democrats on calling for impeachment proceedings. They said that simply hearing from certain figures in public, such as Mueller and Dean, could act as a game changer to how they proceed and how the public wants them to proceed.
"It's a fluid situation that we're in," Representative Jamie Raskin, also a Democrat on Judiciary, told Newsweek, speaking on whether Dean's upcoming testimony could have the ability to move the needle on impeachment. "I think it's unfolding. Anything could change the direction we're going in."
Although he's referred to impeachment in the past, Representative Hank Johnson does not agree with some of his Democratic colleagues that now is the time for an impeachment inquiry. There's too little support for it in Congress, as well as with the American people, the Judiciary Committee Democrat told Newsweek, in order for him to call for the proceedings.
However, he, too, viewed the upcoming hearings with Dean and other prominent legal experts as a chance to shift the public's mind and, as a result, perhaps begin to change minds like his.
"Most people are not going to read the Mueller report. But a lot more will be watching the proceedings on TV, and we can make up their minds in that way," Johnson said. "Most people are receptive to new information. The information has to be presented to them in a manner that is relatable."
This story was updated to include comments from Representative Hank Johnson.