Would Donald Trump's Impeachment Lead to Economic Collapse? Here's What Nixon, Clinton History Tell Us
President Donald Trump said Wednesday that if he were to be impeached that the "market would crash" and "everybody would be very poor."
The president's comments came in an interview with Fox & Friends days after two of his former top confidants Michael Cohen and Paul Manafort were deemed guilty of federal crimes. Cohen, Trump's former personal attorney, delivered a huge blow to the president when he pleaded guilty and swore under oath that he was directed to commit campaign finance violations at the "direction of a candidate for federal office."
Trump, though, claimed impeaching him would hit Americans in the pocket.
"I think everybody would be very poor, because, without this thinking, you would see, you would see numbers that you wouldn't believe in reverse," Trump told co-host Ainsley Earhardt, adding that he doesn't "know how you can impeach somebody who's done a great job."
There is some, limited, validity to the president's claim.
"You could end up having a very short-term downdraft in the market," Sam Stovall, chief investment strategist at the Center for Financial Research and Analysis, told Newsweek on Thursday. "The stock market doesn't like any uncertainty, and obviously a Trump impeachment would throw uncertainty into the mix."
But even if Democrats retake control of the House of Representatives in the upcoming midterm elections, a likely outcome as polls predict a possible blue wave and because midterms generally see the party in power lose seats, Democrats have almost no possibility of getting the two-thirds majority in the Senate they would need to convict Trump.
In the unlikely event that Trump does leave the White House and Vice President Mike Pence assumed the presidency, the climate could even better for the economy, Stovall suggested.
"Even if the president was removed, I think the vice president is essentially Trump without the tweets," Stovall added. "I think that the policies would likely be carried on, but with toned-down drama."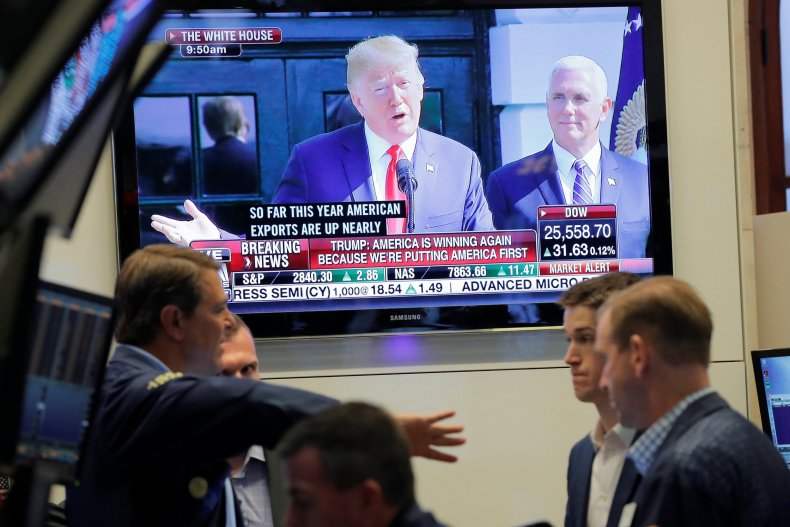 Those policies, so far, have led to a continued economic boom under Trump's tenure in the Oval Office. The country's unemployment rate reached an 18-year low this past June and job growth continues to expand. Once investors realize that there is no real change in policy, they are likely to consider a recession highly improbable, Stovall explained.
Past presidential impeachments or resignations also don't necessarily point to a possible "market crash" as Trump claimed.
When Richard Nixon resigned from office in August of 1974 the stock market took a hit, with the Dow Jones taking a 15 percent loss that month. But Stovall dismissed any claims that Nixon's resignation caused any major economic collapse.
The country was already going through a near 50 percent bear market that had started a year and a half earlier with an OPEC oil embargo. Stovall said Nixon's resignation may have "prolonged the situation by a month or two," but he doesn't believe the president's removal really "did any harm" to the market.
In the case of Bill Clinton's impeachment, in 1998, investors actually saw the market hit an all-time high while the proceedings were taking place in the House and the Senate. The economy did see an overall loss at the start of the Clinton investigation, beginning to fall before the release of the Starr report. Yet from the time Congress decided to take action to the moment of Clinton's acquittal in the Senate, the market rose nearly 30 percent.
"I think that while conversations might be driven by the headlines, stocks are ultimately influenced by the bottom lines," Stovall said.
Would Donald Trump's Impeachment Lead to Economic Collapse? Here's What Nixon, Clinton History Tell Us | U.S.