Impeachment proceedings against President Donald Trump would have a far greater chance of success if Republican lawmakers were allowed to vote via a secret ballot. That's according to a Democratic congressman who introduced articles of impeachment against the president in 2017.
In an interview with Newsweek, California Representative Brad Sherman said removal of the president remains an enormous challenge, but he retains hope of winning over enough Republicans to make it a reality. "This is the strangest politics I've ever experienced," he said.
For Democrats to secure successful impeachment, conviction and removal of Trump, two-thirds of the Senate must vote that the president is guilty of the crimes alleged. This means 20 Republicans need to side with all Democratic and independent senators against Trump. "It's a huge task," Sherman said.
The congressman is no stranger to impeachment efforts, having joined Texas Democratic Representative Al Green to first introduce articles in the summer of 2017. However, a December motion to sideline the measure was passed 364-58 by the Republican-majority House.
Sherman reintroduced the articles on the first day of business for the new Democratic-controlled chamber in January. His goal is to keep the conversation current. He argued that by taking the action, he "increased by 1 percent the total number of times" Americans would hear about possible impeachment.
The conversation is all about keeping pressure on the embattled president. "If the president had not feared impeachment, what would he have done beyond what he did?" Sherman asked. "Firing [special counsel Robert] Mueller is number one on the list, but you can add more.... So we should have talked about impeachment in 2017. We should be talking about it now. We should at least be talking about it at the appropriate level."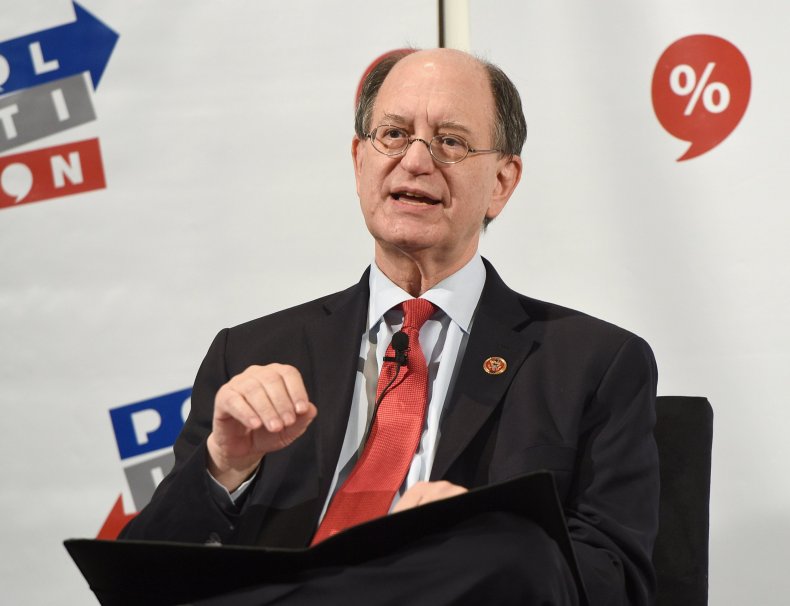 Not all Democrats agree with his bullish approach, including House Speaker Nancy Pelosi. "I'm not for impeachment," Pelosi told The Washington Post last week. "Impeachment is so divisive to the country that unless there's something so compelling and overwhelming and bipartisan, I don't think we should go down that path, because it divides the country. And he's just not worth it."
Sherman suggested that despite the media frenzy over Pelosi's comments, "all it shows is that she's got a sense of humor. What she said was, I'm not ready to do it until it's bipartisan."
The downfall of President Richard Nixon shows that—if sufficient evidence of serious wrongdoing exists—Republicans can be won over. Though Nixon resigned before he could be impeached, it was widely expected that both the House and Senate would have voted to put him on trial.
"Donald Trump is less popular with Republican senators than Richard Nixon was, certainly at the beginning of the relevant term," Sherman explained. "Richard Nixon carried every state in the Union except one…. You couldn't say Richard Nixon didn't win the popular vote."
The continued Republican backing for the president is "not out of love for Trump," he argued. "If it could be a secret ballot, we'd have a much better shot."
Of course, Trump's America is wildly different from Nixon's. Sherman recalled a conversation he had with longtime Trump associate and Republican operative Roger Stone—currently awaiting trial over charges that he lied about his efforts to secretly contact WikiLeaks in 2016—about why it would be much harder to remove Trump than Nixon.
"He said, 'Look, back in 1974, there was one media, and everybody watched it. And you convinced the media that Nixon was a crook, and our people followed,'" Sherman said, paraphrasing Stone. But the explosion of new media and social media has fractured the news landscape. "You'll never get our guy," Stone then said of Trump, according to Sherman.
"So 2019 or 2020, it would take the level of evidence and explanation that we had in 1974," the congressman said. "It's going to be a bit harder now…. I guess we're going to need to find the equivalent of the smoking-gun tapes."
'Facts Change Minds'
Ongoing investigations could discover new facts, and Sherman stressed that "facts change minds." Trump and his inner circle are under pressure from House investigators and special counsel Robert Mueller, whose report into alleged Russian meddling in the 2016 election is expected soon. Fresh revelations are putting the Trump White House on the defensive, and House Democrats show no signs of slowing down.
"We need to investigate in every way we can," Sherman said. "We need to present the information to the American people. If that has the effect of making people reluctant to vote for him in 2020, that's not a bad thing. If it leads to his impeachment and removal, that's not a bad thing."
Sherman continued, "One hundred percent of [Democrats] agree on the most aggressive investigation possible, and 100 percent of us are going to look at the situation every day, every week, every month, to decide what to do next."
But the 22-year representative is far from naïve about what it would take to bring down a president that wields such influence over his party and commands passionate loyalty from his base.
"It not only depends on what level of proof you have, it depends what crime," he explained. "If you have total proof that he shot somebody on 5th Avenue, that would be one thing. I voted against impeaching President [Bill] Clinton, and one of the reasons was that even if he lied about his sex life, I didn't think that was a reason to remove him. It's not only level of proof, it's level of proof of what violation. And we're going to need strong proof of a strong violation."
The Democratic Party is already well into its 2020 journey. As presidential candidates jostle for coverage and compete for funding and staffers, some party members may wish to focus on beating Trump at the ballot box rather than taking him down through impeachment.
"I think we can win," Sherman said, suggesting that "2020 is the most important election in our lifetimes." If the American people decide that Trump deserves a second term, it would make it "unlikely that we would impeach him for anything the electorate was clearly aware of at the time of the election," Sherman warned.
Though some groups within the Democratic Party may wish to present a more radical, progressive platform for 2020, Sherman would be happy simply to get Trump out of office. "I'd certainly be content to win with the slogan 'Make America Normal Again…and it fits on a hat,'" he joked.
"I think even people who are in the middle just want the country to be calmer," he said. "They want CNN and MSNBC and Fox to have lower ratings. We want our entertainment to come from sports and fiction."
Sherman continued, "I hope that people will realize is that the number one thing here is to survive the crisis, to get Trump out. And then worry about scoring a touchdown later—we've just got to get the ball."
As for the 2020 Democratic field, Sherman said, "The stupidest thing for us to say is, 'Anybody we nominate will beat Trump.' That's not true. Any candidate we nominate has a 51 percent chance of beating Trump. But to put my country at a 49 percent chance of absolute disaster is not patriotism."