Donald Trump Impeachment Inquiry Latest Updates
Hello, and welcome to Newsweek's daily impeachment blog. We'll be updating this every day with everything you need to know.
Wednesday December 18
History was made today: President Donald J. Trump became only the third president in history to be impeached.
The two articles of impeachment passed almost exactly along party lines: abuse of power (230 in favor, 197 against, with Rep. Tulsi Gabbard of Hawaii voting "present") and obstruction of Congress (229 in favor, 198 against, with Gabbard again voting "present").
The final vote came at 8:53 p.m. ET, after eight hours of debate on the House floor. House Speaker Nancy Pelosi looked somber in all-black, wearing a pin of the chamber's ceremonial mace, as she opened the floor debate, saying the president "gave us no choice."
A unique moment came four hours later when Representative Bill Johnson, an Ohio Republican, asked for a moment of silence to "remember the voices of the 63 million American voters the Democrats today are wanting to silence."
He was soon followed by Representative John Lewis, a Georgia Democrat and civil rights leader. "When you see something that is not right, not just, not fair, you have a moral obligation to say something, to do something," he said. "Our children and their children will ask us: 'What did you do? What did you say?'"
Trump started his rally in Battle Creek, Michigan, at 7:30 p.m. ET tonight.
Tuesday December 17
While the House Rules Committee debated guidelines for what is expected to be an impeachment vote on the House floor tomorrow, there were two extraordinary developments:
President Donald Trump sent a wide-ranging six-page letter to House Speaker Nancy Pelosi. The language, and grammar, seemed pulled straight from the president's Twitter account. Trump called Pelosi's actions "spiteful," doubled down on his description of his call with Ukraine's president as "perfect," and again brought up his 2016 win: "Your chosen candidate lost the election in 2016, in an Electoral College landslide (306-227), and you and your party have never recovered from this defeat."
Trump also, incorrectly, wrote that he has not been afforded the right "to present evidence, to have my own counsel present." House Judiciary Chairman Jerry Nadler offered this exact thing to Trump and the White House declined to participate on Dec 6.
Senate Majority Leader Mitch McConnell, who will lead the Senate impeachment trial, announced that he does not see himself as impartial. "I'm not an impartial juror. This is a political process," he said.
---
Friday December 13
After a marathon 36 hours, the two articles of impeachment against Donald Trump have been voted on and approved, sending them to the House floor. The vote on each article was 23 Democrats in favor, 17 Republicans against.
The vote came a day after the House Judiciary Committee met for 14 hours, with last night's session ending after 11 p.m.
The committee reconvened this morning to take the final vote. The move of the vote to Friday angered Republicans on Thursday night, Democrats said they wanted the vote to take place in "the light of day."
Yesterday, three Republicans tried to make amendments to the articles, that would have eliminated the abuse of power article, inserted the terms "Hunter Biden" and "Burisma" into the articles' text and inserted language about withholding military aid being in line with the administration's policy into the articles' text. These were voted down on party lines.
---
Tuesday December 10
The House Judiciary Committee officially announced two articles of impeachment against President Donald Trump: abuse of power and obstruction of Congress.
This was the made-for-TV moment from Chairman Jerry Nadler: "Today, in service to our duty to the Constitution and to our country, the House Committee on the Judiciary is introducing two Articles of Impeachment charging the President of the United States, Donald J. Trump, with committing high crimes and misdemeanors."
House Intelligence Chairman Adam Schiff also spoke, countering claims from Republicans that the investigation moved too fast and Democrats should wait longer. "Why don't you just wait until you get the documents the White House refuses to produce?," he asked. "It has taken us eight months to get a lower court ruling that Don McGahn has no absolute right to defy Congress. Eight months. For one court decision. If it takes us another eight months to get a second court or maybe a Supreme Court decision, people need to understand that is not the end of the process. It comes back to us, we ask questions because he no longer has absolute immunity, and then he claims something else, that his answers are privileged, and we have to go back to court for another eight or 16 months."
The committee will vote on these articles in the next few days, setting up a full House floor debate and vote likely for next week.
---
Monday December 9
The House Judiciary Committee is pushing toward drafting those articles of impeachment as early as this week. Today the committee heard from staff lawyers for both Democrats' and Republicans' committees as they each present their cases based on the Intelligence Committee's report. Here are the highlights:
Chairman Jerry Nadler used his opening statement to claim that President Donald Trump "put himself before his country."
Barry Berke, majority counsel for the House Judiciary Committee, called Trump's alleged scheme "brazen." He also outlined the "ABCs of impeachment": abuse of power, betrayal of the national interest and the corruption of elections.
Stephen Castor, the GOP lawyer, disputed the claims that Trump abused his power, saying that "There is simply no clear evidence that President Trump acted with malicious intent."
Daniel Goldman, the staff lawyer for the House Intelligence Committee, repeated his committee's four "critical findings" regarding Trump's alleged behavior, which include using "the power of his office to pressure and induce [Ukraine's president]" for his own benefit, and that Trump "sought to undermine our free and fair elections and poses an imminent threat to our national security."
---
Friday December 6
The White House informed the House Judiciary Committee that it will not take part in any of the chamber's forthcoming impeachment hearings, including one scheduled for Monday. "As you know, your impeachment inquiry is completely baseless and has violated basic principles of due process and fundamental fairness," White House counsel Pat Cipollone said in a letter to Chairman Jerry Nadler.
Trump and his allies previously complained that House Democrats hadn't provided any avenue for him or his lawyers to question witnesses or defend the president in the hearings
---
Thursday December 5
House Speaker Nancy Pelosi today said she's directing colleagues to draft articles of impeachment against President Donald Trump.
"The president has engaged in abuse of power undermining our national security and jeopardizing the integrity of our elections," Pelosi told reporters. "Sadly, but with confidence and humility, with allegiance to our founders and a heart full of love for America, today, I'm asking our chairmen to proceed with articles of impeachment."
This indicates that several House committees, not just the Judiciary Committee, could be involved in drafting the articles of impeachment.
It's unclear exactly how many articles there will be, but Democrats yesterday listed three (abuse of power and bribery, obstruction of Congress and obstruction of justice) during the Judiciary Committee's first impeachment hearing.
---
Wednesday December 4
Today marked the first impeachment hearing by the House Judiciary Committee, chaired by Representative Jerry Nadler. The witnesses were four law professors who testified on the constitutional grounds for impeachment. Highlights included:
Democrats had TV screens set up listing "impeachable offenses," hinting at what exactly the articles of impeachment could be: Abuse of power and bribery, obstruction of Congress and obstruction of justice.
Three of the four professors said President Donald Trump committed impeachable offenses. Noah Feldman, of Harvard Law School, said Trump did so by "corruptly abusing the office of the presidency." Michael Gerhardt from the University of North Carolina Law School said, "If what we're talking about is not impeachable, then nothing is impeachable."
Jonathan Turley, from George Washington University, dissented. He testified that while a quid pro quo of holding up military aid in exchange for investigating a political opponent would be impeachable, there is not sufficient evidence of this. He also argued that wanting to impeach Trump for challenging subpoenas in the courts is an "abuse of power." "It's your abuse of power. You are doing precisely what you're criticizing the president for doing," he said.
---
Tuesday December 3
The House Intelligence Committee released its 300-page report on the impeachment inquiry today (Republicans released their own report yesterday that claimed "none of the Democrats' witnesses testified to having evidence of bribery, extortion, or any high crime or misdemeanor.")
The information laid out in the report was already public, but here are the key claims Democrats made in their report:
Donald Trump personally and through others "solicited the interference of a foreign government, Ukraine, in the 2020 U.S. presidential election." The report claims that Trump's alleged actions were for the "benefit of his reelection [and] to harm the election prospects" of former Vice President Joe Biden.
The $391 million in military aid for Ukraine was suspended by Trump "without any legitimate foreign policy, national security, or anti-corruption justification." This was done in order to "increase leverage" as Trump sought investigations into Biden and his son Hunter, as well as a conspiracy theory that Ukraine, not Russia, interfered in the 2016 election.
Trump's public urgings of Ukraine and China to investigate his opponents amounts to a "clear and present danger" that the president will continue to use his position to benefit himself politically.
Trump attempted to obstruct the inquiry by refusing to produce documents requested in a subpoena, directing agencies and officials to defy subpoenas and "intimidating, threatening, and tampering with prospective and actual witnesses."
---
Tuesday November 26
There was a major development in the impeachment inquiry today. Here's what you need to know:
Taking another step toward impeachment, House Judiciary Chairman Jerry Nadler announced the committee's first impeachment hearing will begin on December 4. The hearing will largely examine the "constitutional grounds" for impeachment.
Nadler informed Donald Trump that if the president and his counsel would like to attend or question witnesses, he will need to notify the committee by Sunday at 6 p.m.
In other impeachment news:
After a judge's ruling yesterday that Donald McGahn must comply with a subpoena and testify, the Justice Department appealed the decision. The lawyers for former national security adviser John Bolton also said the ruling doesn't apply to their client. Bolton has also ignored a subpoena from House Democrats, but his lawyers say he doesn't need to testify because McGahn, unlike Bolton, wouldn't be testifying about "sensitive topics of national security or foreign affairs."
Polling averages calculated by FiveThirtyEight show more Americans support impeachment/removal (48.4%) than those who don't (43.9%), a position that has been rather consistent across October and November.
---
Monday November 25
There may have been no impeachment hearings today, but there was plenty of news floating around D.C., including news from House Intelligence Committee Chairman Adam Schiff that their impeachment report will be finished shortly after Thanksgiving.
Here's the highlights:
In a letter to colleagues, Schiff said a report "summarizing the evidence' will be given to the House Judiciary Committee "soon after Congress returns from the Thanksgiving recess." This would square neatly with Democrats' preference to have a House floor vote, if articles of impeachment are approved in committee, before Christmas.
A judge ruled that former White House counsel Donald McGahn must comply with a subpoena from House Democrats to testify in the impeachment inquiry. Democrats seek testimony from McGahn about Trump's alleged obstruction of justice outlined in the Mueller report. But the ruling has broader implications for other witnesses, including former national security adviser John Bolton, who had also not responded to a subpoenas. The decision is sure to be appealed, but could create an opportunity for current and former White House officials to testify if they're so inclined.
The New York Times described how President Donald Trump's personal attorney Rudy Giuliani targeted two Ukrainian oligarchs, who were facing legal issues, for information on former Vice President Joe Biden. Giuliani's responses to the Times included that there wouldn't be anything wrong with this scenario: "Where do you think you get information about crime?" he said. Depending on Trump's involvement, Democrats could look into this as part of their investigation into potential obstruction of justice.
Yesterday, the Washington Post reported that the White House tried to create a justification for the Ukrainian aid hold up, after the order was made. A review by the White House Counsel's Office reportedly uncovered emails between Chief of Staff Mick Mulvaney and budget officials trying to find an explanation.
---
Friday November 22
It may be a quieter day on Capitol Hill with no more public hearings scheduled at this point, but there was one cryptic development as President Donald Trump has come out swinging:
John Bolton, the former national security adviser who reportedly called alleged attempts to pressure Ukraine a "drug deal" before Trump fired him in September, made his return to Twitter. Saying that his account had been "suppressed unfairly" and has now been "liberated," Bolton tweeted that he's "Glad to be back on Twitter after more than two months. For the backstory, stay tuned........" House Democrats would love to hear from Bolton in their impeachment inquiry, but appear to be unwilling to subpoena him.
Trump called in for an hour to Fox & Friends this morning, telling viewers: "Frankly, I want a trial" and that he "want[s] the whistleblower, who put in a false report, to testify."
David Holmes, who testified to overhearing a call from Trump asking about whether Ukraine is "gonna do the investigation?" was also a target of Trump's ire with the president accusing the official from the U.S. embassy in Ukraine of lying: ""How about that guy with the telephone? I guarantee that never took place," he said. "I have really good hearing and I've watched guys for 40 years making phone calls and I can't hear the other side."
The president also continued pushing a conspiracy theory about Ukraine's involvement in the 2016 elections that Fiona Hill, Trump's former top Russia adviser on the National Security Council, yesterday called a "fictional narrative that has been perpetrated and propagated by the Russian security services themselves."
So, what next? While there could be more hearings, nothing else is on the agenda so the House Intelligence Committee will continue its investigations and at some point begin compiling a report that the House Judiciary Committee will use to decide whether to bring forward articles of impeachment to the House floor for a vote. When that happens, we nor the Democrats, really don't know for sure just yet.
---
Thursday November 21
Today was the last day of scheduled public hearings, but House Speaker Nancy Pelosi has not ruled out calling more witnesses. "We aren't finished yet, the day is not over," she said during her weekly press conference. Pelosi refused to give a clearer timeframe of the next steps in the impeachment inquiry, saying that "we will go where the facts take us."
Today's witnesses were David Holmes and Fiona Hill. Holmes is a U.S. official at the embassy in Ukraine who previously testified to overhearing President Donald Trump ask the U.S. Ambassador to the EU Gordon Sondland whether Ukraine's president was "gonna do the investigation?". Hill, Trump's former top Russia adviser on the National Security Council, previously testified that former national security adviser John Bolton called alleged attempts to pressure Ukraine a "drug deal."
Here's what you need to know:
Earlier this week, the GOP attempted to discredit the decision-making of Lieutenant Colonel Alexander Vindman, the National Security Council's top Ukraine expert, who reported his concerns about the July 25 call to the council's top lawyer. But Hill said Vindman was "justifiably alarmed" when he and Hill reportedly heard Sondland tell Ukrainians a White House meeting would require an investigation into Burisma. Sondland disputed details of this meeting yesterday, but did admit there was a quid pro quo regarding a potential White House meeting.
Hill also said that "it is not credible to me at all that he [Sondland] was oblivious to this," in reference to the idea that Burisma was coded language for investigating the Bidens.
Holmes testified that Sondland's call with Trump, which he overheard, was so loud that Sondland winced and held the phone away from his face. This isn't evidence of anything, but does go some way to explaining away criticism from the president himself about the difficult of overhearing phone calls.
---
Wednesday November 20
Today we heard from the man at the center of so many testimonies before him: U.S. Ambassador to the EU Gordon Sondland.
Here were the standout moments from his own testimony:
Sondland said a White House meeting between Trump and Ukrainian President Volodymyr Zelenskiy was used as part of a quid pro quo. In terms of an exchange of military aid for investigations by Ukraine, Sondland said he was not told this expressly but that "in the absence of any credible explanations for the hold, I came to the conclusion the aid, like the White House visit, was jeopardized."
In his opening statement, Sondland made clear that he "followed the president's orders" and acted "at the express direction of the President of the United States" when it came to working with Donald Trump's personal attorney Rudy Giuliani on Ukraine matters.
Leadership in the State Department, the National Security Council and the White House all received and responded to communications about the situation with Ukraine, according to documents from Sondland: "Everyone was in the loop. It was no secret."
From Sondland's impressions from conversations with Trump and Giuliani, he believed they wanted Zelenskiy to announce investigations but follow-through wasn't required: "He had to announce the investigations, he didn't actually have to do them, as I understood it." Sondland later expanded on the point: "I never heard...anyone say that the investigations had to start or had to be completed."
---
Tuesday November 19
Week two of public testimony has began this morning with Lieutenant Colonel Alexander Vindman, the National Security Council's top Ukraine expert, and Jennifer Williams, a State official detailed to Vice President Mike Pence's office, in the hot seats for more than 4 hours. This was followed by Kurt Volker, the former special envoy to Ukraine who resigned in September; and Tim Morrison, the National Security Council's former top European and Russia adviser.
One moment that will get a lot of play is Vindman correcting ranking member Devin Nunes to address him as "Lieutenant Colonel Vindman," because he felt his experience as a military officer is being "marginalized" in attacks in the media and online.
Here's what else happened:
The witnesses who heard the July 25 call are split about how they saw it: Vindman said he viewed Trump's request of Zelenskiy as "improper" while his supervisor, Morrison, said he had no such concerns.
Vindman said the memo of the call between Donald Trump and Ukraine President Volodymyr Zelenskiy on July 25 was put onto a more secure server in part "to avoid leaks." Vindman said he didn't consider the decision "nefarious" but rather that it was "made on the fly."
In August, the Ukrainian Embassy "started to become aware of the hold on security assistance" and asked Vindman whether he could substantiate what they'd heard. This is important because it indicates how the hold-up of military aid was playing out on Ukraine's side.
The White House's official Twitter account repeated criticism of Vindman, who is currently a member of Trump's National Security Council. (When the GOP raised the issue of criticism from Vindman's former supervisor, Vindman read out a positive performance review from an earlier supervisor.)
Today's comedic interlude was also brought to you from beyond Capitol Hill:
---
Monday November 18
Today was expected to be the quiet before the storm as eight witnesses prepare to testify in public impeachment hearings this week. But one big piece of news is House Democrats are also looking into whether President Donald Trump's answers to former Special Counsel Robert Mueller should be part of the investigation.
Douglas Letter, the House's general counsel, today argued in a federal appeals court that committees investigating impeachment require access to grand jury material from the Mueller investigation. The reason being? Not only are Democrats looking into the Ukraine scandal, but also whether Trump lied in his written answers during the Russia investigation. "There is evidence, very sadly, that the president might have provided untruthful answers," Letter said. When asked during his July testimony if Trump's answers show the president "wasn't always being truthful," Robert Mueller, the former special counsel who always chose his words carefully, answered in the affirmative: "I would say generally."
Trump tweeted that he would consider testifying, or answering written questions, in the House's impeachment inquiry. "I like the idea & will, in order to get Congress focused again, strongly consider it!" he wrote.
No surprise here, Senate Majority Leader Mitch McConnell said he still "can't imagine a scenario under which President Trump would be removed from office with 67 votes in the Senate." But as Newsweek recently reported, the Republican votes McConnell is relying on may not be as safe as he'd like.
---
Friday November 15
Today the White House released a memo of the first conversation between President Donald Trump and Ukraine President Volodymyr Zelenskiy after the latter's election win. But the star of the day was former U.S. Ambassador to Ukraine Marie Yovanovitch, who was recalled from her post earlier this year and praised for putting a "human face" on the current scandal. Among the highlights of her testimony:
Yovanovitch said she was horrified to discover that Trump described her as "bad news" in his July 25 phone call with Zelenskiy after the White House released a memo of that second call in September. "I was shocked. Absolutely shocked. And devastated, frankly," she said. "A person who saw me actually reading the transcript said that the color drained from my face... even now, words kind of fail me."
The Trump administration's response to its own officials, Yovanovitch said, is "deeply troubling and there are morale issues at the State Department." She also described actions by Trump and his associates as having a "chilling effect" on these officials because they don't know if they have support to execute foreign policy, which "is a dangerous place to be," she said.
During today's hearing, Trump tweeted out real time criticism of the former ambassador. Democrat Adam Schiff, the House Intelligence chairman, asked Yovanovitch how this affects her and if this affects the willingness of other witnesses to speak. "It's very intimidating," she said. Later, Trump denied claims his tweets were an act of intimidation saying he has the right to freedom of speech.
---
Thursday November 14
There were no impeachment hearings today but there were a couple of big moments:
House Speaker Nancy Pelosi is escalating language around President Donald Trump's dealings with Ukraine from focusing on a quid pro quo to "bribery." At her weekly press conference, Pelosi said yesterday's testimony "corroborated evidence of bribery."
"The bribe is to grant or withhold military assistance in return for a public statement of a fake investigation into the elections. That's bribery," she said.
David Holmes, a U.S. official at the embassy in Ukraine, is now expected to testify behind closed doors tomorrow. Holmes is believed to be the staff member that Bill Taylor, the top U.S. diplomat in Ukraine, was referring to yesterday who overhead a phone call from President Donald Trump asking about "the investigations" in Ukraine.
Further to that, there are media reports that a third U.S. staffer overheard that call in a Ukraine restaurant, which Trump has said he does not remember.
---
Wednesday November 13
Today marked the first day of public impeachment hearings with subpoenaed testimony from Bill Taylor, the top U.S. diplomat in Ukraine, and George Kent, deputy assistant secretary of state for European and Eurasian Affairs.
Today's key moments:
Bill Taylor, in his opening statement, said he was told by a staff member last Friday of a July 26 call they overheard between President Donald Trump and Ambassador to the EU Gordon Sondland, who had just met with a top Ukrainian official. "The member of my staff could hear President Trump on the phone, asking Ambassador Sondland about 'the investigations,'" he said. When his staff member asked Sondland about Trump's approach to Ukraine, "Ambassador Sondland responded that President Trump cares more about the investigations of Biden."
George Kent echoed this view when asked about what interests Trump was promoting: "I believe he was looking to dig up political dirt against a potential rival in the next election cycle."
Taylor drew a line between different ways an administration can use its power. "It's one thing to try to leverage a meeting in the White House. It's another thing, I thought, to leverage security assistance," he said. "It was much more alarming."
Kent said the statement being pushed for from Ukraine was "not an anti-corruption statement." "Rudy Giuliani said it would not be acceptable if it didn't mention Biden, Burisma and 2016."
Kent, who like Taylor was careful to not appear partisan, did refute one Republican talking point: that Trump's actions are the same as Joe Biden's. "I do not think they are the same things. What former Vice President Biden requested of the president of Ukraine Poroshenko is the removal of a corrupt prosecutor general Viktor Shokin who had undermined a system of criminal investigation that we built with American money."
---
House Speaker Nancy Pelosi launched the Democratic-led impeachment inquiry into the conduct of President Donald Trump 50 days ago.
Kickstarted by a whistleblower report about a July 25 phone call with Ukrainian President Volodymyr Zelenskiy, the inquiry centers on the allegation that Trump sought to hold up military aid in exchange for Ukraine's agreement to investigate former Vice President Joe Biden his son Hunter, and a conspiracy theory concerning Hillary Clinton and the 2016 presidential election.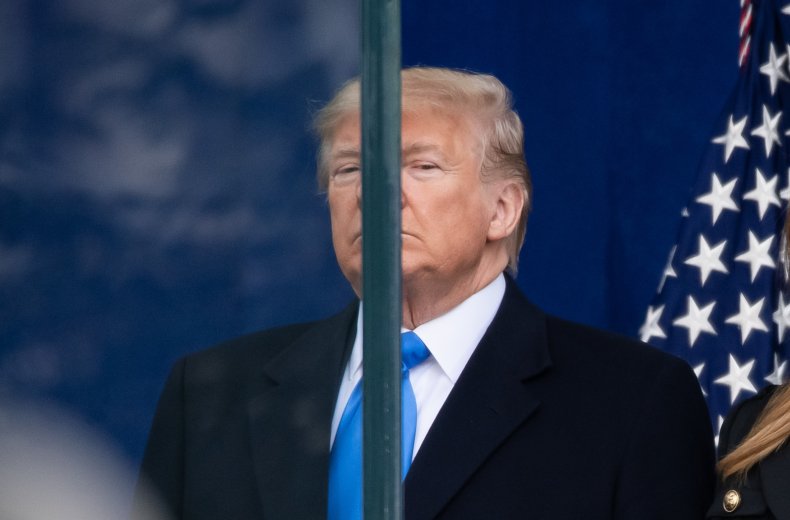 What followed has been weeks of closed-door testimony, a Republican storming of one of these secure testimony rooms, and the drip-drip-drip release of hearing transcripts.
Today is the first time these impeachment hearings will be held in public; Bill Taylor, the top U.S. diplomat in Ukraine, and George Kent, deputy assistant secretary of state for European and Eurasian Affairs, are set to testify.
To catch you up: Here are the key moments since the whistleblower complaint was lodged with the inspector general for national intelligence on August 12.
September 9: The inspector general for national intelligence informed House Intelligence Committees that a whistleblower report was filed. On the same day, Bill Taylor tells U.S. Special Representative for Ukraine Negotiations Kurt Volker, who has since resigned, that it's "crazy" to withhold assistance in exchange for help with a political campaign.
September 11: The Ukraine military aid, which had been held up for months, is released.
September 24: Nancy Pelosi announced impeachment inquiry.
September 26: The unclassified whistleblower complaint is released to the public.
October 4: Ukraine's prosecutor general announced there will be a review of a case linked to a firm Biden's son Hunter was associated with (this is not an investigation of either Biden or dismissed claims of corruption).
October 14: Fiona Hill, Trump's former top Russia adviser on the National Security Council, testified that former national security adviser John Bolton called alleged attempts to pressure Ukraine a "drug deal."
October 15: George Kent, in closed-door testimony, said Trump "wanted nothing less than President Zelenskiy to go to a microphone and say investigations, Biden and Clinton."
October 17: Gordon Sondland, the U.S. ambassador to the European Union, testified. However, it was additional written testimony submitted later, in which the ambassador said he believed aid was "linked" to Trump's desire for a Ukrainian statement on investigations into corruption. He also added that, on September 1, he told a top Zelenskiy aid that "resumption of U.S. aid would likely not occur until Ukraine provided the public anti-corruption statement that we had been discussing for many weeks."
October 22: Lawmakers' "jaws dropped," said one Democrat, after Bill Taylor testified that he believed there was a quid pro quo. "That was my clear understanding, security assistance money would not come until the President committed to pursue the investigation," Taylor said.
October 31: The House voted to formally authorize the impeachment inquiry (though there was no legal reason to do so, the fact that there hadn't been a vote was a common Republican talking point). Two Democrats broke with their party in the vote.
November 7: Bolton failed to appear on Capitol Hill after being summonsed to testify.