Donald Trump Impeachment Investigation Needs to Start 'Now,' Ex-Congresswoman Who Voted to Impeach Nixon Says
An investigation into whether to impeach President Donald Trump is "very much needed now," a former congresswoman who voted to impeach President Richard Nixon writes in her new book.
"Right now there is enough evidence to warrant an impeachment inquiry," Elizabeth Holtzman, who served on the House Judiciary Committee that probed Nixon's role in the Watergate scandal, told Newsweek on Thursday.
"A serious investigation needs to be conducted and we can't shirk that, Congress can't shirk its responsibility to look at that," Holtzman noted. "Personally, I think there's no question that his acts are egregious," she said of Trump.
Holtzman in her book The Case for Impeaching Trump, published on Monday, detailed four areas that could be grounds for impeaching the president, and made the case for each based on the Constitution and Nixon's impeachment proceedings.
They include Trump's effort to obstruct and impede special counsel Robert Mueller's investigation, his apparent violations of the Constitution's emoluments clauses prohibiting him from accepting gifts without congressional approval, his seeming refusal to counter Russia's efforts to undermine the U.S. election system and his immigrant policy that led to migrant families being separated at the border.
"Resemblances to the impeachable conduct of Nixon persist. I have therefore come to the conclusion that an impeachment inquiry is not only justified under the Constitution of the United States, but imperative," Holtzman wrote. "In serving on the House Judiciary Committee during the Nixon proceedings, I acquired a niche expertise in impeachment that is, thankfully, not often needed. It is very much needed now."
Holtzman, a Democrat, was the youngest woman to be elected to Congress in 1973 and remained that for 42 years. She served four congressional terms and was the first woman to serve as Brooklyn district attorney and comptroller of New York City. Holtzman recounted that during the investigation of Nixon, who was the only president to resign from office, there was a hesitance among congressional leaders to push for impeachment similar to the current situation with Trump.
"Leadership did not act and there was no indication that they were going to act. Only when you had the 'Saturday Night Massacre' and the American people flooded the House of Representatives with demands for action, that Congress acted," she said. "That's what triggered the impeachment proceedings."
The Saturday Night Massacre was the term given to describe when Nixon ousted his attorney general as well as his deputy attorney general so he could then get rid of the special prosecutor. Though the consequences of the so-called massacre have been a warning to presidents since, Trump fired FBI Director James Comey in May 2017 and last week forced Attorney General Jeff Sessions to resign. Trump's comments have suggested both decisions were related to how they handled the Russia probe.
Holtzman said there are parallels in the cases of both presidents but that "there are areas where Donald Trump has done something rather different."
"I don't want to rank them. I think they both have abuse of powers in their office and put themselves above the rule of law," she said.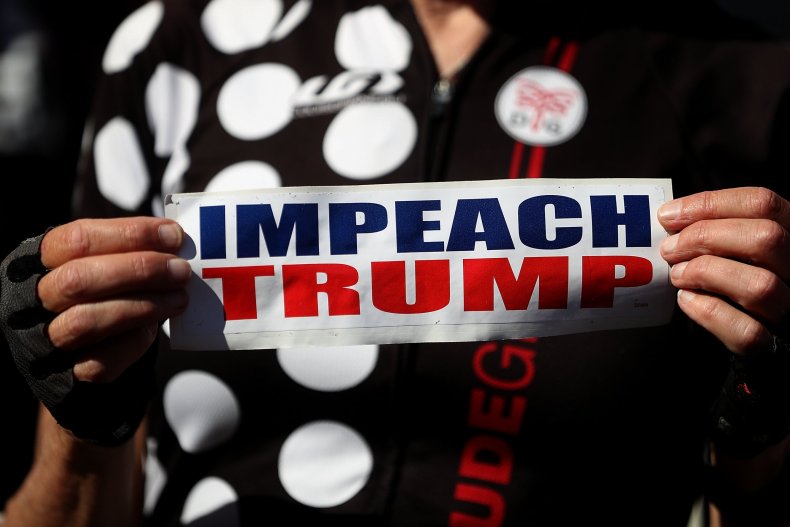 Democrats won control of the House of Representatives in the midterm elections, giving them the ability to begin impeachment proceedings against Trump. But Republicans made gains in the Senate, two-thirds of which need to vote to convict the president and remove him from office.
Holtzman did not see Democratic Representative Nancy Pelosi's apparent decision, if she returns as House speaker, to take impeachment off the table as a detriment to the effort to begin an inquiry. Pelosi has indicated she wants a robust use of the House oversight powers.
"I don't think any leader of the House of Representatives is going to stand in the way of holding Trump accountable," Holtzman said. "I don't think impeachment can be imposed in a partisan way—it has to have full public support, as impeachment against Nixon did."