Donald Trump Compares Impeachment to Jussie Smollett Attack 'Scam'
President Donald Trump once again ripped Jussie Smollett Monday over an alleged attack the Empire actor blamed on Trump supporters—equating Smollett's "scam" to the impeachment inquiry against him.
Trump addressed police chiefs at an annual conference in Chicago, Illinois, on Monday, where he raised concerns about the crime rates in the city under Superintendent Eddie Johnson. The president also pointed to the high-profile, and embarrassing, investigation into claims by Smollett that he was attacked in January as a blemish on the Chicago Police Department. Smollett was subsequently charged with filing a false report and accused of staging the attack.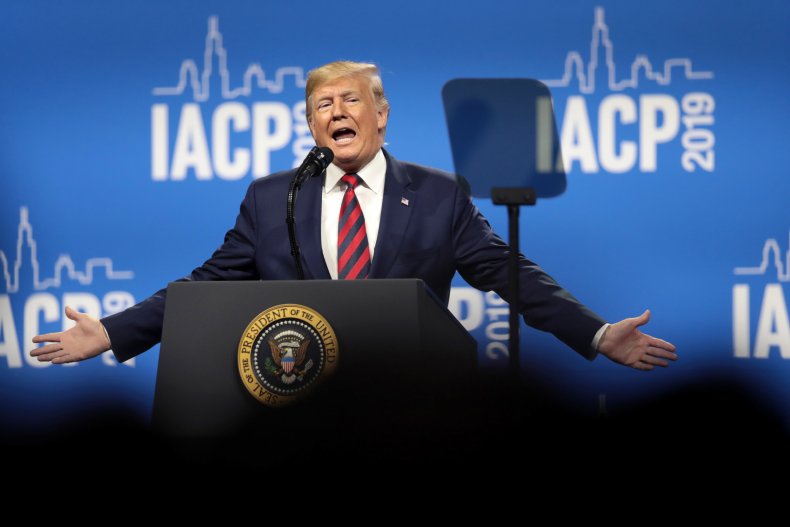 "Then you have the case of this wise-guy, Jussie Smollett, who beat up himself," Trump told the crowd. "And he said MAGA country did it. MAGA country. OK? He said MAGA—it's a hate crime. That's a hate crime."
"And it's a scam. It's a real big scam, just like the impeachment of your president is a scam," Trump added, referring to the impeachment inquiry brought against him by Congress in September.
Trump has made numerous references to Smollett over the past year, taking keen interest in Smollett's attack allegations in January.
The Empire star said he was attacked by two men shouting homophobic and racial slurs. He said the assailants tied a rope around his neck and poured a liquid substance on his face. In a later police interview, Smollett also claimed that his assailants yelled "MAGA country," referring to the popular Trump election campaign slogan, "Make America great again."
After several weeks of investigation, the Chicago Police Department claimed in February that Smollett orchestrated the attack to further his public profile and career. Smollett was charged with filing a false police report, but the charges were dropped in March.
At the time of the charges against Smollett, Trump tweeted: ".@JussieSmollett - what about MAGA and the tens of millions of people you insulted with your racist and dangerous comments!? #MAGA"
In March, when the charges against the actor were dropped in exchange for community service and forfeiting his $10,000 bail bond, Trump said the case was an "embarrassment" to the nation. He also said an FBI investigation would be opened into why the charges against Smollett were dropped.
In May, Trump tweeted that Smollett's claims his alleged assailants used the phrase "MAGA country" was a "hate crime" against his supporters.
An FBI investigation into why Smollett's case was dropped by Chicago prosecutors is ongoing.