Impeachment Hearings Do Little to Move Needle on Support for Removing Trump, Surveys Find
As the recent public phase of the impeachment inquiry came to a close, two new polls put voter sentiment in clear view: The hearings, while often revelatory, did little to change public support for impeaching the president.
A new Politico/Morning Consult poll found that 50 percent of U.S. adults support impeaching the president. The survey was conducted in the days following the second week of witnesses' testimony before the House Intelligence Committee chaired by Adam Schiff (D-Calif.).
This represents a mere 2 point increase since the same question was asked after the first week of hearings, before the bombshell testimonies of EU Ambassador Gordon Sondland and vice presidential aide Jennifer Williams refuted key points of President Donald Trump's defense of his engagement with Ukraine.
Schiff said his committee will prepare a report of its findings and send it to the House Judiciary Committee after the Thanksgiving recess.
A plurality of voters—48 percent—support the current impeachment inquiry, compared with 43 percent who do not. The number of voters supporting the inquiry has not changed since the previous Morning Consult poll, though the number of voters forgoing support has dipped slightly.
Asked whether they approve of how House Democrats are conducting the inquiry, 44 percent expressed disapproval, compared with a smaller share—43 percent—that approves.
A new CNN poll measured similar responses. According to its survey, 50 percent of U.S. adults believe that Trump should be impeached and removed from office. Forty-three percent of respondents did not feel the same. The questioning was conducted in the days following the final week of testimony in the impeachment inquiry.
These results are identical to a similar CNN survey conducted in October, before the public hearings began. The largest shifts in opinion, according to CNN polling, started to occur in or around March 2019, when support for impeachment and removal was at a relative low of 36 percent. Over the subsequent months, pro-impeachment attitudes have shot up dramatically to where they currently stand, at 50 percent, CNN's largest measurement of support in over a year.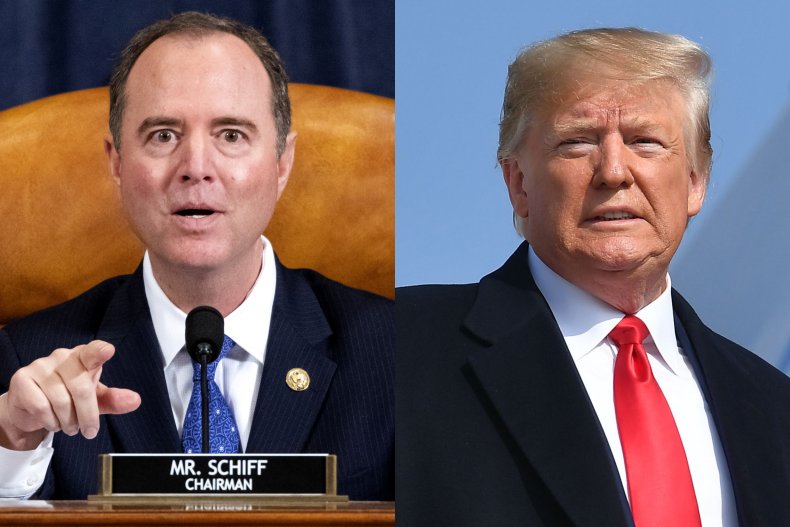 This coincides somewhat with the submission of special counsel Robert Mueller's report in late March and the subsequent coverage of Attorney General William Barr's controversial summary of its findings, which perhaps inadvertently spurred greater attention to the report's details.
Support for impeaching and removing Trump is less substantial and more partisan than it was during the Watergate scandal and just before Richard Nixon resigned from the presidency, according to historical Gallup surveys.
At the time, 58 percent of U.S. adults favored impeachment and removal, although this is comparable to the 51 percent of adults who support the same sanction against Trump, according to Gallup's measurements. Additionally, 31 percent of Republicans thought Nixon should be removed, compared with just 7 percent of Republicans who think the same about Trump.
A consensus formed relatively quickly around Nixon's ouster. Over a few months in 1974, support for his impeachment and removal surged by around 10 to 15 points. Also, far more Americans—around 10 percent—were undecided about Nixon's impeachment than the 1 percent who are undecided about Trump's.
During a comparable period in President Bill Clinton's impeachment proceedings—just before the House approved articles of impeachment against Clinton, who then barely stayed on as president after a vote for acquittal in the Senate—far fewer Americans supported impeachment and removal. Only 32 percent, according to Gallup, wanted Clinton removed from office at the time, a full 19 points below the share of Americans who favor Trump's ouster.