Donald Trump Impeachment Odds Surge Following Michael Cohen Plea Deal, Paul Manafort Verdict
Betting enthusiasts jumped into action Tuesday following an extraordinary afternoon in which President Donald Trump's former personal attorney pleaded guilty to eight charges, including campaign finance violations, and his former campaign chairman was found guilty on eight fraud charges. In the immediate aftermath of the simultaneous legal blockbusters, the odds on Trump being impeached before his first terms is over saw a significant surge.
On political prediction market PredictIt, the price on Trump being impeached rose five points, to 45 cents. The site allows users to buy "shares" and if the outcome comes true, all those who brought yes shares will get $1 back per share. The shares on Trump's impeachment have not closed at a price that high in at least three months.
It was not only that Cohen, who described himself as operating as a "fixer" for Trump over more than a decade, pleaded guilty. Cohen directly implicated the president when stating in court that Trump directed him to make a payment to Stormy Daniels to ensure her silence about an alleged affair shortly before the 2016 election.
Daniels, whose real name is Stephanie Clifford, was paid $130,000 for the purpose, Cohen said, of influencing the election. While Trump originally denied that he knew about the payment, it later emerged that he reimbursed Cohen. The charges against Cohen also included arranging a payment to Karen McDougal, a former Playboy model who similarly claims she had an affair with Trump a decade earlier.
Trump's personal lawyer, Rudy Giuliani, later tried to distance the president from the events in a New York City courtroom.
"There is no allegation of any wrongdoing against the president in the government's charges against Mr. Cohen," Giuliani said, carefully omitting the words of Cohen. "It is clear that, as the prosecutors noted, Mr. Cohen's actions reflect a pattern of lies and dishonesty over a significant period of time."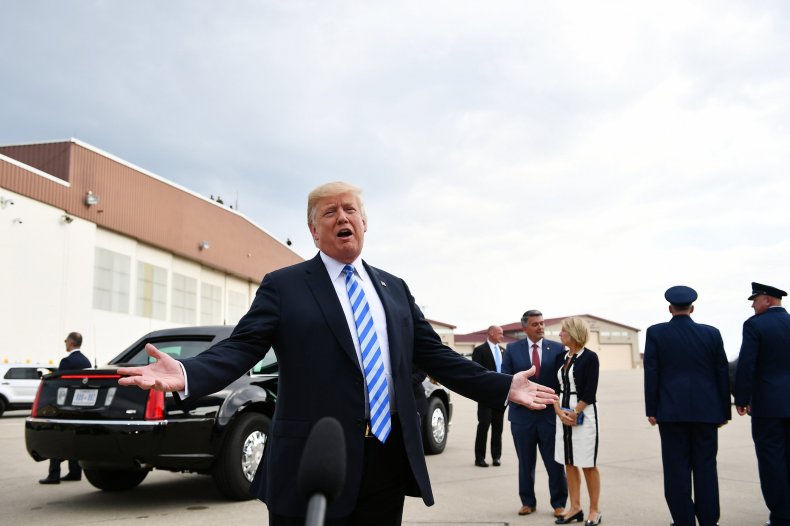 Trump gave a rally in Charleston, West Virginia, later Tuesday night but did not mention the actions against Cohen or Manafort. Indeed he again referred to the Russia investigation as a "witch hunt," while the crowd, seemingly ironically, burst into a chant of "lock her up," directed at Trump's 2016 election opponent Hillary Clinton.
Despite the president being implicated in a federal crime, it remains far from certain that Congress will take any meaningful action. There was little comment from Republicans following Tuesday's developments. Leading Democrats, perhaps still wary of the impact on the midterm elections in November, did not jump onboard calling on for immediate impeachment proceedings to begin.
Democratic Senator Richard Blumenthal, speaking on CNN, said he would still wait to see what special counsel Robert Mueller's investigation drags up before weighing in on impeachment. Although there have been two impeachment votes against Trump in the House of Representatives, top Democrats did not support the move and House Minority Leader Nancy Pelosi actively discouraged it.
Those with money at stake, though, appear increasingly to believe that things could change following Tuesday's events and, particularly, if Democrats regain control of the House in November.
This story has been updated to include details about Trump's rally in West Virginia Tuesday night.