Trump Impeachment Vote to See Hundreds of Protests Calling for President's Removal: 'Nobody Is Above the Law'
Tens of thousands of protesters are expected to attend rallies across the country to call for President Donald Trump's removal from office on the eve of a House vote that could see the U.S. leader impeached.
Speaking to Newsweek on Monday, David Sievers, the campaign director for MoveOn, a progressive public policy advocacy group organizing the rallies with the backing of dozens of other organizations, including United We Dream, Stand Up America and the Women's March, said at least 401 demonstrations have so far been planned across 49 states.
The "Nobody's Above The Law" rallies, which expect to see more than 70,000 people combined in attendance, are planned to kick off on the eve of the House's vote on whether Trump should be impeached over alleged efforts to pressure Ukraine to investigate a political rival.
The only hitch? A date for the widely anticipated vote is yet to be set.
"We don't even have a date yet for these because the plan is for them to be hosted the day before the House vote on impeachment articles," Sievers said. He add that the fact the organizers are already seeing such a significant response, "reflects that this really about defending the integrity of the democratic system."
"The idea that democracy is at stake here is really mobilizing people," Sievers said.
While it is still unclear when an impeachment vote might happen, House leaders have suggested that it could come before the December holiday break.
Last week, House Speaker Nancy Pelosi announced that she would be instructing committee chairs to draft articles of impeachment over Trump's alleged misconduct towards Ukraine.
Meanwhile, House Intelligence Committee Chair Adam Schiff said the effort to wrap up proceedings was "urgent."
With the possibility of an impeachment vote before the end of the year, Sievers said MoveOn wanted to help people in the U.S. organize in advance.
"Just this weekend, we broke 400 events being planned, so there's definitely a lot of energy in this country," Sievers said. "As of the weekend, we were just shy of 70,000 and I think we probably are close to 75,000 right now," he added.
A map of the planned demonstrations can be seen on the website impeach.org, which was published by MoveOn.org's Civic Action branch.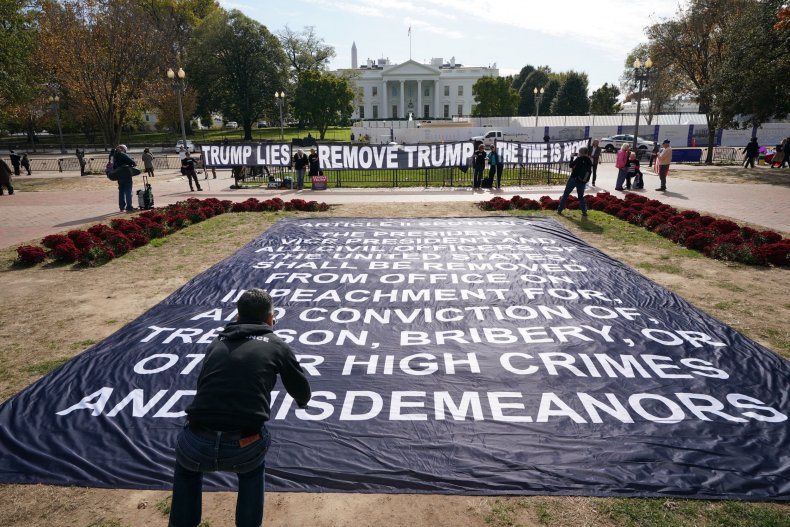 "Nobody Is Above the Law. That's why we're calling on Congress to Impeach & Remove Donald Trump," organizers said in a statement online.
Sievers said some demonstrators would be heading to congressional offices across their states, while others would be rallying in public squares.
"It will look different in Miami than it will in Northern Minnesota," he said. Meanwhile, "in New York City, they'll be gathering in kind of Central Manhattan and marching."
The fact that people in states with cooler temperatures, such as New York, are willing to brave the cold winter weather to protest, Sievers said, should signal "the level of civic outrage there is."
"Late December is not exactly your ideal weather," he said. "Americans are mobilizing to protect American democracy."
Newsweek has contacted the White House for comment.
While it is possible that the House could vote in favor of impeaching Trump, whether or not the president is removed from office would ultimately be up to the Senate. So far, no president has been removed from office as a result of impeachment in the history of the U.S.
Democratic senators have also expressed doubt that there would be enough votes in favor of Trump's removal to see him ejected from office.
In a recent interview on MSNBC's Morning Joe program, Sen. Chris Murphy, a Democrat from Connecticut, said he expects that only a "small list" of his GOP peers would vote to remove the U.S. leader.
"It's a small list on one hand," Murphy said, later asserting that he believes there are at least five Republican senators potentially willing to turn their backs on the U.S. leader.
If Trump is impeached, but not removed from office, he will be allowed to remain in power. If there is a majority of votes to remove him from office, Vice President Mike Pence would likely be expected to take over.