Donald Trump and the Terrible, Horrible, No Good, Very Bad Week
Things have intensified in recent days as the impeachment inquiry, and related subpoenas, swirl around D.C. The president's playbook, again, appears to be that of a child: ignore, deflect, shift blame.
On Tuesday, the White House informed House Democrats it will not cooperate with their inquiry in any way, after subpoenas were issued Friday for documents related to President's July 25 phone call with Ukraine (subpoenas were also issued on Monday to the Pentagon and The Office of Management and Budget about freezing foreign aid for Ukraine). The U.S. ambassador to the European Union Gordon Sondland, whose text messages about Ukraine were released last week, was scheduled to testify, but his appearance was blocked by the State Department which then, surprise surprise, led to more subpoenas.
Trump has, per usual, taken to Twitter to vent his frustrations. At the time of writing, in the last hour alone, the president has tweeted or retweeted 13 times. But you know it's going badly when Trump lashes out at his favorite network.
"From the day I announced I was running for President, I have NEVER had a good @FoxNews Poll. Whoever their Pollster is, they suck," the leader of the free world tweeted this morning.
Trump appeared to be referencing yesterday's Fox News poll which found 51 percent of registered voters think Trump should be impeached and removed from office. It came after a day after a similar number of voters—50 percent—said they support both an impeachment inquiry and Trump's removal from office in a Politico/Morning Consult poll.
While domestic trouble bubbles away, it's international turmoil that threatens to split Trump from the Republican party at home.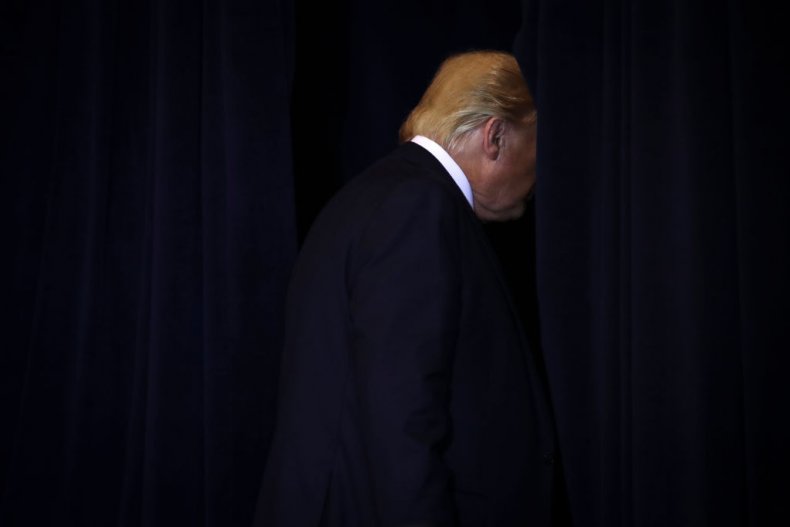 U.S. troops withdrew from Northern Syria on Monday, ahead of Turkey's offensive, a move that Democrats and numerous Republicans deemed a betrayal of American-backed Kurds. The Syrian Democratic Forces is estimated to have lost nearly 11,000 lives in the fight against ISIS.
Senators Mitt Romney and Marco Rubio and former ambassador to the United Nations Nikki Haley all criticized the move, and so too did Trump's staunchest defenders:
"If press reports are accurate this is a disaster in the making," Senator Lindsey Graham tweeted on Monday. "Ensures ISIS comeback. Forces Kurds to align with Assad and Iran. Destroys Turkey's relationship with U.S. Congress. Will be a stain on America's honor for abandoning the Kurds."
"I generally support @POTUS on foreign policy & don't want our troops fighting other nations' wars, but a HUGE mistake to abandon Kurds. They've never asked us to do THEIR fighting-just give them tools to defend themselves. They have been faithful allies. We CANNOT abandon them," Mike Huckabee, a former governor of Arkansas and now Fox News contributor, tweeted.
On Thursday morning, Trump tweeted that the U.S. should "let the Kurds fight their own battles," doubling down on comments yesterday that the Kurds "didn't help us in the Second World War, they didn't help us with Normandy." This seems like a pretty flawed measuring stick seeing as Trump happily took credit for the defeat of ISIS in Syria, which relied on the Kurdish-led Syrian Democratic Forces.
American-backed Kurds are also guarding 12,000 ISIS fighters, and their escape or release could reshape Syria and the entire region.
Since fighting began this week, 60,000 civilians—ordinary people like you and I—have crammed into cars and trucks to flee their homes in Northern Syria, according to the Britain-based Syrian Observatory for Human Rights. The monitoring group also counted 16 Kurds who have been killed. Turkey claimed it received fire that killed a Syrian baby.