Donald Trump Impeachment Could 'Tear Country Apart,' Says House Democrat Who Could Lead Ouster of President
An impeachment trial of President Donald Trump has the potential to "tear the country apart," according to the Democratic congressman who could lead impeachment proceedings against the president.
Representative Jerry Nadler of New York said Monday that those in support of Trump could claim that their vote for him was stolen, and laid out exactly how impeachment charges against the president should be parsed. Nadler, who is expected to be the ranking member of the House Judiciary Committee after Democrats take over the chamber in January 2019, said that any charges and evidence would have to be so strong that even Trump's fiercest loyalists would agree he should face a trial.
"You don't want half the country to say to the other half for the next 30 years, 'We won the election. You stole it from us,'" Nadler told MSNBC.
Any articles of impeachment would first start in the House Judiciary Committee before reaching the House floor for a vote on whether Trump should face an impeachment trial in the Senate.
The longtime congressman said that "you have to be able to think at the beginning of the impeachment process that the evidence is so clear, of offenses so grave, that once you've laid out all the evidence, a good fraction of the opposition, the voters, will reluctantly admit to themselves, 'They have to do it.'"
Nadler concluded: "Otherwise you have a partisan impeachment, which will tear the country apart."
Nadler also said that any possible evidence against Trump unearthed by special counsel Robert Mueller's probe of Russia's interference in the 2016 election would be run through a similar test over whether to impeach the president.
"If Mueller shows us that the president has committed impeachable offenses," Nadler said, "we'll have to make judgments as to how serious those impeachable offenses are and whether we should undertake an impeachment. If we see evidence of impeachable offenses not from Mueller, the same question will arise."
Mueller has charged several former members of Trump's campaign and administration, but after 18 months the former FBI director has not brought any charges against the president.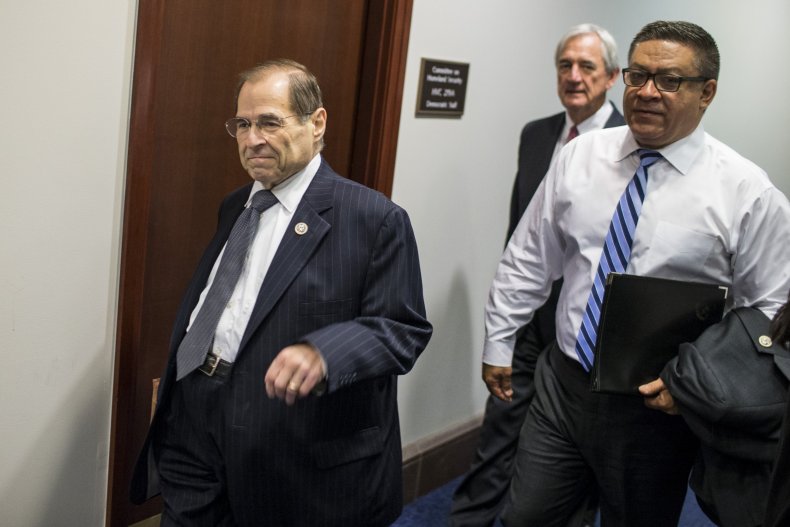 Trump has called the probe a "witch hunt" and derided any talk of an impeachment trial.
Recent polling indicated that even though Democrats resoundingly disapprove of Trump's presidency, the country overall is not in support of ousting the billionaire real estate mogul.
During this month's midterm elections, many voted for congressional candidates to check Trump's power, but that has not generated support for his impeachment. A Monmouth University poll conducted in the days after the midterms showed only 36 percent were for impeachment and Trump's removal from office, with 59 percent against impeachment.