Obama Ethics Chief Mocks Sarah Huckabee Sanders Claim That Trump Inaugural Committee Had Nothing to Do With President
White House press secretary Sarah Huckabee Sanders downplayed President Donald Trump's involvement in his presidential inauguration on Thursday, after it was reported that federal prosecutors had been investigating possible illegal, foreign donations to the president's inaugural committee and a pro-Trump super PAC.
"On the inaugural committee: that doesn't have anything to do with the president or first lady," said Sanders to a press gaggle. "The president was focused on the transition during that time and not on any of the planning for the inaugural."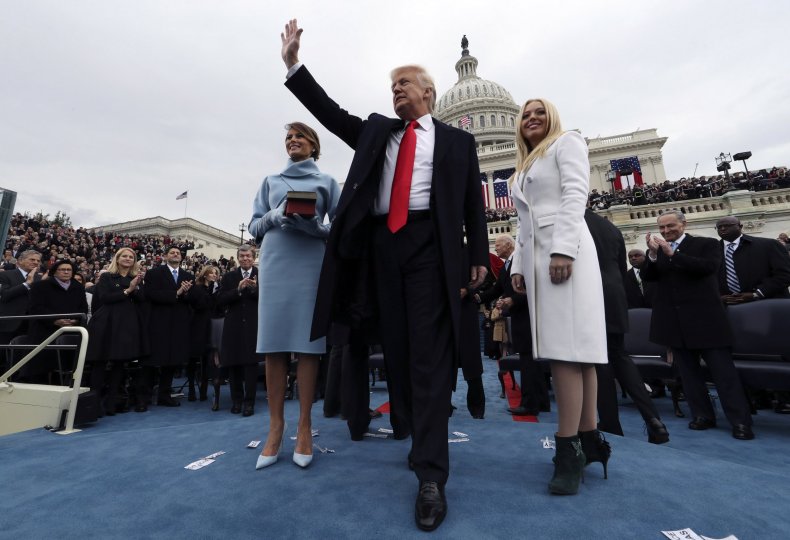 The president's Twitter feed and interviews around the time of his inauguration in January 2017, however, tell a different story. The president spoke repeatedly of celebrities requesting tickets for his events, his decision to limit the number of inaugural balls, and how well his inaugural performers' albums were selling ahead of the event.
"The so-called 'A' list celebrities are all wanting tixs to the inauguration, but look what they did for Hillary, NOTHING," the president tweeted in late December 2016. "I want the PEOPLE!"
A few weeks later, in early January, he tweeted that "Jackie Evancho's album sales have skyrocketed after announcing her Inauguration performance.Some people just don't understand the 'Movement.'"
During a January 11, 2017, press conference from Trump Tower, the president went on about what an "elegant day" his inauguration would be. "I look very much forward to the inauguration. It's going to be a beautiful event. We have great talent, tremendous talent," he said. "We're going to have a very, very elegant day. The 20th is going to be something that will be very, very special; very beautiful. And I think we're going to have massive crowds because we have a movement."
In a Fox and Friends interview on January 18, 2017, the president went into detail about which fashion designer would dress his wife. "Tom Ford said he was asked to dress the first lady, well, he was never asked to dress the first lady," he said before recounting a phone conversation he had with Las Vegas casino mogul Steve Wynn about the issue.
Norm Eisen, senior fellow at the Brookings Institution and former White House ethics czar to President Barack Obama, said yesterday that Sanders's comments were out of line. "It's HIS inauguration. When your name is plastered in large type at the top of every single event invitation, you don't get to say, 'I was too busy to oversee my own activities,'" he tweeted. "Besides, we know it's probably a lie & [the] opposite will come out on 2 weeks."
President Donald Trump was hugely invested in the crowd size of his inauguration, boasting about it before and after the event. "The president had one particular story on his mind: a panel discussion comparing the Trump inauguration to that of President Obama's first inaugural," former Trump press secretary Sean Spicer wrote in his book, The Briefing, of the morning after the inauguration. "They were saying that the Trump crowd was noticeably sparse by comparison. The president was clear: This needed to be addressed—now."
Special counsel Robert Mueller's investigation into the inaugural fund focuses on whether people from Qatar, Saudi Arabia and the United Arab Emirates used straw donors to funnel money into the fund and the Rebuilding America Now PAC. Both funds were run by longtime Trump pal, billionaire Tom Barrack Jr.
"Tom has never talked with any foreign individual or entity for the purposes of raising money for or obtaining donations related to either the campaign, the inauguration or any such political activity," Owen Blicksilver, a spokesman for Barrack, told The New York Times.
On Inauguration Day, President Trump took the time to thank his friend for pulling off what he called a "wonderful" and "magical" event.