President Donald Trump has increased his share of the minority vote four years after defeating Hillary Clinton at the 2016 presidential election, exit poll data shows.
According to surveys conducted by Edison Research and published by The New York Times, Trump has boosted his share of the Black vote by 4 percentage points since 2016, when just 8 percent of Black voters supported him.
The commander-in-chief has also seen his backing among Hispanic and Latino voters jump by 4 points over his first term, with 32 percent telling exit pollsters they backed Trump on Tuesday compared to the 28 percent who said so in 2016.
Asian voters took a similarly improved view of the president at the polls yesterday. Thirty-one percent said they voted for Trump in his race against Biden, a 2-point improvement on the incumbent's performance among the demographic in 2016.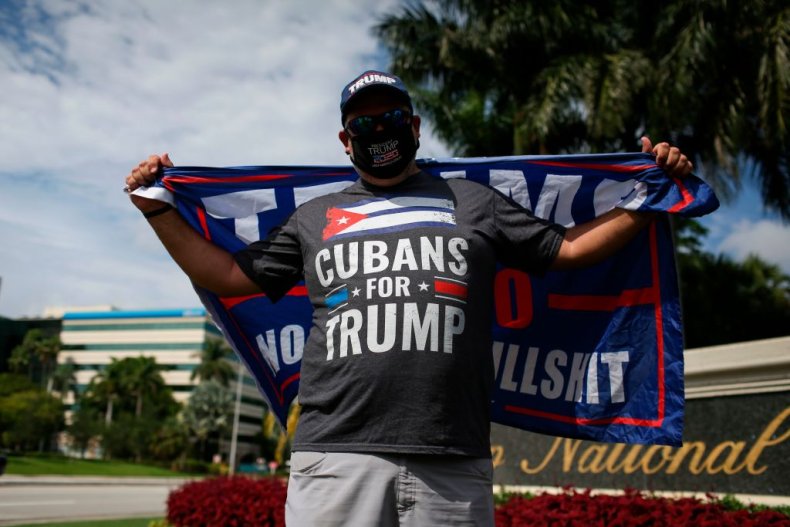 Among the racial and ethnic group categorized as "other," Trump increased his share of the vote by 3 percentage points—taking it from 37 percent in 2016 to 40 percent this year.
However, the president's numbers dropped among one demographic: white voters.
When pollsters asked whether they had backed Trump or the Democratic nominee Joe Biden, 57 percent of white voters said they had opted for the president. But back in 2016, 58 percent of white voters said they had backed Trump at the polls, while just 37 percent broke for Clinton.
Biden's campaign has built on Clinton's share of the white vote by 5 points, with the Edison exit poll showing that 42 percent backed the former vice president on Tuesday.
The Democratic nominee has also performed significantly better among male voters, with 48 percent getting behind the former VP in his bid to unseat Trump—a 7-point increase on Clinton's vote share among men four years ago.
Biden's vote share among women is 2 points higher than his predecessor's 54 percent in the 2016 election cycle. Trump has also increased his share of the female vote, by a single percentage point.
Edison Research pollsters interviewed 15,590 voters outside polling stations, early voting sites and over-the-phone for their 2020 exit poll. The exit poll results are subject to sampling error.
The results of the exit poll were released as ballots started to be counted in states up and down the country on Tuesday night. Election Day counts are still ongoing in a handful of key battleground states.