Donald Trump Indefinitely Suspends Military Training With South Korea to Aid Kim Jong Un Relations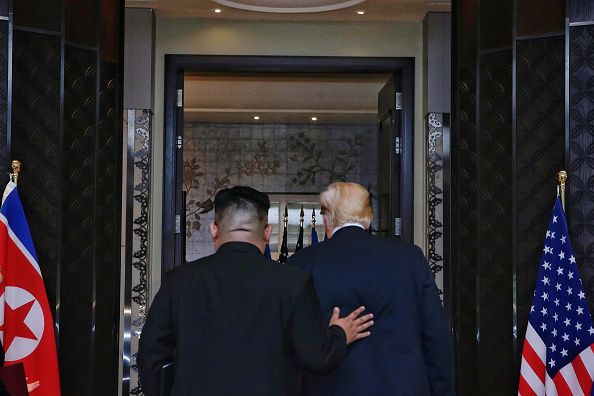 President Donald Trump's Pentagon has suspended two military training programs with South Korea indefinitely in order to facilitate dialogue with North Korea, officials announced Friday.
"To support implementing the outcomes of the Singapore Summit, and in coordination with our Republic of Korea ally, Secretary Mattis has indefinitely suspended select exercises," Pentagon Spokeswoman Dana White said in a statement.
"This includes suspending FREEDOM GUARDIAN along with two Korean Marine Exchange Program training exercises scheduled to occur in the next three months," the statement continues.
Trump already said the U.S was ready to suspend joint military exercises with South Korea, and he mimicked language often used by North Korean leader Kim Jong Un to describe the exercises, calling them "war games" and "provocative." Trump's statements on the issue were made after he held an historic meeting with North Korea's Kim in Singapore on June 12. The President did not appear to warn or consult South Korea or the U.S. military before making the announcement.
Nevertheless, South Korea has opted to support the decision publicly. South Korean leader Moon Jae-in, whose country lives under the constant threat of a conflict with North Korea, has been a strong supporter of dialogue and taking the diplomatic route towards peace with his country's neighbor.
"We consider the ongoing denuclearization negotiations with North Korea as crucial, so as long as those negotiations continue, the decision by the governments of South Korea and the United States will be maintained," a South Korean government spokeswoman confirmed.
The decision to halt indefinitely the two military training programs, however, is an additional measure by the Trump administration. Some observers, meanwhile, argue it is important for the U.S. to maintain joint training exercises with South Korea. The country's military is made up of temporary conscripts and is not a professional army like that of the U.S. With this in mind, it is especially important the South Koreans be well trained and prepared in case a conflict does break out, experts say.
The ongoing dialogue with North Korea is meant to lead to the complete denuclearization of the Korean peninsula. The U.S. and the international community would like Pyongyang to give up its nuclear capabilities in exchange for some security guarantees. North Korea is estimated to have between 10 and 20 nuclear weapons.
The decision to cancel joint military exercises between the U.S. and South Korea constitutes a major victory for North Korea, however. It is unclear whether North Korea has given anything in return other than a pledge to work towards peace. The country claimed that it was dismantling a major missile launch stand, but no evidence of its destruction has been presented yet.