Fox News Judge Says Donald Trump Could Be Secretly Indicted by Robert Mueller: 'There's Ample Evidence'
There's lots of evidence that President Donald Trump will be indicted—even if it's not known publicly until he's out of office—according to comments on Monday from Judge Andrew Napolitano, Fox News' senior judicial analyst.
Napolitano had an interesting conversation with Fox News host Shepard Smith, during which they dissected where things stood with the president's numerous legal threats. There are ongoing probes from special counsel Robert Mueller and prosecutors in the Southern District of New York, as well as a reported probe into Trump's inauguration committee.
Smith asked Napolitano if he thought Trump could actually face a grand jury subpoena—as opposed to an interview with the special counsel—in response to the judge saying the president will have to speak with Mueller, one way or that other.
"Yes, I do. I think that Bob Mueller knows that he needs to lock the president in to a version of events before he takes the next step—whatever the next step is, whether it's indictment or whether it's a referral for impeachment," Napolitano said on-air, via a clip posted to Mediaite.
"You really think Mueller might indict the president?" Smith followed up.
"Well, last week in federal district court here in New York City, a federal judge at the end of [former Trump lawyer] Michael Cohen's sentencing said the president orchestrated and paid for this crime. The crime—he was referring to the one of the nine—to which Michael Cohen pleaded guilty," Napolitano said.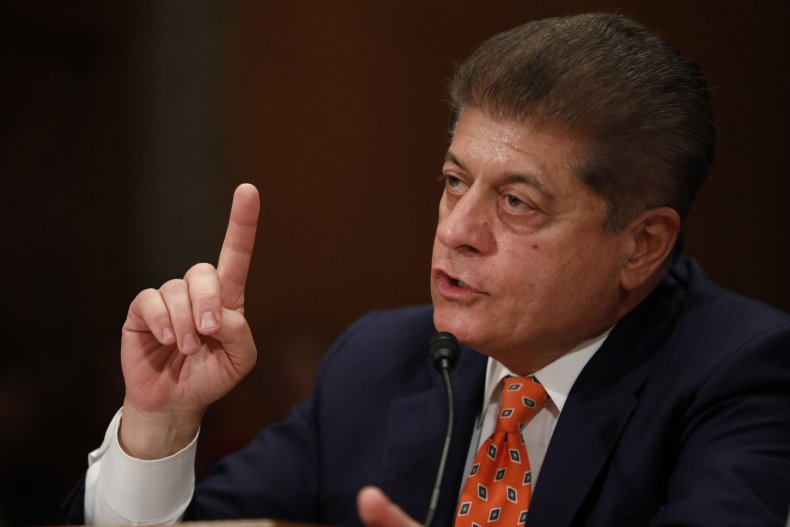 From there, Smith asked: "So you're saying the president is an unindicted co-conspirator?"
Said Napolitano:
"Yes. I'm also saying that there's ample evidence—this doesn't require to much analysis—to indict the president. The question is: do they want to do it? The [Department of Justice] has three opinions on this: two say you can't indict a sitting president, one says you can. But all three address the problem of 'What do you do when the statute of limitations is about to expire?' All three agree in that circumstance, you indict in secret, keep the indictment sealed and release it the day he gets out of office. You can't let a person go scot-free because they happen to be in the White House."
Since a secret indictment is just that—secret—Smith asked if it was possible Trump was already indicted and we just didn't know, however unlikely that might be.
"That I don't know about," said Napolitano. "But it could be, because we don't know what's been sealed."
Napolitano then argued that Trump's lawyer, Rudy Giuliani, is trying to discredit the Mueller investigation while also signaling the president might be open to an interview with Mueller, which would seemingly be more favorable than a subpoena. He added that Trump appearing before a "jury of the Senate or a jury of his peers" would be a near worst-case-scenario for the president.
"I don't think he wants to get to that point. That would be doomsday," Napolitano said. "That would mean that there's enough evidence to indict and try or enough evidence to impeach."
Napolitano has previously stressed just how serious Trump's legal situation is. Both Vermont Senator Bernie Sanders and Representative-elect Alexandria Ocasio-Cortez—two high-profile progressive politicians—shared a video featuring Napolitano last week, in which the judge broke down what the ongoing investigations portend for the president.