Former President Donald Trump insisted Monday that Wyoming Representative Liz Cheney won't win another election in the state after she criticized him for declaring the 2020 presidential election fraudulent.
"Heartwarming to read new polls on big-shot warmonger Liz Cheney of the great State of Wyoming. She is so low that her only chance would be if vast numbers of people run against her which, hopefully, won't happen," Trump said in a statement. "They never liked her much, but I say she'll never run in a Wyoming election again!"
Cheney had debunked Trump's unsubstantiated claims about his 2020 election loss earlier in the day. She tweeted, "The 2020 presidential election was not stolen. Anyone who claims it was is spreading THE BIG LIE, turning their back on the rule of law, and poisoning our democratic system," just moments after the former president issued a statement declaring the election was a lie.
"The Fraudulent Presidential Election of 2020 will be, from this day forth, known as THE BIG LIE!" Trump wrote.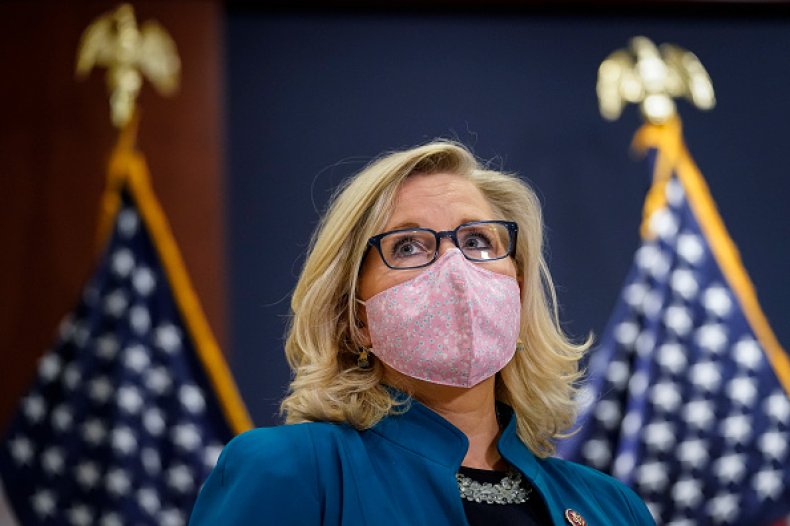 Cheney has become one of Trump's key targets ever since she voted to impeach him earlier this year. She was one of 10 House Republicans to do so.
Trump has repeatedly slammed Cheney and persuaded some of her colleagues to force a vote to remove her from the GOP leadership in the House, where she presides as the No. 3 Republican. However, in February her fellow Republicans voted by a large margin for Cheney to stay on as the House Republican Conference chair.
Despite securing her position, Cheney may be at risk of losing her post again now that House Minority Leader Kevin McCarthy has signaled that he won't defend her again if another vote is called in the House.
McCarthy has refused to appear alongside the highest-ranking Republican woman in Congress in recent months and has criticized her opposition to Trump as a distraction for the party.
Cheney's vote to impeach Trump has sparked backlash not only within the Republican conference but also in her home state of Wyoming, which Trump won in 2020 with nearly 70 percent of the vote, the most for any state in the country.
The congresswoman has also faced scrutiny after she was recently seen fist bumping President Joe Biden as he made his way down the aisle to address Congress for the first time since taking office. But Cheney defended doing so and said she would remain respectful of presidents from the other party.
Newsweek reached out to Cheney for comment but did not hear back before publication.