Legal Experts Say Trump's Latest Freewheeling Interview Could Undermine His Transgender Military Ban Case
President Donald Trump's unscripted musings about the transgender military ban in an interview with Piers Morgan earlier this week could complicate his administration's efforts to argue in support of the policy in federal court. Legal experts told Newsweek that plaintiffs in several of the cases challenging the ban will take note of Trump's commentary, but cautioned that a conservative-leaning Supreme Court might be disinterested in interjections from the commander-in-chief.
"You have to have a standard and you have to stick by that standard," Trump told Good Morning Britain host Piers Morgan in response to a question about his administration's pursuit of a transgender military ban. "We have a great military, and I want to keep it that way. And maybe [transgender troops] would be phenomenal. I think they probably would be. But again, you have very strict rules and regulations on drugs and prescription drugs and all of these different things."
The president in his interview rehashed a trove of debunked or dubious arguments about the realities of trans service in the armed forces and, in doing so, renewed the public's focus on the rationale behind a policy that the Pentagon did not request.
Trump balked at the cost of gender-affirmation surgery for service members experiencing gender dysphoria—"the operation is 200-thousand, 250-thousand dollars"—adding that the post-op recovery period is "long" and requires a significant regimen of drugs, "for whatever reason."
"What he is saying is actually inconsistent with what the government said on appeal," retired federal judge and Harvard Law School lecturer Nancy Gertner observed. "The government said that this did not apply to people in the process of getting gender dysphoria surgery, that it didn't sweep that broadly. The president's comments suggest that he wants it to sweep as broadly."
A landmark 2016 RAND Corporation study on the topic found that providing transition-related care to active duty personnel would increase the Pentagon's budget by a fraction of a percent. The department's hypothetical spending on trans service members would be dwarfed by the budget for mental health services alone. The study found that a relative handful—in the dozens—of active duty troops would require gender-affirmation surgery, at a cost far less than the president's outsize estimates.
Evan Wolfson, a visiting professor at Georgetown Law School who led the campaign to legalize gay marriage, told Newsweek that the president's "malevolence is almost commensurate with his ignorance."
"The numbers he pulled out of the air are completely false," Wolfson said. "And even the real numbers are minuscule. It's going to cost us far more to replace these qualified troops than to allow them to continue serving."
Despite the ill-conceived calculus underlying the ban, the government has succeeded in overcoming several lower-court injunctions preventing it from taking effect, in part because they "persuaded the Court of Appeals that it was not a total ban," according to Gertner.
Gertner explained to Newsweek that the government's arguments relied to some extent on their assurances that it was not a blanket discriminatory policy and that "there were distinctions" in how it was being applied.
"That affected the court's analysis," she said.
In March, a district court judge lifted the last of four injunctions placed on the ban's implementation, allowing it to go into effect in the subsequent weeks. The four lawsuits challenging the policy are now playing out in federal courts across the country, certain to find themselves at the Supreme Court once the appeals process is exhausted.
Gertner cautioned that "what Trump is saying could bear" on other scrutiny applied by the courts, particularly on whether or not there is an animus driving the policy. His comments could also upset the delicate balance administration lawyers are trying to strike between permissible and impermissible exclusion.
Retired Marine Corps Captain Emma Shinn, who served as a Judge Advocate, said that the president's "demonstrably false" statements add to the body of evidence discrediting his rationale behind the ban.
"I think it's going to prove troublesome," she said about the DOJ's legal strategy. "As a defense attorney and experienced litigator, I would definitely present those quotes in any part of my litigation strategy."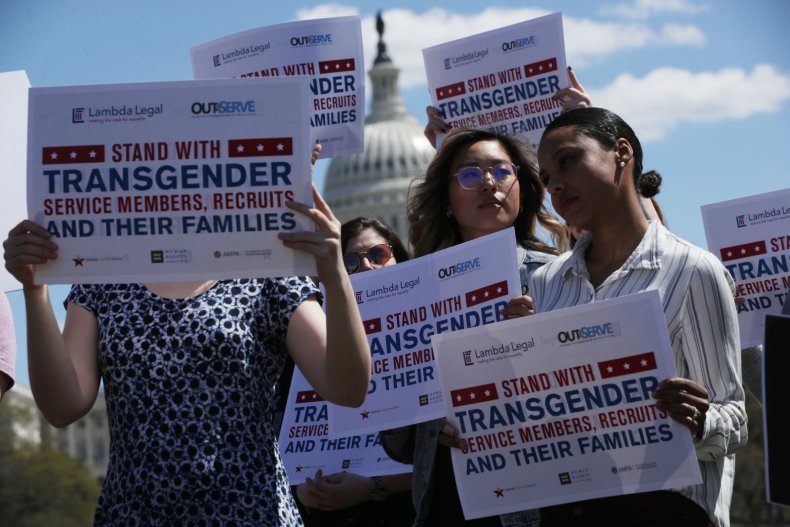 The travel ban case offers an instance where the president's well-documented rhetoric was shrugged off by the high court. The justices homed in on whether there was a rational justification independent of what the president was saying. The current challenges to the ban won't just address the basis of the policy itself but how it is currently being implemented. If the policy is executed in a discriminatory way, "then the president's comments may have a bearing," according to Gertner.
She added that there's "an enormous amount of deference given to military authorities to run the military the way they see fit." But she provided a caveat: If the president is rattling off irrational statements about his administration's decision-making process, then "the basis for deferring to him is gone."
"If the things he said are what motivated this policy, then the policy has no rational basis," she said. "There's no question this will figure into the litigation."
The president's description of the medications allowed to service personnel—"an aspirin"—was also misleading. While the kinds of drugs service members can take is restricted, cisgender troops have been permitted to go on hormone therapy with a waiver from the Pentagon. Yet it's this very reasoning that is being used to cast doubt on the readiness of transgender soldiers.
Shinn reflected on the harm that "mischaracterizations and wrong things coming from the commander-in-chief" inflict on all service members, regardless of gender identity.
"It erodes confidence," she said.
The medication she takes as a trans woman costs the government less than $100 per year, so when the president styles her medical bills as an unaffordable luxury, it contributes to the feeling that you "can't rely on the president to speak the truth all the time."
"To say that we're not deployable because of massive medication is simply untrue," she added. "It's a disservice to our trans service members who are serving every day and who are not a burden to their commands."
The RAND study similarly examined international examples of trans-inclusive military policies and found "no significant effect on cohesion, operational effectiveness, or readiness."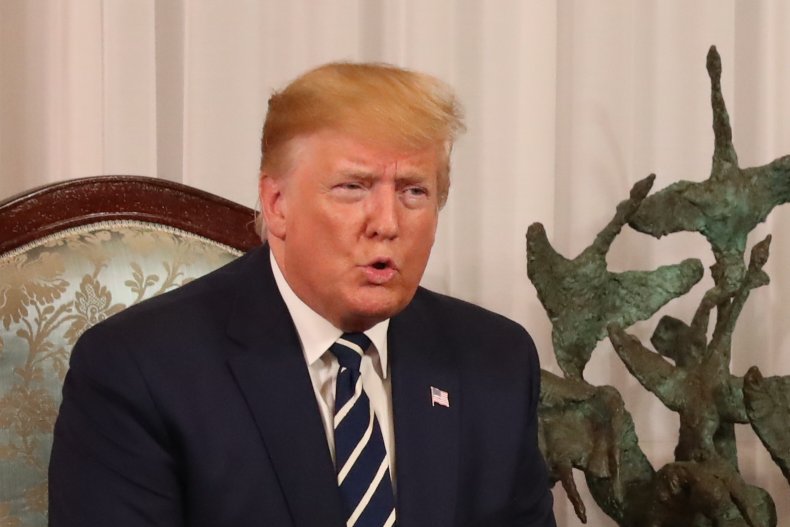 But as the litigation moves forward, constitutional law professor John Culhane professed he was less optimistic about the Supreme Court's interest in Trump's impromptu utterances.
"I doubt it would get much traction with this court," Culhane, who teaches at Delaware Law School, told Newsweek. "I think the current court will brush it aside."
Culhane opined that Trump "would almost have to say something really creepy and horrible" to get the court's conservative justices to pay attention.
"When Justice Kennedy saw animus, he saw that as such a basic denial of equal protection you could see where the case was going to end up," he said.
But Kennedy has retired and Justice Brett Kavanaugh has taken his place to give the court a solid conservative majority. Culhane opined that the conservative justices "don't want to get dragged into the daily tweet storm and what it means" and will ultimately sign off on the ban.
Regardless, he thinks the plaintiffs will definitely make hay of the interview and ongoing commentary from the president, at least as much as possible.
"Oh yeah, they'll bring it up," he predicted. "They will absolutely bring it up. It would almost be attorney malpractice not to. You go with the arguments that you have."
But beyond the misinformation that veterans and lawyers have accused the president of spreading, there are growing concerns that his trans-skeptical rhetoric could damage the morale of active duty soldiers.
At one point during the interview, Trump offered: "I think it's great" trans troops have been able to earn distinctions for their service, though he clarified that this wouldn't impact his overall assessment.
Shinn, herself a recipient of an Award for Valor, argued that "it's important to reframe" the debate now that trans service members have been put on the defensive.
"It's not that we're not a burden," she said. "We are value-added. A diverse military is able to accomplish its mission better, faster and more effectively."