Donald Trump Invites Kanye West to White House Just Hours After Suggesting Taylor Swift Knows Nothing About Politics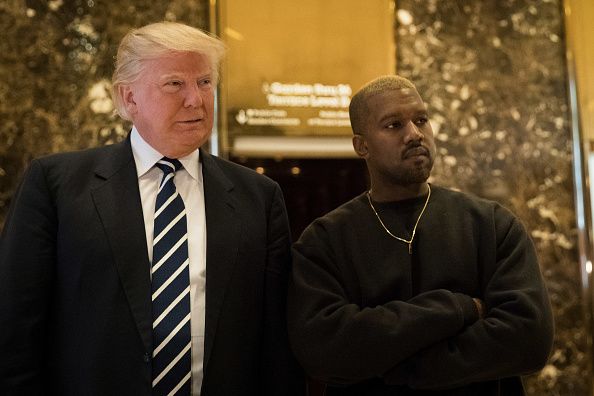 President Donald Trump invited Kanye West to the White House just hours after criticizing Taylor Swift for making a rare political statement, saying that the music star "doesn't know anything" about the candidates she endorsed.
Swift broke her long-standing silence on politics on Sunday in an Instagram post, in which she endorsed Democratic candidate Phil Bredesen over Republican Representative Marsha Blackburn in Tennessee's Senate race.
"As much as I have in the past and would like to continue voting for women in office, I cannot support Marsha Blackburn. Her voting record in Congress appalls and terrifies me," Swift wrote in the post, before listing off Blackburn's legislative decisions.
Along with Bredesen, Swift endorsed Democratic candidate Jim Cooper for the House of Representatives.
When hearing about Swift's endorsements, Trump fired back with comments of his own. The president argued that Blackburn is "doing a very good job" and dissed Swift for getting involved, stating that she "doesn't know anything about her."
"Let's say that I like Taylor's music about 25 percent less now, okay?" the president added.
Hours after dismissing the music star, citing her lack of political expertise, Trump extended an invitation to West to have lunch with him and Jared Kushner. A representative for West confirmed the meeting to The New York Times on Monday.
Trump, West and Kushner will reportedly be discussing criminal justice reform, specifically job opportunities for former convicts, according to the Times.
Kushner, a senior adviser to Trump, met with West's wife, Kim Kardashian West, earlier this year to discuss the same topic. The meeting came months after the reality star successfully lobbied Trump to pardon Alice Marie Johnson, a grandmother who spent two decades in jail on drug charges.
The trio will also be discussing how to increase the number of manufacturing jobs around Chicago. West, who grew up in the area, recently announced that he was moving back to Chicago permanently.
The meeting comes after West has received backlash for his outspoken support of the president. During a recent appearance on Saturday Night Live, the music star donned a "Make America Great Again" hat and spoke about Trump in a monologue that did not make it to air.
"It's so many times that I talk to a white person about this, and they say, 'How could you support Trump? He's racist.' Well, if I was concerned about racism, I would have moved out of America a long time ago," West said in clips that circulated on social media but were not broadcast.
West also claimed that he was "bullied" backstage before his appearance, with the cast and crew trying to convince him to take off the MAGA hat before performing.
Trump praised West for the support, writing in a Twitter post that West was "great" during the show and that he is "leading the charge!"