Donald Trump Says John Kerry Should Be 'Prosecuted' Under Logan Act for Allegedly Blocking Iran Talks
President Donald Trump acknowledged the United States was "risking military confrontation" with Iran and said former U.S. Secretary of State John Kerry should be prosecuted under the Logan Act for interfering with potential negotiations with Tehran.
Trump acknowledged reports that the USS Abraham Lincoln aircraft carrier was in the Red Sea and headed toward the Persian Gulf along with a U.S. Air Force bomber detachment in the region. National Security Adviser John Bolton said the military move was in response to "troubling and escalatory indications and warnings."
Trump repeatedly accused the former Obama administration's secretary of state of violating the Logan Act—a federal law dating back to 1799 that criminalizes negotiations by unauthorized persons with foreign governments currently in dispute with the United States.
"What I'd like to see with Iran, I'd like to see them call me," Trump said Thursday. "You know John Kerry speaks to them a lot, John Kerry tells them not to call. That's a violation of the Logan Act."
Update: John Kerry's spokesman responded to Trump's comments to CNN's Jim Acosta: "Everything President Trump said today is simply wrong, end of story. He's wrong about the facts, wrong about the law, and sadly he's been wrong about how to use diplomacy to keep America safe."
Trump spoke at length to reporters at the White House Thursday in what began as an announcement about ending "surprise medical billing" for Americans but soon turned to escalating military movements against Iran and accusations that Kerry was blocking negotiations between the Trump administration and Tehran.
Last month, Trump floated the Logan Act prosecution idea against Kerry, tweeting, "Saudi Arabia and others in OPEC will more than make up the Oil Flow difference in our now Full Sanctions on Iranian Oil. Iran is being given VERY BAD advice by @JohnKerry and people who helped him lead the U.S. into the very bad Iran Nuclear Deal. Big violation of Logan Act?"
Kerry succeeed Hillary Clinton as secretary of state, assuming the office in February 2013.
During Thursday's meeting with reporters, Trump was asked, "What did Iran do to prompt us to send an aircraft carrier," at which point he said, "They were threatening us" and his administration had information the reporter "doesn't want to know about." When Trump was asked if he'd risk a "military confrontation" with Iran, he replied, "I guess you could say that, always right? Always, I mean, I don't want to say 'no.'"
On Monday, The Wall Street Journal reported that U.S. intelligence had been alerted to Iranian attack plans against American forces in the Middle East.
Trump continued railing against Kerry. "That's a violation of the Logan Act. And frankly, he should be prosecuted in that, but my people don't want to do anything that's—only the Democrats do that kind of stuff." Trump said if Kerry was a Republican, Democrats would absolutely prosecute him under the Logan Act. During Obama's presidency, Kerry reportedly frequently met and spoke with Iranian leaders, including Iranian Foreign Minister Mohammad Javad Zarif.
"But John Kerry violated the Logan Act," Trump continued Thursday. "He's talking to Iran and has been and has many, many meetings and many phone calls and he's telling them what to do that is a total violation of the Logan Act."
Trump said it was in Tehran's best interest to reach out to the U.S. president because its economy has been a "mess ever since I took away the Iran deal," which was put in place under Obama.
Trump said he frequently "tempers" hawkish National Security Adviser John Bolton, which prompted laughs at the White House, as he claimed to have "more dovish" people on his staff.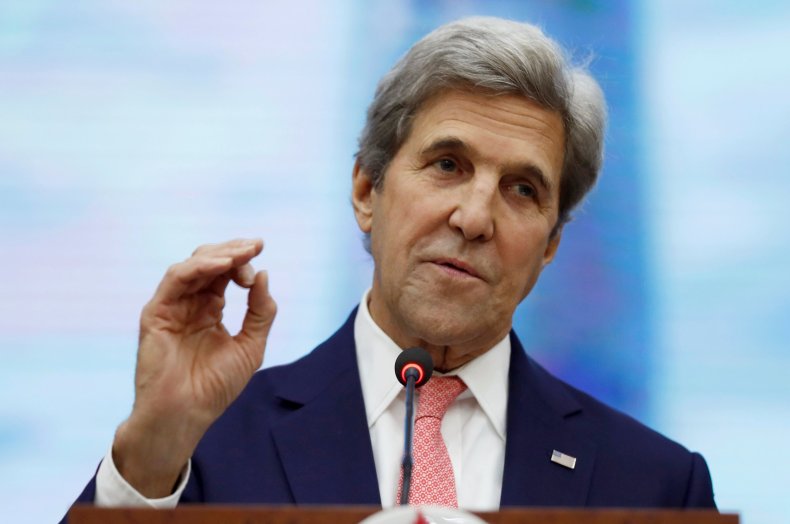 Last September, Trump's Secretary of State Mike Pompeo called reports of Kerry's reportedly ongoing, post-Obama Iran talks as "unseemly and unprecedented." Last May, Trump personally blamed Kerry for engaging in "shadow diplomacy" on Twitter: "The United States does not need John Kerry's possibly illegal Shadow Diplomacy on the very badly negotiated Iran Deal. He was the one that created this MESS in the first place!"