Donald Trump Says Countries Should Handle Their Own Defense While Pushing to Sell Arms to Saudi Arabia
President Donald Trump has called on other countries to step up in contributing to the defense of international assets in the strategic, tense waters of the Strait of Hormuz, just as his top diplomat visited Saudi Arabia to discuss joint security efforts and potentially advance new arms deals.
The president took to Twitter Monday morning to ask "why are we protecting the shipping lanes for other countries (many years) for zero compensation," arguing that "these countries should be protecting their own ships on what has always been....a dangerous journey." Trump stated that "we don't even need to be there" as the U.S. has been the world's largest energy producer since at least 2014.
The statements came amid recent unrest in the world's busiest oil chokepoint. The United States blamed recent attacks on commercial vessels on Iran, which on Thursday shot down a U.S. surveillance drone that it claimed breached its airspace⁠—something the Pentagon has denied. Saudi Arabia, among the U.S.' closest allies in the region, was also one of the few international voices backing Trump's decision last year to leave the 2015 Iran nuclear deal, a move that spurred on current tensions between the longtime rivals in a region where Riyadh and Tehran have been competing for influence.
Just a half hour after Trump's tweet, Secretary of State Mike Pompeo posted a picture of himself with the Saudi monarch, writing: "Productive meeting with King Salman bin Abdulaziz Al Saud today to discuss heightened tensions in the region and the need to promote maritime security in the Strait of Hormuz. Freedom of navigation is paramount."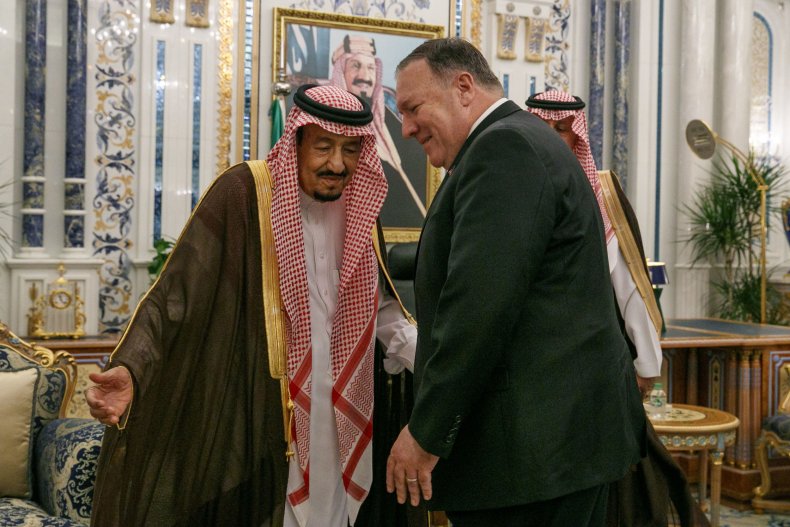 In addition to being a close regional partner, Saudi Arabia was also the world's top buyer of U.S. weapons, a fact that Trump has often highlighted in defending his administration's close ties to the kingdom. Riyadh's human rights record has long been called into question by international organizations and Washington's lawmakers have grown increasingly critical of the relationship between the two countries amid a reported rise in civilian casualties in the Saudi-led war in Yemen and the Saudi royal family's suspected role in the killing of journalist Jamal Khashoggi.
Trump and his administration's unwillingness to officially link Khashoggi's slaying, which occurred in October at Riyadh's consulate in Istanbul, to Saudi Crown Prince Mohammed bin Salman led to a backlash among U.S. legislators. For the first time since the War Powers Resolution was passed in 1973, both the House and Senate voted in favor of invoking it to end U.S. assistance to Saudi Arabia's four-year efforts to defeat Yemen's Zaidi Shiite Muslim rebel group, known as Ansar Allah or the Houthis and accused of receiving Iran's backing—but Trump vetoed the measure in April.
The United Nations has called on the U.S. to launch an FBI investigation into Khashoggi's death and any potential involvement by Mohammed. Asked by NBC News about his response to this, Trump said the matter had "been heavily investigated" by "everybody." When further pressed on the issue, Trump swiftly shifted the subject to Iran, as he had done in previous instances.
"Here's where I am, you ready? Iran's killed many, many people a day," Trump told NBC. "Other countries in the Middle East, this is a hostile place. This is a vicious, hostile place. If you're going to look at Saudi Arabia, look at Iran, look at other countries, I won't mention names, and take a look at what's happening. And then you go outside of the Middle East, and you take a look at what's happening with countries. Okay? And I only say they spend $400 to $450 billion over a period of time, all money, all jobs, buying equipment."
Trump also rehashed his argument that, if the U.S. quit selling arms to Saudi Arabia, then the country would simply "do business with the Russians or with the Chinese."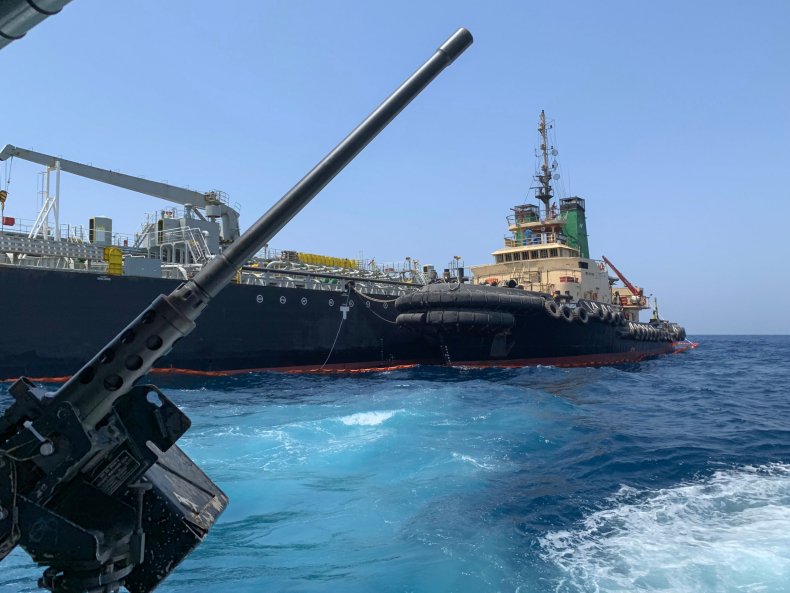 Russia and China have already developed robust relations with Saudi Arabia, including in the field of defense and nuclear energy, but the two top U.S. rivals have grown increasingly concerned about the recent escalation in the Persian Gulf. Both were staunch backers of the nuclear deal abandoned by Trump and have called for calm as the U.S. nearly initiated military action against Iran on Thursday.
As Newsweek and several other outlets reported, Trump gave the command to conduct strikes on a number of Iranian sites, including against the S-125 surface-to-air missile system that one Pentagon official said was involved in the shootdown of the U.S. RQ-4A Global Hawk drone. As little as what Trump described as "10 minutes" before the attack, Trump changed his mind, however, later explaining how he felt one general's casualty estimate of "150 people" was "not proportionate" to the downing of an unmanned system.
Still, the president signed into action further sanctions Monday, adding to those that have already damaged Iran's global trade ties. Trump also claimed Saturday on Twitter that he "never called the strike against Iran 'BACK,' as people are incorrectly reporting, I just stopped it from going forward at this time!"
Following Pompeo's talks Monday, a statement endorsed by the U.S., the United Kingdom, Saudi Arabia and the United Arab Emirates said the four powers "express their concern over escalating tensions in the region and the dangers posed by Iranian destabilizing activity to peace and security both in Yemen and the broader region."