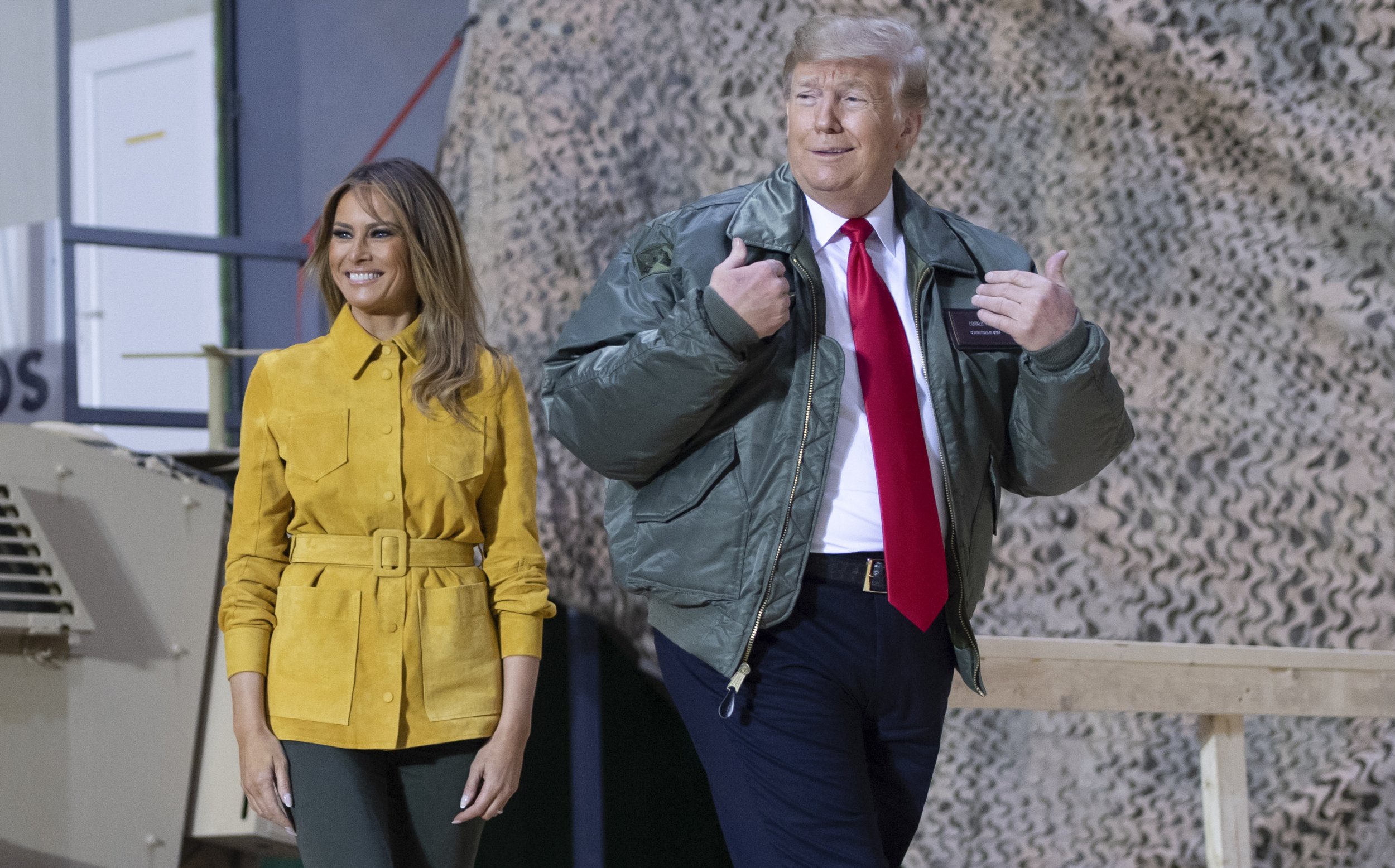 Joe Scarborough—co-host of MSNBC's Morning Joe—on Thursday laid into President Donald Trump's visit to troops in Iraq, which marked his first trip as commander-in-chief to service members deployed to a combat zone.
Scarborough did note that the troops at Al-Asad Air Base in Iraq did seem to really appreciate the visit but took issue with Trump bringing up domestic policies while there. "We need a wall," Trump told reporters while at the base, via a pool report. "We need safety for our country. Even from this standpoint. We have terrorists coming in through the southern border."
Scarborough rebuked Trump using the visit to push for his long-promised wall and to slam Democrats.
"You know the president's trip to Iraq and Germany, they were very good and valuable uses of the president's time over the Christmas holidays," the host said. "And the troops were clearly happy to see him, buoyed by his presence. I think every American should be grateful for that. But we should be concerned that Trump once again used a captive audience of American heroes to push his unpopular domestic agenda. This time: the wall."
During the extended monologue on Morning Joe, Scarborough later pivoted to criticizing Trump for an invented claim that he got military members a big raise. "You haven't gotten [a raise] in more than 10 years," Trump said. "More than 10 years. And we got you a big one. I got you a big one. I got you a big one."
In reality, military members have gotten a raise every year for the past decade and—despite a claim from Trump that he got them a 10 percent raise—they got a 2.4 percent raise in 2018 and are due for a 2.6 percent raise in 2019.
Said Scarborough on Trump's raise comments:
"It's all very unbecoming and all very bush league and you can bet 41 and 43 would have never treated the troops so disrespectfully. The president also lied about pushing through a huge pay raise for the troops. I don't get it. It's not true. It's not even close to being true. And of all the people in the world to know that the president of the United States was lying about a ten percent pay raise that he pushed through himself...the very people that would know that he was lying about their pay raise would be the troops themselves, who were in that audience who opened their paychecks to see they didn't get that pay raise."
Trump had previously faced criticism for not visiting troops in a combat zone. It had been reported he was worried about his safety traveling to such areas.
Trump did admit he had concerns about visiting troops in war zones during his visit to Iraq.
"I had concerns about the institution of the presidency," Trump told reporters. "Not for myself personally. I had concerns for the first lady, I will tell you. But if you would have seen what we had to go through in the darkened plane with all window closed with no light anywhere. Pitch black. I've been on many airplanes. All types and shapes and sizes.… So did I have a concern? Yes, I had a concern."