Donald Trump Is a 'Frightened and Cowardly Thief,' ISIS Says as U.S. Pummels Last Stronghold
The official spokesman for ISIS released a new message mocking President Donald Trump, even as the group faced annihilation in its final tiny pocket of territory in Syria.
Abu Hassan al-Muhajir, who has not released an audio recording since September, used his 44-minute speech to undermine Trump's assertion that ISIS has been defeated and called on Muslims around the world to launch attacks to avenge last week's mosque attacks in Christchurch, New Zealand, The New York Times reported.
Remaining ISIS fighters and their families had been pushed back to the last area under the group's control—a ramshackle tent city in the village of Baghuz in southeastern Syria, close to the Iraqi border. Hemmed in on all sides by the U.S.-backed and Kurdish led Syrian Democratic Forces (SDF), the militants were being pummeled by artillery and airstrikes daily. Though thousands surrendered, many were expected to fight to the death.
Despite the group's dire straits, al-Muhajir mocked Trump's declaration of victory over the group, which once ruled some 8 million people across Syria and Iraq. The spokesman called the White House's claim a "state of confusion and contradiction that make it impossible for any observer to know what is meant by the word "victory."
He also referred to Trump's claim not to know Brett McGurk, who resigned as America's special envoy in the fight against ISIS after the president announced that he would withdraw all U.S. troops from Syria. The furor also led to the resignation of Secretary of Defense Jim Mattis, amid suggestions that the U.S. was leaving the fight against ISIS before it was over and abandoning its local allies.
Al-Muhajir ridiculed Trump's Christmas trip to Iraq, where the president visited U.S. troops fighting ISIS at the Al Asad Air Base in the west of the country. Trump did not travel to Baghdad to meet Prime Minister Adel Abdul-Mahdi, instead confining his three-hour visit to the base.
During his visit, Trump said it was "sad" such extensive security measures were needed for his trip, given the U.S. had spent about $7 trillion to stabilize the region. "How strange for a victor who can't even announce publicly an official visit to a country he claims to be bringing peace and stability to," al-Muhajir said, referring to Trump's comments.
"He could only come like a frightened and cowardly thief," the ISIS spokesman added.
At other points in the recording, al-Muhajir called on Muslims to avenge the New Zealand mosque shootings in which 50 people were killed last week, and also suggested that ISIS leader Abu Bakr al-Baghdadi was still alive.
Al-Muhajir used the honorific "May God preserve him" to refer to the leader, a style used for someone who was still alive. He also passed on advice from al-Baghdadi to his followers of how to avoid detection and Western airstrikes, warning, "Be careful, careful of communication devices—even if it slows down work from two days to seven days."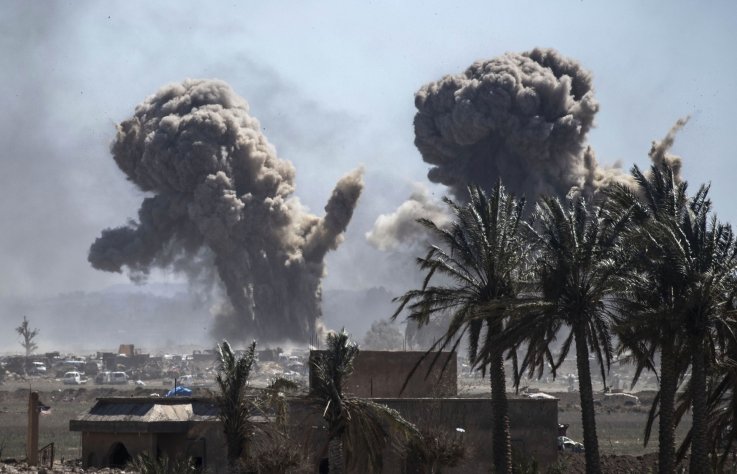 Donald Trump Is a 'Frightened and Cowardly Thief,' ISIS Says as U.S. Pummels Last Stronghold | World