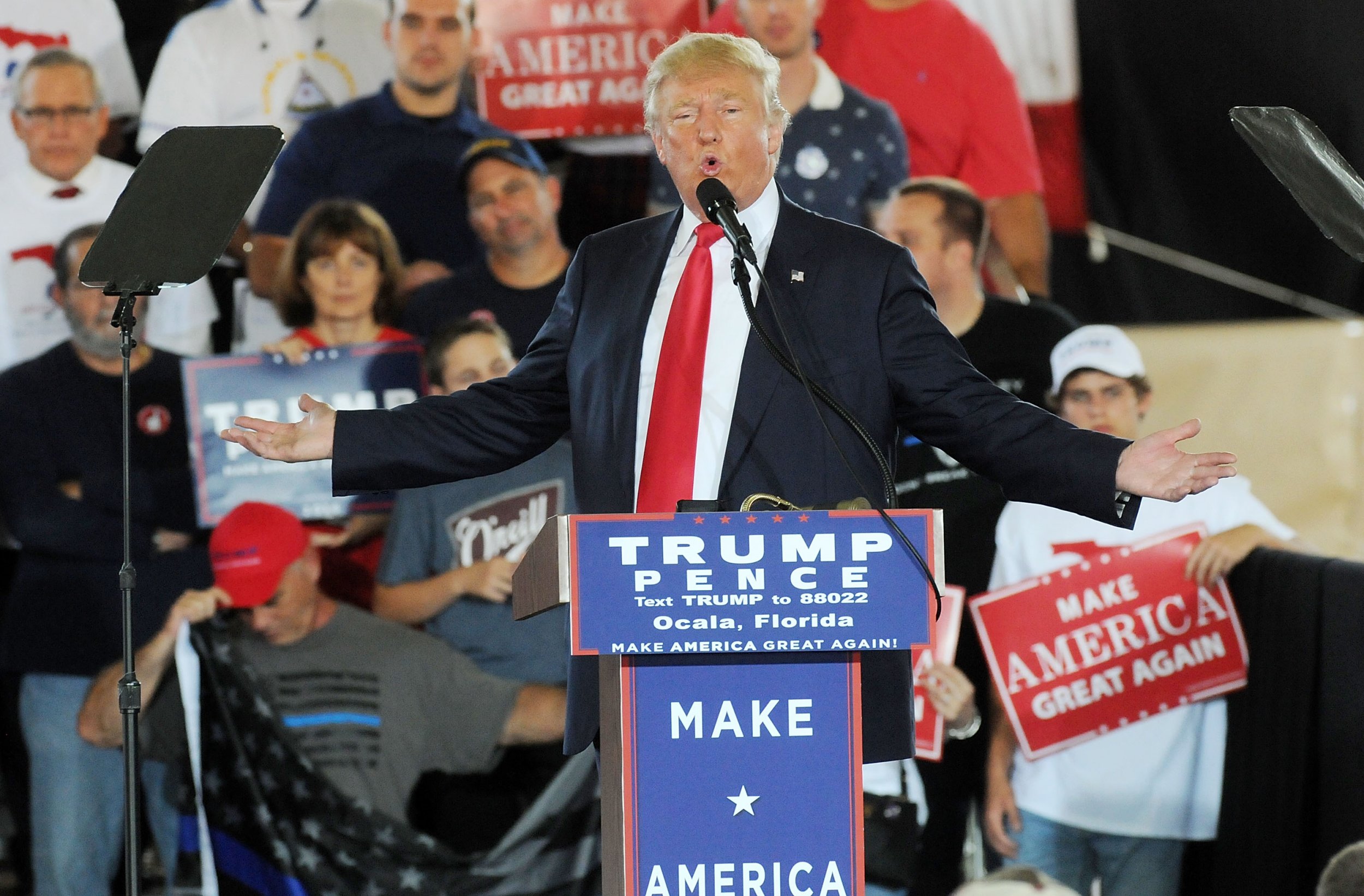 Donald Trump told a rally of supporters in Florida Wednesday that electing Hillary Clinton as president next month would see the Islamic State militant group (ISIS) "take over this country," as he continued to brush off a string of recent controversies.
The firebrand Republican presidential candidate told voters in Ocala, Florida, that the extremist group was "hoping and praying" that Clinton ascends to the Oval Office. He seemed to extend the threat of ISIS to North America more widely, saying that the group would "take over this part of the world."
He said that in contrast to Clinton he would "be their worst nightmare" if he secured the White House.
Despite his claim, analysis of pro-ISIS channels on the encrypted Telegram app has revealed that the group's supporters would prefer a Trump victory in November, Foreign Affairs magazine reported in August.
One of the key reasons was his controversial positions on foreign military action, such as killing the families of extremists and "bombing the s***" out of Syria. According to the report, pro-ISIS supporters believe that he will increase support for the group among Muslims, boosting their message of Islam versus the West.
On the campaign trail, Trump has repeatedly referred to President Barack Obama and Clinton as the "founders of ISIS." He has used lone wolf attacks in San Bernardino and Orlando to call for a temporary ban on Muslims entering the U.S. and he has criticized the U.S. military for its strategy in attempting to defeat the radical group.
In the second presidential debate against Clinton on Sunday, Trump was criticized for making several unsubstantiated claims about ISIS and the war against the group. He lambasted the Obama administration for announcing its plans to attack the northern Iraqi city of Mosul in the coming months, instead advising that they make the operation on the city a "sneak attack."
He also claimed that ISIS "has a good chunk" of oil in Libya, despite the group not controlling any oil terminals or refineries in the country.
In his first foreign policy speech in April, he said that he would "replace chaos with peace" in the Middle East and make the extremist group disappear "very, very quickly."