Trump White House Blames ISIS Attack on Tehran and the 'Evil They Promote'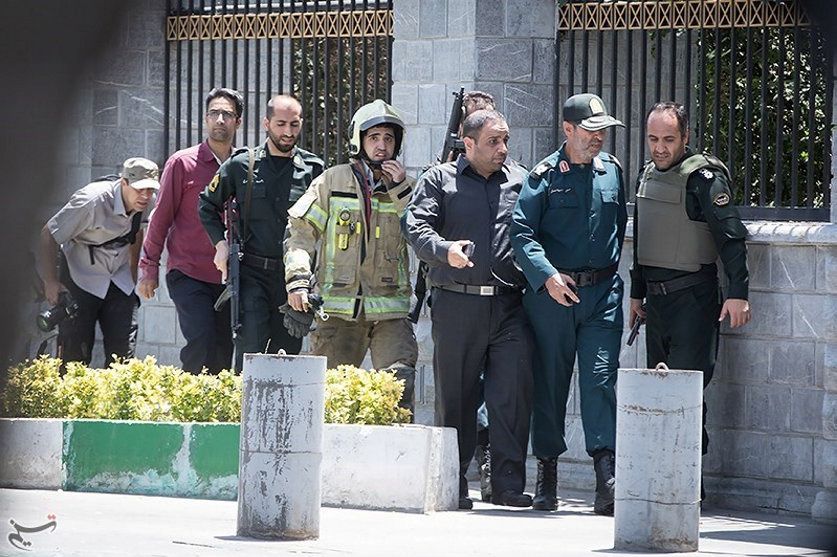 President Donald Trump issued a brief statement Wednesday after the Islamic State militant group (ISIS) carried out an attack in Tehran that warned against the Iranian government's past support of terrorism.
"We grieve and pray for the innocent victims of the terrorist attacks in Iran, and for the Iranian people, who are going through such challenging times," the statement read. "We underscore that states that sponsor terrorism risk falling victim to the evil they promote."
At least 12 people were killed and over 40 wounded on Wednesday morning in Tehran, as masked gunman mounted twin attacks on Iran's parliament building and a historic tomb site dedicated to Ayatollah Khomeini, the Iranian revolutionary leader. One assailant detonated a suicide vest. The assault lasted for several hours, and ended with six assailants killed and five suspects taken into custody. Iran's Revolutionary Guards accused Saudi Arabia of helping to support the ISIS-claimed attacks, CNN reported.
"This terrorist attack happened only a week after the meeting between the U.S. president and the backward [Saudi] leaders who support terrorists," the Revolutionary Guard said, referencing a recent summit between Trump and Gulf leaders during his "global religions" tour to Italy, Israel and Saudi Arabia in May. "The fact that Islamic State has claimed responsibility proves that they were involved in the brutal attack."
The attack is notably ISIS's first major attack in Iran, after years of escalated threats against the country. The State Department also issued a statement in response to the attacks, but without the same forceful tone used by the president.
"We express our condolences to the victims and their families, and send our thoughts and prayers to the people of Iran," the statement read. "The depravity of terrorism has no place in a peaceful, civilized world."
Trump's statement comes after a barrage of tweets aimed at Qatar and praising Saudi Arabia-along with Egypt, Bahrain, and the United Arab Emirates-for cutting ties with the country, which hosts the largest U.S.-run airbase in the Middle East and which has been crucial in the fight against ISIS. Saudi Arabia's diplomatic severing was a response, in part, to Qatar's ties to the Muslim Brotherhood and ISIS militants supported by Iran.