Did Trump's Jerusalem Capital Move Just Destroy Jared Kushner's Israeli-Palestinian Peace Deal?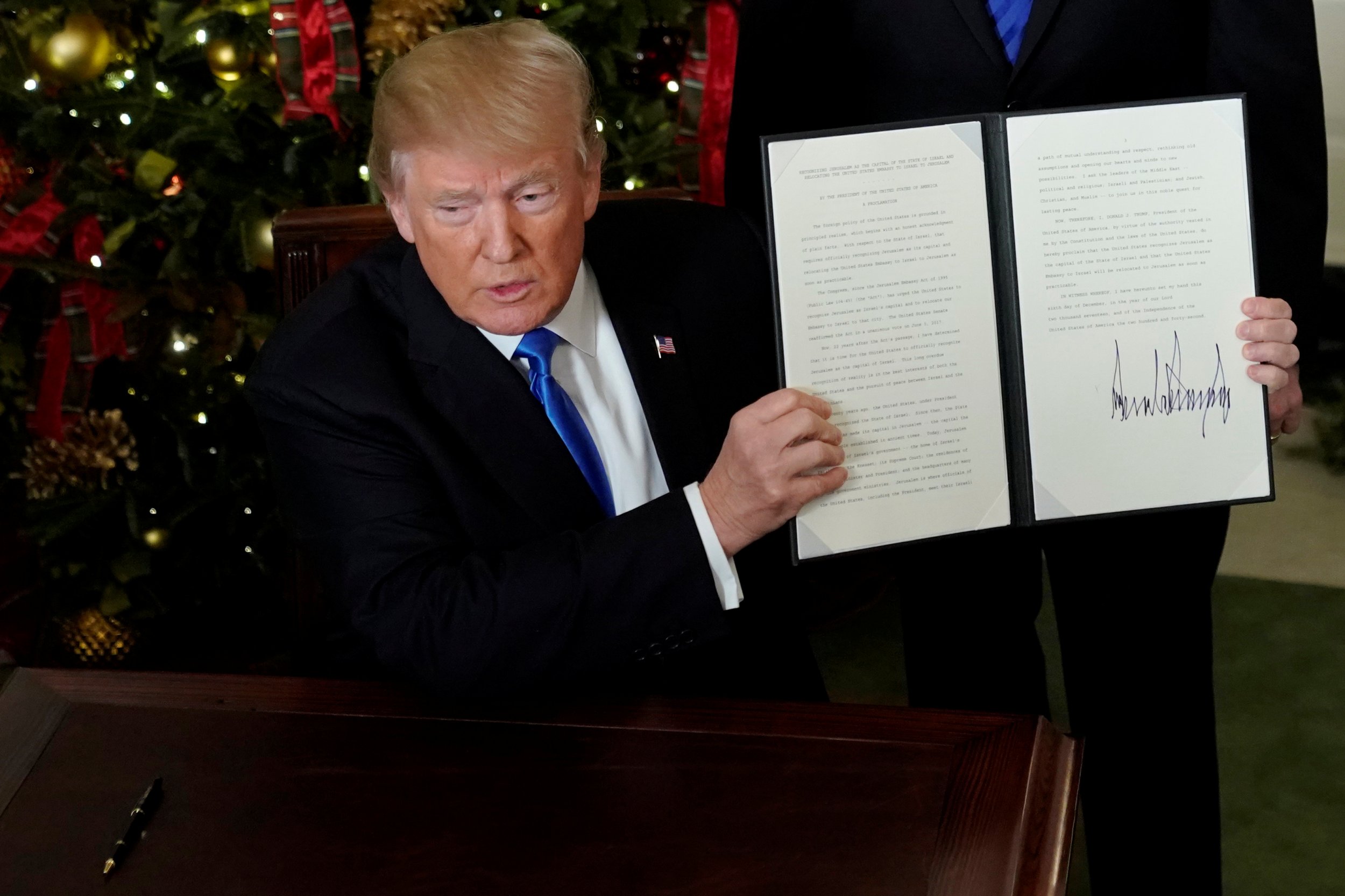 Updated | Two Mondays ago, President Donald Trump was supposed to just drop by a meeting about the fate of the U.S. embassy in the Israeli city of Tel Aviv.
Trump had campaigned for president in part on moving the embassy to Jerusalem, as had others before him. In June, though, he signed a waiver pushing the decision off for six months in the name of "the national security interests of the United States."
According to a source close to the White House, Trump showed up at the meeting with "very specific questions and demanded very specific answers," making clear over the course of about an hour of discussion that when it came to acting on the embassy waiver in December, "he's not going to kick the can down the road [and] they need to give him a third option."
That third option became a controversial reality Wednesday, when Trump told the world the U.S. would formally recognize Jerusalem as the capital of Israel and begin preparing to relocate American diplomats there.
"Today, we finally acknowledge the obvious: that Jerusalem is Israel's capital. This is nothing more, or less, than a recognition of reality. It is also the right thing to do. It's something that has to be done," Trump said in a televised address from the White House Diplomatic Reception Room.
The president, who had pledged to relocate the embassy in a campaign-season speech before the American Israel Public Affairs Committee, insisted his formalized stance didn't equate to taking sides in the Israel-Palestine conflict. Still, protests began immediately, as expected.
Trump's decision, as lauded by Israel and its allies as it was condemned by Palestinians, has the potential to not only spark unrest but to complicate or even confound the work of his son-in-law, Jared Kushner, in helping broker an elusive Israeli-Palestinian peace.
Congressman Lee Zeldin of New York, one of just two Jewish Republicans currently serving in the House (the other being David Kustoff of Tennessee), said he spoke to Kushner about Israel as recently as Tuesday night, while at the White House for the annual Congressional Ball.
"He's very passionate about this issue. It's one that he clearly cares about very deeply," Zeldin said of the presidential adviser. "He certainly is pouring his heart and soul into it."
Zeldin, who has discussed U.S.-Israel policy with "different members of the administration, including conversations with the president and vice president," called Trump's move one that went "further than any other president had gone in the past," but not one that would negate the chances of an end to Middle East violence.
"This announcement should not in any way, shape, or form prevent a long-term peace," Zeldin said. "This is a particular aspect that was obviously never going to be—for good reason—negotiated away, where somehow, Jerusalem wasn't going to be part of Israel."
A source familiar with the administration's thinking on Israel said allies of Kushner, who remains a central figure in the ongoing investigation into Russian influence on American politics, are not afraid Trump's declaration will derail diplomacy in the region or U.S. efforts to facilitate a deal.
Broadly, despite expected condemnations from the PLO, Hamas and other pro-Palestinian groups, the source told Newsweek the Palestinians are simply not seen as the top priority in an Arab world focused more sharply on containing Iran. Additionally, major Western powers, such as Germany and France, will conceivably want to "pick their fights" with the U.S.; the Palestinian cause may fall short when put up against issues such as climate change or the future of NATO.
Harlan Hill, a member of the advisory board for Trump's re-election campaign, went so far as to tell Newsweek that Kushner "had everything to do with today's announcement" and called him "the de facto ambassador to Israel and the Palestinians."
Hill, a political strategist, lambasted Trump's predecessor, Barack Obama, as "anti-Israel" and said "restoring America's relationship with Israel is the shared legacy of President Trump and Jared Kushner."
Wednesday's move is, in a way, a classic Trump play, said political analyst Micah Halpern, a contributor to the New York-based Observer, which Kushner formerly oversaw as publisher.
By announcing his intent to move U.S. operations to Jerusalem but not doing it immediately, Trump is "testing the waters to see what the blowback is going to be," Halpern said.
In reportedly overruling the concerns of top security advisors by forging ahead on the Jerusalem plan—which generated at least enough worry to cause the State Department to promise "robust security plans to protect the safety of Americans in affected regions"—Trump of course didn't act entirely in his own head.
He perhaps considered the desires of major donors like billionaire Sheldon Adelson, who has famously brought pressure to bear on U.S.-Israel policy, and the Republican Jewish Coalition (RJC), which previewed a laudatory full-page ad to run in the New York Times (and subsequently on Wednesday launched a related pro-Trump fundraising campaign.)
But Halpern suggested that the first sitting U.S. president to make an official visit to the Western Wall, one of the premiere holy sites in Judaism, may not have needed much pushing.
"Adelson and Trump have had tensions now, and not just about this," he noted, adding that the RJC, while vocal and relevant, is far from the largest player in even GOP politics alone. Adelson is on the board of the RJC.
Trump's Jerusalem announcement, which is also being slammed by U.S.-based groups such as J Street that support a two-state Middle East solution, comes just before his vice president departs for Israel, where he will address the Knesset, or legislature, becoming the first senior American official to do so since a 2008 appearance by then-President George W. Bush.
Pence foreshadowed Trump's announcement about the embassy in a November 28 speech in New York marking the 70th anniversary of the United Nations vote establishing the State of Israel.
This article has been updated to add comment from Harlan Hill.