Donald Trump Said Ivanka Is 'Like a Democrat' and Used Daughter in Dealmaking With Nancy Pelosi, Chuck Schumer: Book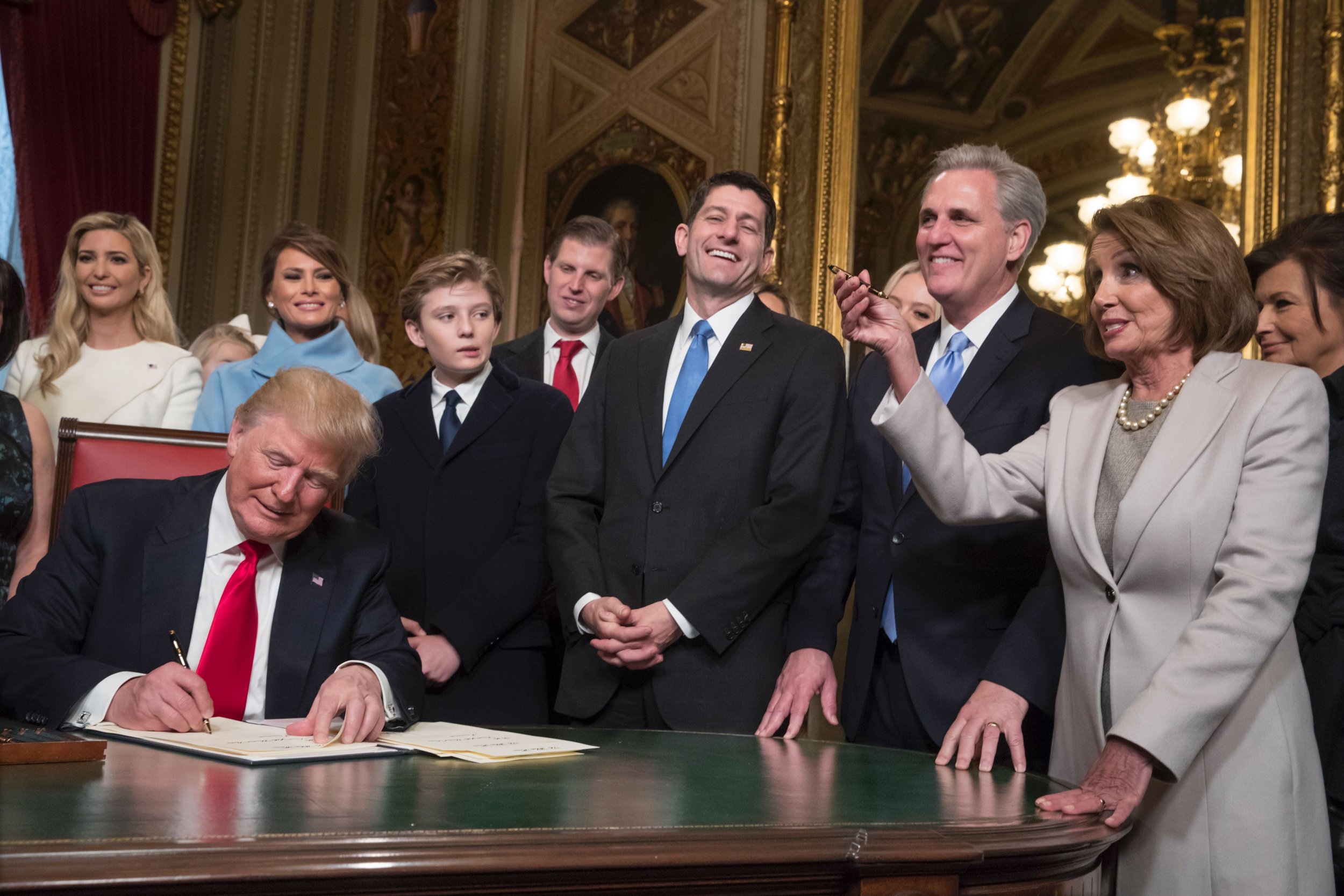 President Donald Trump reportedly said his daughter and senior White House adviser Ivanka Trump is "like a Democrat" and appeared to use her presence in a meeting in which he sided with Nancy Pelosi and other Democratic leaders over his own Republican Party.
The alleged episode took place on September 6 last year when the president met with then-House Speaker Paul Ryan and then-House Majority Leader Kevin McCarthy, along with then-House Minority Leader Nancy Pelosi and then-Senate Minority Leader Chuck Schumer, among other officials.
White House aides had assured Ryan and McCarthy that the president would support their plan to extend the debt ceiling past the 2018 midterm elections and government funding until December, according to the book released Tuesday, The Hill to Die On: The Battle for Congress and the Future of Trump's America by Politico Playbook writers Jake Sherman and Anna Palmer.
McCarthy entered the Oval Office first and the president greeted him with, "Hey, Kevin, what's up?" The president had a different reaction to Pelosi.
After Pelosi joined the room, the president said, "I've gotta get Ivanka," the book states.
Ivanka Trump entered the Oval Office mid-discussion and the president said, "You know my daughter Ivanka. She's like a Democrat," according to the book.
The first daughter is not quoted as saying or doing anything in the meeting.
Schumer reportedly said that Democrats would accept a three-month debt limit increase at most, and he and Pelosi said Trump and fellow Republicans could pass what they wished if they could do so without the help of Democrats.
"Suddenly Trump had heard enough," the book states. "He liked the Pelosi and Schumer offer—and agreed to it quickly." The Republican leaders "couldn't believe what was happening," it states. Ryan and GOP leaders were apparently only briefly shocked because the president had ignored their counsel in the past.
A similar account of the president's comments about his daughter emerged in investigative journalist Bob Woodward's book Fear: Trump in the White House, published last September. Woodward wrote that Ivanka Trump wanted the U.S. to stay in the Paris climate accord and would walk into meetings in which then-White House chief of staff Reince Priebus tried to convince the president to withdraw. She reportedly would often say nothing.
"At times it seemed Ivanka's presence—hours a day, days in a row—was nonstop. Jared [Kushner] had the same squatter's rights in the West Wing," Woodward wrote. "They were like a posse of second-guessers, hovering, watching, interacting as family and senior advisers with the president. Ivanka planted seeds of doubt about policy and passed her father articles."
When Priebus complained about the first daughter and her husband's presence, according to Woodward, the president "regularly joked, 'They're Democrats.'"
Ivanka Trump was a registered Democrat until her father began seriously pursuing the presidency. In late 2016, she called herself an independent and stressed that her political views were not identical to her father's.