Donald Trump Joked Ivanka and Jared Kushner Are 'Democrats' Amid Their Constant White House Presence: Woodward Book
President Donald Trump reportedly brushed off complaints from his senior staff that his daughter Ivanka Trump and son-in-law Jared Kushner constantly sat in on meetings by joking, "They're Democrats."
Donald Trump's alleged remark is detailed in the forthcoming book by investigative journalist Bob Woodward, Fear: Trump in the White House. Then-White House chief of staff Reince Priebus "had had it with Ivanka," a transcript of the book obtained by Newsweek stated in a section on the lead-up to the president withdrawing from an agreement to combat climate change.
"The president's 35-year-old daughter and White House senior adviser effectively had free run of the West Wing," Woodward wrote. "She had launched what amounted to a covert operation in support of the Paris Accord."
Ivanka Trump, who felt strongly that the U.S. should remain in the agreement, reportedly crashed meetings in which Priebus planned for the president to withdraw.
"Priebus would be meeting in his office with a handful of aides from the economic team and the National Economic Council for 15 minutes and in would walk Ivanka," the book states. "She would sit down and often say nothing."
Priebus marveled, "Who is this person? What is she doing?", and it was becoming "impossible" to manage the West Wing, Woodward wrote.
"At times it seemed Ivanka's presence—hours a day, days in a row—was nonstop. Jared had the same squatter's rights in the West Wing," wrote Woodward. "They were like a posse of second-guessers, hovering, watching, interacting as family and senior advisers with the president. Ivanka planted seeds of doubt about policy and passed her father articles."
When Priebus complained about Ivanka Trump and Kushner's constant, often uninvited presence, Trump "regularly joked, 'They're Democrats,'" Woodward wrote.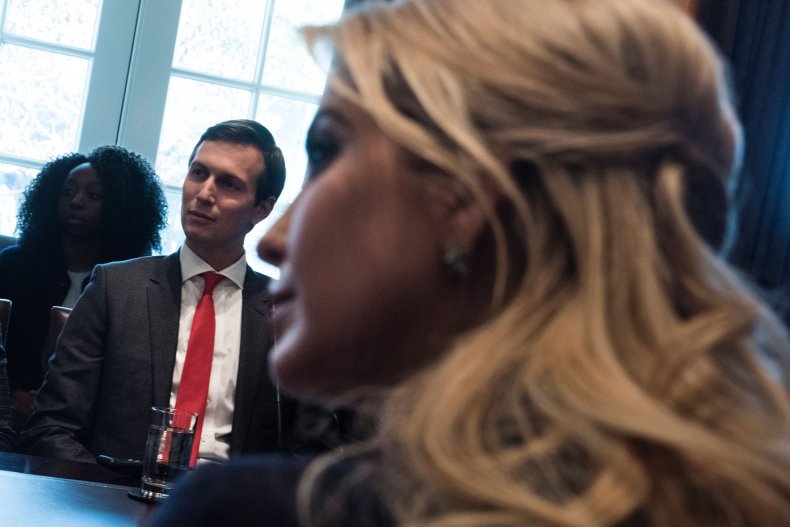 The president not only chalked up his daughter and son-in-law's behavior to their New Yorker, liberal city roots, but "made no real effort to curtail their freelancing," the book stated.
Another section of the book claimed that Ivanka Trump bypassed Priebus to get to her father, against White House protocol. When then-chief White House strategist Steve Bannon screamed at Ivanka Trump, "You're a goddamn staffer!" and asked that she stop walking around like she was in charge, she replied, "I'm not a staffer! I'll never be a staffer. I'm the first daughter."
Ivanka Trump was registered as a Democrat until her father started seriously pursuing office. In late 2016 she said was an independent and that her political views were not identical to those of her father. Kushner was a lifelong Democrat and donated to the party's campaigns until he joined Donald Trump's presidential campaign in 2015.
White House Press Secretary Sarah Huckabee Sanders in a statement Tuesday called Woodward's book "nothing more than fabricated stories."