Ivanka Trump Clone Spoke at Jan. 6 Hearing, Says MAGA Supporter
A video of The Daily Show's Jordan Klepper speaking to a Donald Trump supporter who claimed a clone of Ivanka Trump was speaking in a clip played during the January 6 Committee hearing has gone viral.
The Daily Show posted the video of Jordan Klepper speaking to supporters of the former president during one of its stops in Mississippi as part of his American Freedom Tour.
The video has been viewed over 500,000 times and showed Klepper speaking to attendees at the event about the January 6, 2021 insurrection as well as the ongoing January 6 Committee hearings.
Ivanka Trump, Trump's daughter and former White House adviser, gave video testimony at the January 6 Committee hearing on June 9 and said she accepted what Attorney General William Barr had said, that there was no widespread fraud in the 2020 election.
In Klepper's Daily Show clip, multiple Donald Trump supporters said they had not been watching the committee hearings but also argued that the election was stolen.
"If no one was willing to turn on the hearing, I decided to bring the hearing to them," Klepper said in the video.
"I first shared testimony from Trump's own acting attorney general, [William Barr], dismissing Trump's claims of voter fraud."
He then played the clip from the hearing where Barr said "I told him that the stuff that his people were shoveling out to the public was bullsh*t"
Klepper then played Ivanka's response to that clip of Barr from the committee hearing.
"How did that affect your perspective about the election when Attorney General Barr made that statement," Ivanka was asked.
"It affected my perspective," she replied. "I respected Attorney General Barr. So I accepted what he was saying."
One Trump supporter claimed the woman in the video didn't look like Ivanka Trump and that she may have been a clone.
"It doesn't even look like her, it might not be her, what do they have now? Clones these days? It might be a clone, yeah." the man, whose name was not given, said while laughing.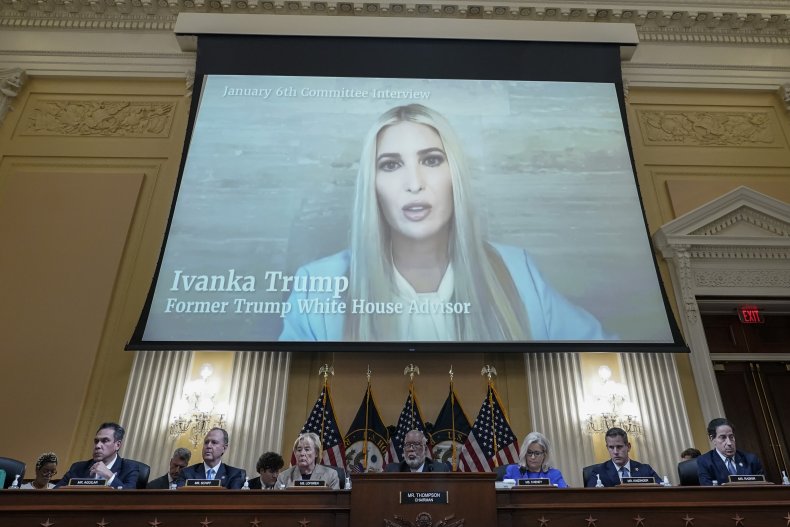 Klepper then suggested the Trump supporter was doing mental gymnastics to avoid re-evaluating his position.
"That is a hot take, my friend," Klepper said. "It is almost like you are confronted with it and your brain just does somersaults to figure out there must be some other reason."
The man said Ivanka Trump looked scared to which Klepper agreed and suggested it was because she felt she had been caught out.
After Ivanka Trump spoke to the committee, Trump attempted to get ahead of any further testimony from his daughter.
He said she had already been "checked out" by the time the former president and his allies were claiming the election was stolen.
"Ivanka Trump was not involved in looking at, or studying, Election results," Trump wrote in a post on his social media platform, Truth Social. "She had long since checked out and was, in my opinion, only trying to be respectful to Bill Barr and his position as Attorney General (he sucked!)."