DOJ Filing Against Trump Helps 'Pave the Way' to Indictment—Kirschner
The Department of Justice's ruling that Donald Trump cannot cite absolute immunity to dismiss lawsuits stemming from the January 6 attack may "pave the way" in the indictment of the former president, according to a former federal prosecutor.
Speaking on his Justice Matters YouTube channel, Glenn Kirschner, a legal analyst for NBC and MSNBC, discussed the DOJ saying in an amicus brief that Trump is not protected from a civil lawsuit brought by U.S. Capitol Police officers over claims he was performing his duty as president on the day of the Capitol riot.
The lawsuit accuses Trump of being culpable for the injuries and psychological harm suffered by police during the attack on January 6, 2021, after riling up his supporters during a speech at the Ellipse in Washington, D.C. and urging them to "fight like hell" just prior to the violence breaking out.
By rejecting the argument that Trump's actions are protected by absolute immunity, the former president could not only be held liable for damages in the civil lawsuit, but also the criminal investigations into the former president's actions in and around January 6.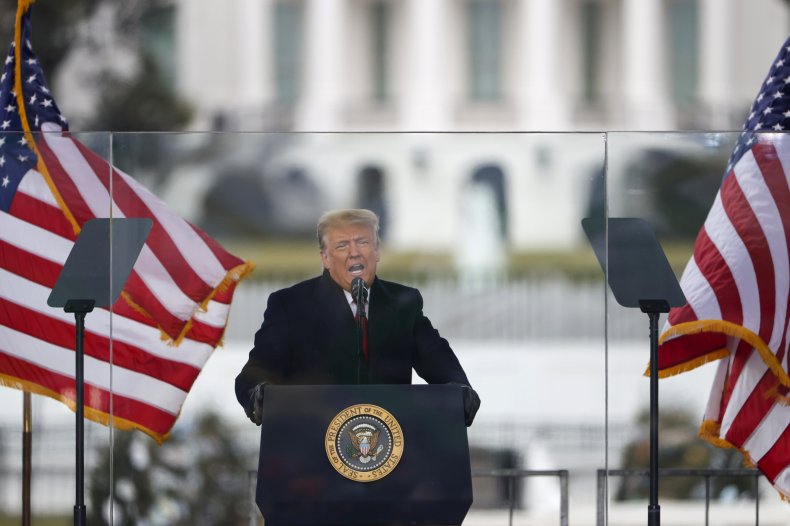 "Why is this DOJ pronouncement so important? Well, it helps pave the way for a criminal indictment—let me be clear, it doesn't guarantee a criminal indictment—but it really does help pave the way and that's a good thing," Kirschner said.
In its 32-page briefing, the DOJ said that while speaking to the public on matters of public concern is "a traditional function of the presidency," it cannot include the "incitement of imminent private violence."
"No part of a president's official responsibilities includes the incitement of imminent private violence," the brief said. "By definition, such conduct plainly falls outside the president's constitutional and statutory duties."
The DOJ noted that Trump's counsel reiterated the former president's view that absolute immunity extends "even to speech that incites imminent private violence" and therefore cannot be held liable for his January 6 speech.
Discussing the report, Kirscner added: "Importantly, the DOJ opinion goes on to say, 'Oh, and by the way regarding First Amendment protection? If Donald Trump's speech on January 6 was designed to and reasonably likely to incite imminent violent acts, and of course, we know it did, it does not enjoy First Amendment protection, either.'"
In a statement, Trump dismissed the suggestion that his January 6 speech urged his supporters to carry out immediate violence and instead "repeatedly called for peace, patriotism, and respect" for law enforcement.
"The Department of Justice has rightfully agreed that presidential immunity is broad and absolute. If it were not, Joe Biden would be personally liable for the disasters in Afghanistan, our Southern Border, record drug use causing massive destruction of families and lives, and many other terrible crises that he has caused," the statement said.
"Additionally, other Presidents throughout history would be held responsible for catastrophes they potentially may not be responsible for. All witch hunts and hoaxes have to end!"