Donald Trump Plans to Use Traditional Steam Catapults on U.S. Aircraft Carriers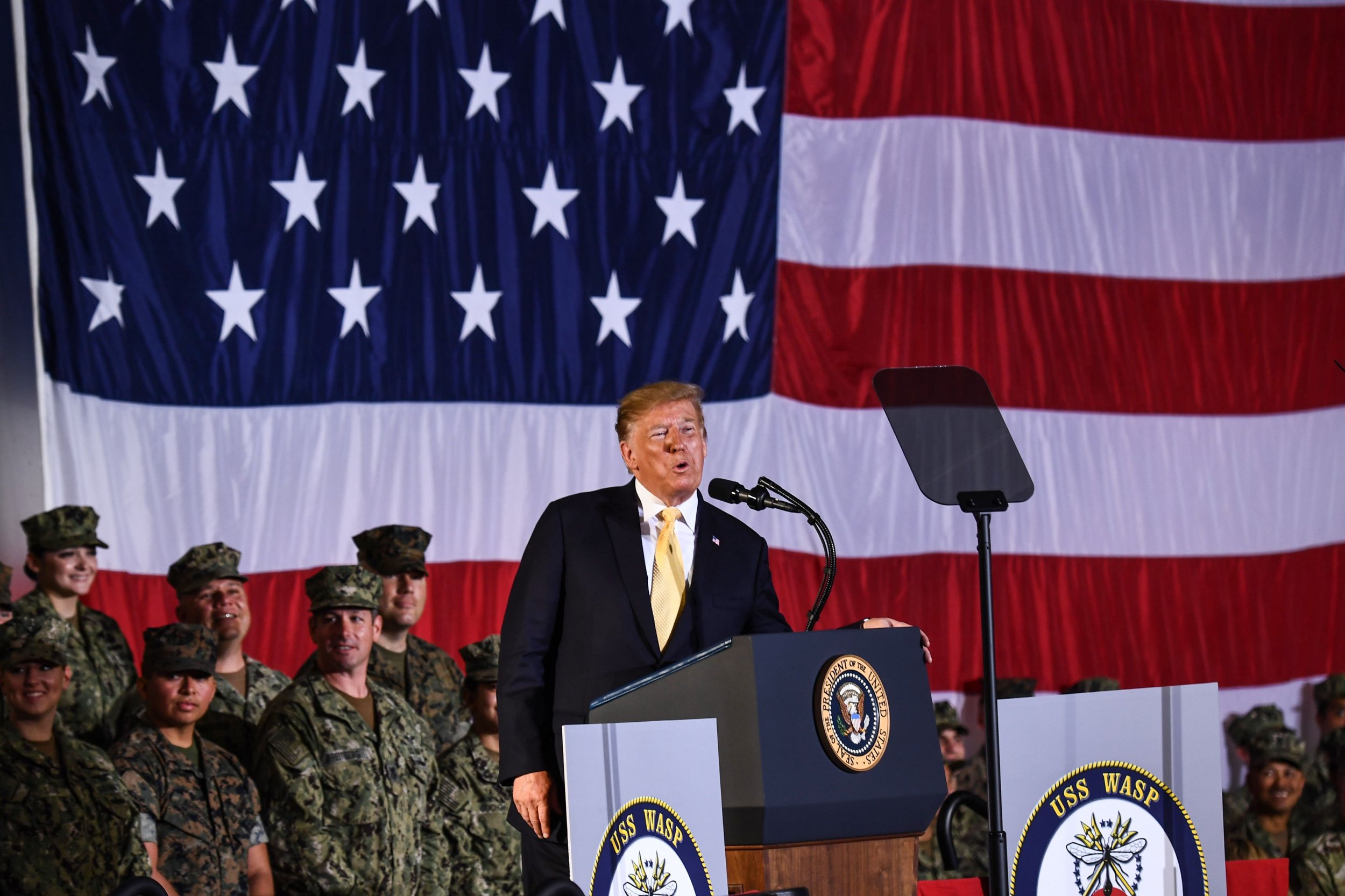 President Donald Trump has announced plans to overhaul what he has described as the "wrong" design of U.S. aircraft carriers.
Speaking to troops stationed in Japan, Trump said he would favor the use of traditional steam-powered catapults instead of electromagnetic systems on American warships.
Ford's Electromagnetic Aircraft Launch System (EMALS) is replacing traditional steam catapults as the preferred way to launch aircrafts off navy ships. Trump, however, suggested there was no way to know whether the more modern system would work efficiently during wartime.
"We're spending all that money on electric and nobody knows what it's going to be like in bad conditions," he told sailors and Marines on the USS Wasp, as reported by Bloomberg.
"So I think I'm going to put an order—when we build a new aircraft carrier, we're going to use steam."
The president also polled the aircraft carrier's personnel over their preferences and Bloomberg reported the cheer for traditional catapults were considerably louder than for EMALS.
Trump has been a vocal critic of Ford's system and told the personnel the technical innovation that came with EMALS was offset by its huge costs.
"Steam's only worked for about 65 years perfectly," he added.
"And I won't tell you this because it's before my time by a little bit, but they have a $900 million cost overrun on this crazy electric catapult.
"They want to show—next, next, next. And we all want innovation, but it's too much."
In January this year, Senator Tim Kaine (D-VA) confirmed the U.S. Navy had informed lawmakers it intended to purchase two Ford-class aircraft carriers.
Kaine, a member of the Senate Armed Services Committe e, said officials believed the move could save billions of dollars for taxpayers.
"This smart move will save taxpayer dollars and help ensure the shipyards can maintain a skilled workforce to get the job done," he said in a statement at the time, as per Reuters.
The Trump administration has looked to expand the size of the fleet over the last three years. In 2016, the Navy said it had upgraded its force structure goal to 355 ships, from a previous target of 308.
Meanwhile, Trump said he was "not personally bothered" by the short-range missile tests that North Korea carried out earlier this month.
Speaking alongside Japanese Prime Minister Shinzo Abe on Monday, the president said he was not concerned by Pyongyang's tests.
His stance was not echoed by Abe, who stated that the tests were a matter of "great regret" and had violated U.N. Security Council resolutions.
Trump's visit to the Yokosuka naval base, the largest U.S. naval installation overseas, was the final stop on the president's four-day trip to Japan.