Donald Trump Agreed Jared Kushner Shouldn't Serve in White House: Woodward Book
President Donald Trump has defended his son-in-law and senior White House adviser Jared Kushner—except when Kushner's financial investments caught special counsel Robert Mueller's attention and posed a threat to Trump himself, according to Bob Woodward's forthcoming book.
In Fear: Trump in the White House, a copy of which was obtained by Newsweek, Woodward wrote that then-White House Chief of Staff Reince Priebus "decided to escalate, make a big play" of a June 15, 2017, Washington Post story with the headline "Special Counsel Is Investigating Jared Kushner's Business Dealings."
According to the story, Mueller had requested more of Kushner's business records and that the president's son-in-law had hired a top Washington criminal defense lawyer. Mueller's investigation of Kushner's finances was part of his probe into Russia's interference in the 2016 presidential election, The Post reported.
"Priebus could see the fires building around a string of troubled investments Jared was involved in," Woodward wrote. "He told Trump that Jared should not be in the White House in an official capacity.
"Nepotism laws existed for a reason," Woodward continued, paraphrasing Priebus. "The Mueller investigation was going deeply into Jared's finances. And it will jump to your finances if it hasn't already."
Trump would normally ignore or dismiss such attacks on Kushner, Woodward wrote.
"This time he paused, slowed down, and became reflective. He looked at his chief of staff," the book stated. "The response was jarring, so different."
"You're right," Trump was quoted as saying.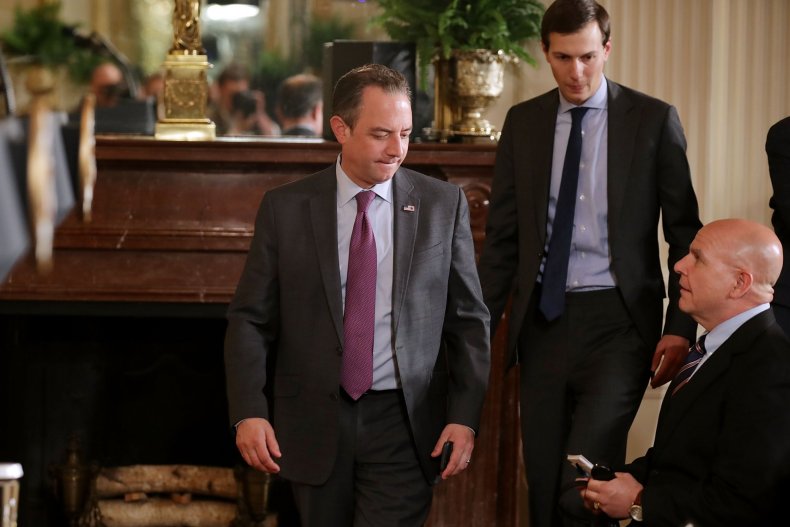 Priebus apparently continued to tell the president that Kushner should not hold an official position in the White House or have an office.
"But this suggestion would ricochet right back and get him in trouble with Jared, who wanted to stay," Woodward wrote. "Jared remained a mission Priebus failed to accomplish."
Though Trump agreed with Priebus that Kushner should not serve in the White House because of the great liability he said his business dealings could pose, the president did nothing to remove his son-in-law. Just over a month later, it was Priebus whom Trump ousted, replacing him with John Kelly, who had been serving as secretary of the Department of Homeland Security.
"I would like to thank Reince Priebus for his service and dedication to his country," Trump tweeted on July 28, 2017. "We accomplished a lot together and I am proud of him!"
"Reince is a good man," Trump later shouted to reporters.