Donald Trump Says Jeff Sessions Was 'Mixed Up and Confused' During Nomination Process, Adds 'I Have No Attorney General'
President Donald Trump offered perhaps his harshest assessment yet of Attorney General Jeff Sessions on Tuesday, saying Sessions was "mixed up and confused" during his confirmation hearing, and that he felt as if he didn't have an attorney general."
Trump, in an exclusive interview in the Oval Office with Hill.TV, said that Sessions was the first senator that had endorsed him, and that Sessions wanted to be attorney general, but Trump "didn't see it."
Trump continued: "And then he went through the nominating process and he did very poorly. He was mixed up and confused. And people that worked with him for, you know, a long time in the Senate were not nice to him, but he was giving very confusing answers. Answers that should have been easily answered. And that was a rough time for him."
Trump said that the way the nomination process went for Sessions may have affected his performance on the job. The president has continued to express frustration over Sessions's decision to recuse himself from the investigation into Russian interference in the 2016 election and possible collusion with the Trump campaign.
"He gets in and probably because of the experience that he had going through the nominating, when somebody asked him the first question about Hillary Clinton or something, he said 'I recuse myself, I recuse myself,'" Trump said.
"And now it turned out he didn't have to recuse himself," Trump continued. "Actually, the FBI reported shortly thereafter any reason for him to recuse himself. And it's very sad what happened." The FBI, in an email sent to a Sessions aide in early 2017, reported The Hill, said that Sessions did not need to reveal contacts with foreign government officials that were made when he was as a senator. Sessions had neglected to mention two meetings with Russian Ambassador to the U.S. Sergey Kislyak during his confirmation hearing.
Sessions recused himself from the Russia investigation after facing pressure from Democrats in Congress, as well as some Republicans. Instead, Deputy Attorney General Rod Rosenstein took charge of overseeing the Russia investigation, and appointed special counsel Robert Mueller to take the lead after Trump fired FBI Director James Comey. Mueller's team has indicted or received guilty pleas from 32 people, including four former Trump advisers and 26 Russian nationals, according to Vox.
Trump has repeatedly said there was "no collusion" and has called the probe a "witch hunt." Early last month, he called on Sessions to stop the Mueller probe.
But on Tuesday, he said Sessions's recusal was not the only matter he was upset about.
"I'm not happy at the border, I'm not happy with numerous things, not just this," Trump said. "I don't have an attorney general. It's very sad."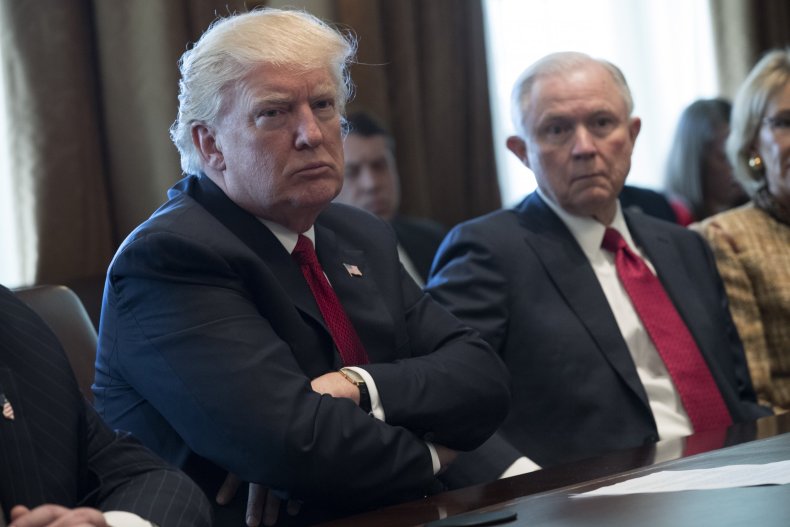 Trump would not say whether he planned to fire Sessions, but he admitted that he has contemplated doing so.
"We'll see what happens. A lot of people have asked me to do that. And I guess I study history, and I say I just want to leave things alone, but it was very unfair what he did," Trump said about the recusal.
"We'll see how it goes with Jeff," the president concluded. "I'm very disappointed in Jeff. Very disappointed."