Donald Trump Says Jeff Sessions's Job Is Safe—Until November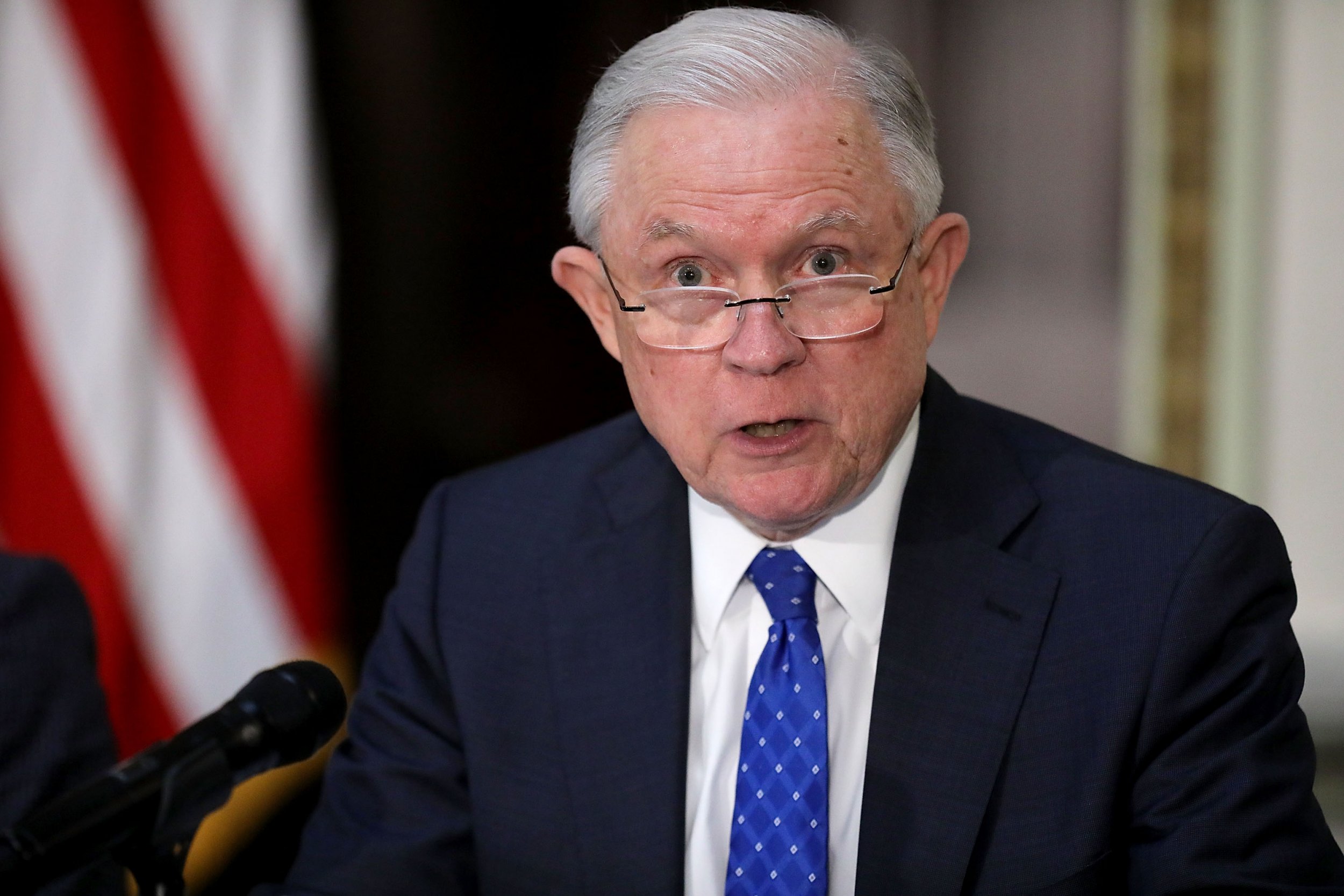 President Donald Trump said Thursday that Attorney General Jeff Sessions's job will be safe at least until after the midterm elections in November, a claim that could signal the possible end of the president's ongoing feud with his top law enforcement officer.
Trump's comments to Bloomberg came as he has continued to call out the former Alabama senator for recusing himself from the Russia investigation and not protecting the president or showing loyalty.
"I would just love to have him do a great job," Trump said of Sessions.
The president also touched on the possibility of pulling the U.S. out of the World Trade Organization if it did not "shape up," and that he did not have any regrets in appointing Jerome Powell as chairman of the Federal Reserve.
Trump has repeatedly blamed Sessions for the appointment of special counsel Robert Mueller to head the probe into Russian interference in the 2016 election and possible collusion between the president's campaign to win the White House.
The president has taken to Twitter to chastise Sessions for not investigating former political foe Hillary Clinton's private email server, as well as what Trump has claimed was bias within the FBI and Justice Department against his campaign and administration.
Trump has railed against Mueller's probe as a "rigged witch hunt" while his attorneys have continued to negotiate with the special counsel's office over a possible interview. The president's attorneys and other allies have advised Trump against such an interview, claiming it could be a "perjury trap."
Sessions has been labeled as "beleaguered" and "weak" by Trump over the last year, and last week while speaking with Fox News the president said that he had "put in an attorney general who never took control of the Justice Department."
In a rare rebuke of Trump, Sessions defended himself, stating: "I took control of the Department of Justice the day I was sworn in. While I am attorney general, the actions of the Department of Justice will not be improperly influenced by political considerations."
Trump's claim about Sessions's job status appeared to reflect comments made by Senator Lindsey Graham of South Carolina.
"The president's entitled to an attorney general he has faith in, somebody that's qualified for the job, and I think there will come a time, sooner rather than later, where it will be time to have a new face and a fresh voice at the Department of Justice," Graham told Bloomberg last week.
However, Graham also said it was unlikely Trump would oust Sessions until after the midterms.
Dismissing Sessions prior to the midterms could be politically radioactive for Trump. The president would be unlikely to find a replacement and have them confirmed by the Senate before the critical elections, and Democrats could use the potential firing as a rallying cry claiming Trump is merely trying to obstruct Mueller's probe by inserting a more loyal attorney general who could end the Russia investigation.