Trump Says Losing to Biden Would Mean 'Maybe I'll Have to Leave the Country'
President Donald Trump mocked the coronavirus measures at events held by Joe Biden and joked that if he lost to the Democratic nominee, he might have to "leave the country."
During his rally in Macon, Georgia on Friday, Trump made fun of the Covid precautions at Biden events, saying it would be "impossible to catch anything at one of those circles because you are so far away," to laughter from his supporters.
"But I never joke about it, I mean don't think it's necessary for Sleepy Joe," he added, saying that at his events, "there are no people there and the few people that are there are, what, 50 yards away?"
Swiping his hand across his face to signify the size of a mask, he continued: "and the mask is always so large you know it covers the whole face," to more laughter.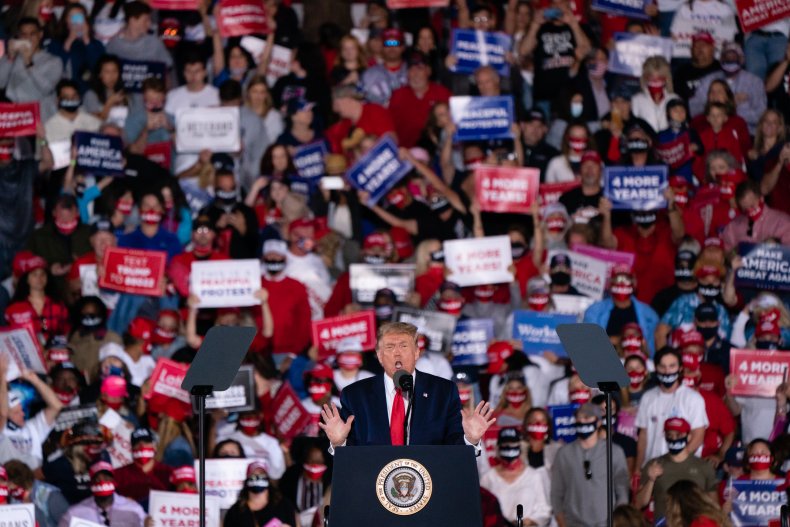 "I shouldn't joke, because you know what? Running against the worst candidate in the history of presidential politics puts pressure on me.
"Could you imagine if I lose? My whole life, what am I gonna do? I'm gonna say I lost to the worst candidate in the history of politics. I'm not gonna feel so good. Maybe I'll have to leave the country, I don't know."
"Biden will deliver pessimism, poverty and decline," he added.
The anti-Trump group the Lincoln Project was quick to react to Trump's comments, sharing a clip of his comments with the tweet: "Promise?"
It was not the first time that Trump has described, albeit jokingly, what he might do should he be defeated by Biden on November 3. At a rally in North Carolina in September, he said, "If I lose to him, I don't know what I'm going to do. I will never speak to you again."
A clip of that statement was shared by the Biden campaign, with the tweet: "I'm Joe Biden and I approve this message."
Back in 2016, Trump said that if he did lose, "I don't think you're ever going to see me again, folks. I think I'll go to Turnberry and play golf or something."
Meanwhile a poll released on Friday, shows Trump and Biden neck and neck in Florida, with both candidates each getting the backing of 48 percent of respondents, and with four percent of people still undecided.
Trump enjoys the support of 59 percent of white voters, while Biden got the majority backing of black voters and Hispanics in the crucial state, according to The Hill/Harris poll.
The graph below provided by Statista shows the fundraising efforts of former Vice President Joe Biden.