Donald Trump and Joe Biden Finally Agree on Something
If abortion was the defining issue of the 2022 midterm elections, Social Security and Medicare—and candidates' plans for it—already looks to be emerging as the third rail that will define the presidential race in 2024.
Republicans who once called for reform—or outright elimination of the programs—feigned outrage when President Joe Biden said "some" members wanted to gut Social Security and Medicare during his State of the Union address on Tuesday, a seeming recognition of the 96 percent rate of support among Americans toward Social Security in a 2020 AARP survey.
"So we're all in agreement?" Biden asked after he received a rain of boos from the Republican conference. "Social Security and Medicare is off the books now?"
That, as it's turning out, means everyone: including Biden's chief political rival, former President Donald Trump.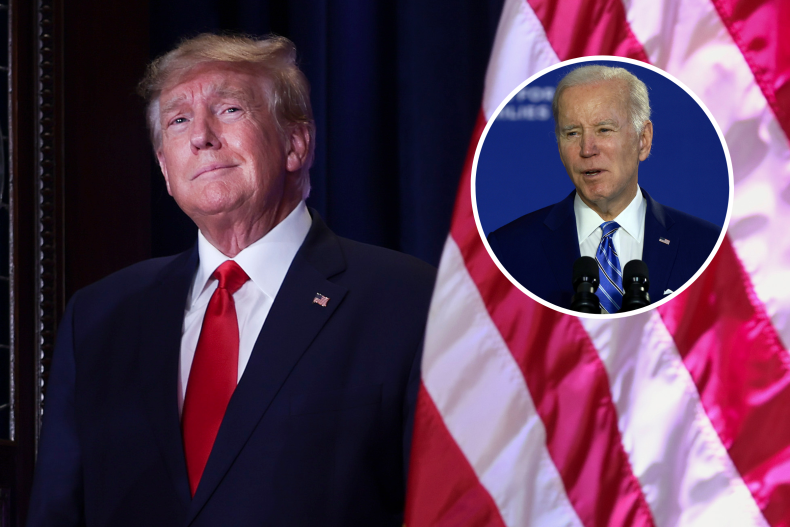 Now a candidate once again, Trump formally made his opposition of cuts to both programs a part of his 2024 platform as early as last month Politico reported, unequivocally stating in a video message from his campaign that Republicans should not vote to "cut a single penny from Medicare or Social Security" amid broader conversations of spending cuts to address the national debt.
"Cut waste, fraud and abuse everywhere that we can find it and there is plenty there's plenty of it," the former president said. "But do not cut the benefits our seniors worked for and paid for their entire lives. Save Social Security, don't destroy it."
Newsweek has reached out to Trump's team for comment.
In doing so, Trump—who once described Social Security as a "Ponzi Scheme," but left both programs untouched during his administration—has sought to outflank the rest of the Republican field early in an effort to secure his party's nomination next year over potential candidates like Florida Governor Ron DeSantis, who once expressed support for privatizing Social Security and Medicare during his 2012 run for Congress, according to a report by CNN on Thursday.
The Florida governor, who has not announced if he is running for president in 2024, has already been targeted by Trump after he posted video of DeSantis praising onetime House Speaker Paul Ryan, whose political decline during the Trump administration came amid his efforts to replace Medicare with private insurance vouchers.
Meanwhile, other potential hopefuls in the 2024 presidential race like former Vice President Mike Pence, have already shouldered attacks from groups like the Democratic National Committee (DNC) for proposals to partially privatize Social Security.
Top figures in the GOP are scrambling, however, to counter the narrative that they want to cut both programs—even though one of the last budget proposals authored by the Trump administration included billions of dollars in cuts for both.
In a Thursday night radio interview, Senate Minority Leader Mitch McConnell knifed Republican rival Senator Rick Scott for his proposal of a 12-point plan that would require Congress to reauthorize Social Security and Medicare every five years, saying: "This is a bad idea."
"This was clearly the Rick Scott plan, it is not the Republican Plan. And that's the view of the Speaker of the House as well," McConnell said. "I think we're in a more authoritative position to state what the position of the party is than any single senator."
The Kentucky Republican added: "I think it will be a challenge for him to deal with this in his own reelection in Florida, a state with more elderly people than any other state in America."