Donald Trump and Joe Biden Neck and Neck in 2024 Presidential Polling
New polling figures show President Joe Biden and former President Donald Trump neck and neck in a 2024 matchup.
A poll released by Grinnell College and Seltzer & Company on Wednesday found that Biden and Trump each had the support of 40 percent of likely voters.
Another 14 percent said they would vote for "someone else" while four percent said they were unsure and another percent said they would not vote.
Both candidates appeared to have the majority support of their parties, with 87 percent of likely Democrats backing Biden and 80 percent of likely Republicans backing Trump.
While neither Biden or Trump have officially announced a bid for 2024, Trump is teasing a return to the White House and has recently made several stops across the country to endorse Republican candidates for the 2022 midterms.
The new poll also indicated that Biden may be losing his grip over the independent voters who helped secure his win last November.
"In 2020 exit polling, President Biden won independent voters by a 54 percent to 41 percent margin," said J. Ann Selzer of Selzer & Company. "If the election were held today, our poll shows former President Trump winning that group 45 percent to 28 percent. It is a massive shift in a demographic that helped carry Biden to victory less than two years ago."
This news comes as Biden's approval rating continues to fall among Americans. The poll, conducted between October 13 to 17, found that only 37 percent of Americans approve of the job Biden is doing while 50 percent say they disapprove.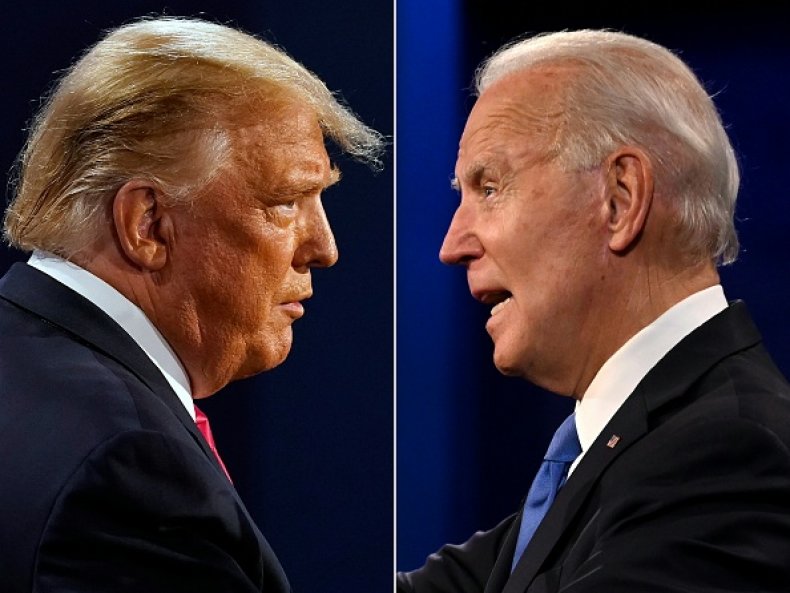 "Right now, the math is simple: a majority of Americans believe the economy will be doing worse in 12 months than it is today, and that pessimism is keeping President Biden's approval ratings in the basement," Grinnell College National Poll Director Peter Hanson said.
"The president has time to turn his political fortunes around," Hanson added. "But if it doesn't happen soon, Democrats are likely to face a serious reckoning in the 2022 midterm elections."
Republicans will be looking to flip both the House and Senate in the midterms and the growing number of congressional Democrats who have announced they won't be seeking re-election may make it an easier feat for the GOP.
There are also a number of other prominent Republicans who seem to have expressed ambitions to run for the GOP presidential nomination in 2025, including Florida Governor Ron DeSantis, former Secretary of State Mike Pompeo, former Vice President Mike Pence and former ambassador to the United Nations Nikki Haley.
The poll surveyed 735 likely voters and has a margin of error of 3.6 percentage points.