Donald Trump Will Sign Bill Bearing John McCain's Name as He Continues to Mock Senator Dying From Cancer
President Donald Trump will sign a bill into law Monday that bears the name of John McCain, whom he has continued to attack and mock even as the veteran senator battles an aggressive form of cancer.
Trump is scheduled to participate in a signing ceremony for the John S. McCain National Defense Authorization Act. The 2019 military funding bill was named in tribute to the former prisoner of war and chair of the Senate Armed Services Committee.
"I am particularly humbled that my colleagues chose to designate legislation of such importance in my name," McCain said when the Senate passed the bill in his absence earlier this month.
"Serving on the Senate Armed Services Committee has been an incredibly meaningful experience, since my first days on Capitol HilI have found high purpose in the service of a cause greater than self—the cause of the women and men in uniform who defend America and all she stands for. That is why it has been one of the greatest honors of my tenure in the U.S. Senate to serve as its chairman."
McCain concluded: "I look forward to the president quickly signing it into law."
McCain will likely receive more tributes during Monday's signing ceremony, although it remains to be seen whether Trump will join in with the praise.
Since the early days of the 2016 presidential campaign, when McCain criticized Trump's inflammatory rhetoric on immigration, the president has publicly slammed the Arizona senator.
Notably, just weeks after launching his campaign, Trump said McCain wasn't a "war hero" because "he was captured," and he liked "people that weren't captured."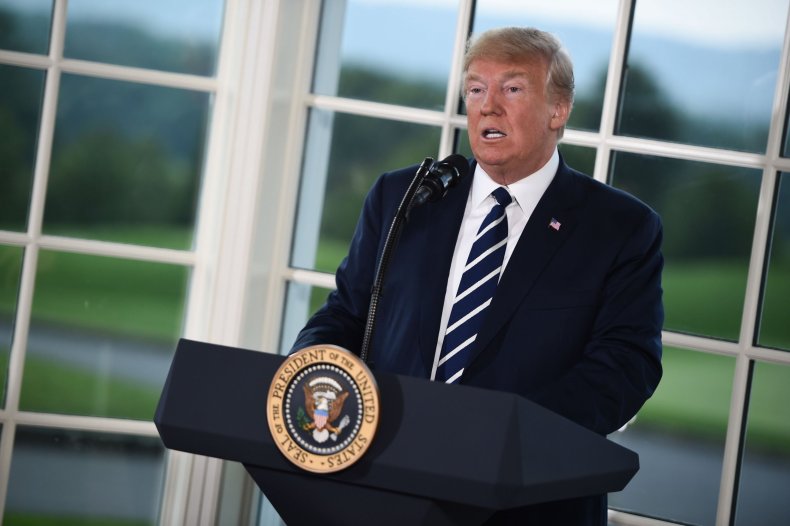 Trump's criticism intensified after McCain delivered the final blow to the president's attempt to get a skinny repeal of Obamacare through Congress last July. In a widely shared moment, Trump stepped onto the Senate floor and made a thumbs-down gesture. The gesture has since been repeatedly imitated and mocked by Trump at campaign rallies, even as McCain has been at home in Arizona battling brain cancer since December 2017.
Trump has not mentioned McCain by name, but it is clear that he holds the senator responsible for the failure to repeal Obamacare.
"Not nice. That was not nice," Trump said at a rally in June after re-enacting McCain's vote.
His comments received a sharp rebuke from McCain's daughter, Meghan McCain. "And it never stops being gross," the co-host of The View tweeted.