Donald Trump Won't Attend John McCain's Funeral, Spokesman Confirms, While Obama, Bush Will Give Eulogies
President Donald Trump will not attend John McCain's funeral, a spokesman for the late senator said Monday, while the president's predecessors Barack Obama and George W. Bush will deliver eulogies.
"The president will not be, as far as we know, attending the funeral," McCain spokesman and former campaign manager Rick Davis said at a press conference in Phoenix. "That's just a fact."
The Arizona Republican senator and veteran died Saturday afternoon, a day after his family announced he would discontinue treatment for the brain cancer he had been battling since it was diagnosed in July 2017. Before he died, McCain had quietly asked that Trump not attend his funeral, The New York Times reported. The president had repeatedly mocked the senator, who had cast the decisive vote that killed the attempt to repeal Obamacre, even through his illness.
McCain, in a farewell statement read by Davis that appeared to take aim at Trump, seemed to get the last word, though:
"We weaken our greatness when we confuse our patriotism with tribal rivalries that have sown resentment and hatred and violence in all the corners of the globe," McCain wrote in his letter. "We weaken it when we hide behind walls, rather than tear them down, when we doubt the power of our ideals, rather than trust them to be the great force for change they have always been.
"If only we remember that and give each other the benefit of the presumption that we all love our country, we will get through these challenging times," McCain wrote. "We will come through them stronger than before. We always do."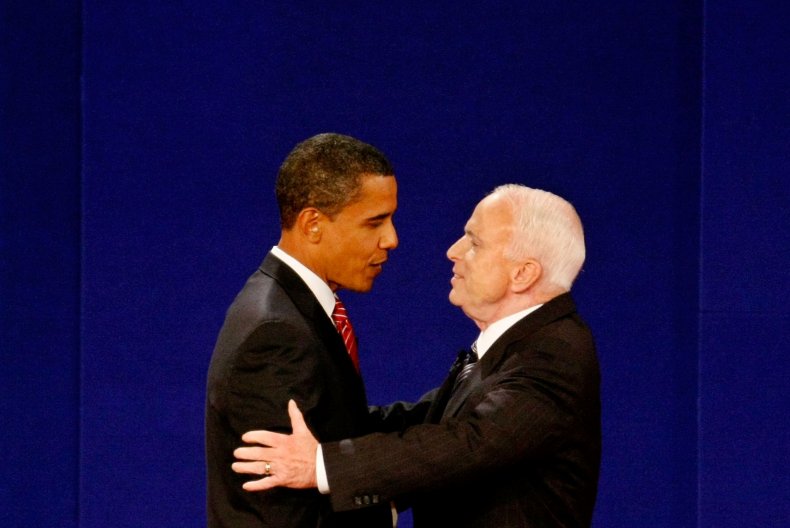 Trump on Saturday night acknowledged McCain's death on Twitter. He expressed his condolences to the McCain family but paid no tribute to McCain.
"My deepest sympathies and respect go out to the family of Senator John McCain. Our hearts and prayers are with you!" Trump tweeted.
McCain requested that Obama, whom Trump has similarly continued to bash, and Bush give eulogies at his service at the National Cathedral. Joe Biden, Obama's vice president, will speak at a separate service in Arizona to honor McCain. All three men were at one time political opponents of McCain. Obama and Biden defeated the McCain-Palin ticket in the 2008 presidential election, while Bush came out on top in the 2000 Republican presidential primary.
Vice President Mike Pence will represent the Trump administration at a ceremony for McCain at the U.S. Capitol Rotunda on Friday, Davis said.
Reports broke out in May that McCain would invite Pence instead of the president to attend his funeral service. Republican Senator Orrin Hatch called McCain's reputed wish to exclude Trump "ridiculous" at the time.
"He's the president of the United States. He's a very good man," Hatch said. "But it's up to John. I think John should have his wishes fulfilled with regard to who attends his funeral."
Trump did not attend former first lady Barbara Bush's funeral in April. His wife, first lady Melania Trump, went instead.