Donald Trump Says John McCain's 'Book Bombed' in Meeting 6 Months After Senator's Death: Report
President Donald Trump at a private lunch with television anchors on Tuesday before his State of the Union speech reportedly mocked late Republican Senator John McCain for his book sales—and the senator's daughter Meghan McCain quickly fired back.
Trump recounted John McCain's vote against a measure to repeal Obamacare, a move he considered a betrayal, and is still upset, The New York Times reported Tuesday.
"By the way," Trump reportedly said, "he wrote a book and the book bombed."
John McCain died in August at the age of 81. He began serving in the Senate in 1987 and in his last term challenged Trump on multiple issues. McCain cast a deciding "no" vote on repealing former President Barack Obama's landmark health care program, and Trump has repeatedly mocked him by reenacting his thumbs down motion.
In his lifetime, John McCain penned more than a half dozen books. His latest one, The Restless Wave: Good Times, Just Causes, Great Fights, and Other Appreciations, was published in May and was a reflection of his life.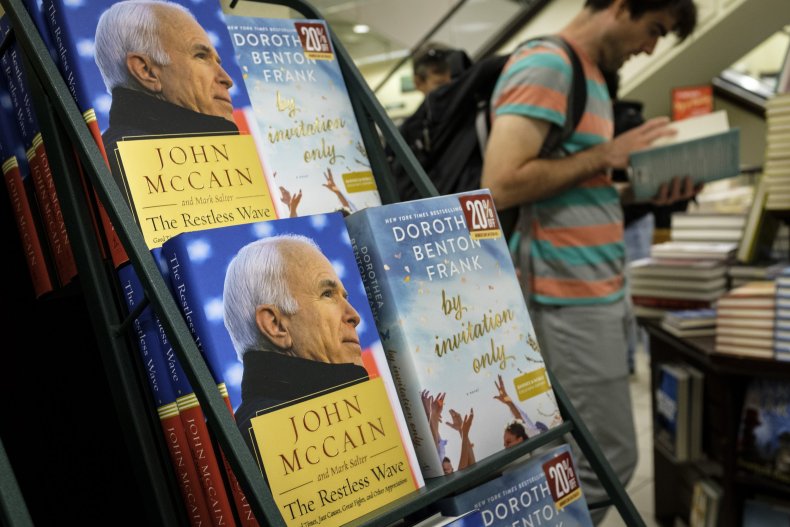 Meghan McCain, a co-host on ABC's The View, slammed Trump after hearing what he allegedly said.
"The presidents obsession with my father 6 months after his death is pathetic and telling," she tweeted. "Even at a time when he should be focusing on his message to the American public and the state of our union - the greatness of my father's life and legacy haunts you."
Trump did not attend John McCain's funeral. On Twitter, Trump acknowledged his death and expressed condolences to the McCain family, but did not pay a tribute to the senator.
In his farewell letter, McCain appeared to take shots at Trump.
"We weaken our greatness when we confuse our patriotism with tribal rivalries that have sown resentment and hatred and violence in all the corners of the globe," the letter read. "We weaken it when we hide behind walls, rather than tear them down."
At the lunch, Trump apparently bashed mostly Democrats. He reportedly called former Vice President and potential 2020 presidential candidate Joe Biden "dumb," and Senate Minority Leader Chuck Schumer a "nasty son of a bitch."
Trump also reportedly said that Virginia Governor Ralph Northam was "choking like a dog" at a press conference explaining a racist photo found in his medical school yearbook. The president reportedly said of Senator Elizabeth Warren, "I hope I haven't wounded Pocahontas too badly. I'd like to run against her."
The White House did not immediately respond to a request for comment from Newsweek on Tuesday night.