Donald Trump Wouldn't Say Whether John McCain Would Have Been Better President Than Barack Obama
President Donald Trump refused to comment on whether John McCain would have been a better president than Barack Obama, though he has a "very strong opinion" on the matter.
"I don't want to comment on it," the president told Bloomberg in an interview at the White House on Thursday. "I have a very strong opinion, all right."
Trump continued, joking that White House press secretary Sarah Huckabee Sanders, who was in the room during the interview, was having a "nervous breakdown" over his response to the question.
"Maybe I'll give you that answer some day later," the president added.
The comment came as memorial services for John McCain are being held this week in Arizona, Washington D.C. and Annapolis, Maryland. The late senator passed away in his Arizona home on August 25 after a year-long battle with brain cancer. McCain was first diagnosed with glioblastoma in July 2017 and his family announced just a day before his death that he was ending all medical treatment for the disease.
While serving over three decades in Congress, first in the House and then in the Senate, McCain ran for president twice. In 2000 McCain launched his first presidential bid but ended up losing the Republican Party's nomination to George W. Bush.
Eight years later, McCain embarked on another presidential campaign, this time securing the party's nomination over Ron Paul during the primaries. McCain then went head-to-head against Barack Obama, but came out second best to the Democrat by 192 electoral votes. In his concession speech, McCain urged Americans to work together and see beyond party lines, telling the crowd that Obama "will be my president."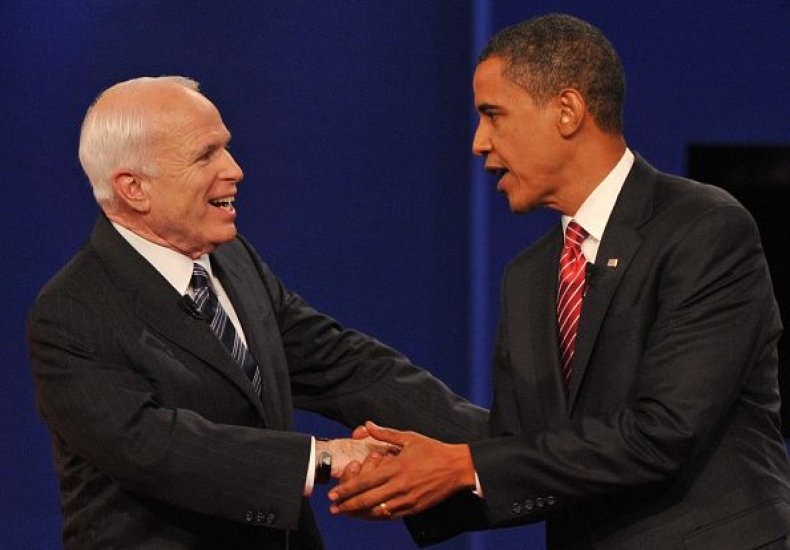 Trump has received criticism from both sides of the aisle over his reaction to McCain's death. The president, who has a history of attacking the late senator over his vote against Republican efforts to repeal and replace Obamacare, waited two days before releasing a full statement paying tribute to McCain.
In the remarks, in which Trump said that he respected McCain's service to the country, it was revealed that Trump would not be attending any of the memorial services being held for the senator.
The president had the flags at the White House lowered on the night of McCain's passing, but they were raised back to full-staff within 48 hours. The action was met with outcry from Democrats and Republicans before the White House lowered the flags once more.
While reports have claimed that the president was not invited to the funeral services, an invitation was extended to the two men who ended McCain's White House ambitions. Presidents Obama and Bush will eulogize McCain during his funeral service at Washington's National Cathedral on Saturday.
Both men have already released statements after McCain's passing. Bush called the senator a "patriot of the highest order, a public servant of rarest courage." Obama commented on McCain's bipartisan efforts in Congress, writing that "we shared, for all our differences, a fidelity to something higher—the ideals for which generations of Americans and immigrants alike have fought, marched, and sacrificed."