Donald Trump Continued to Attack John McCain in the Same Week Senator Announced He Was Stopping Medical Treatment
Donald Trump continually criticized John McCain right up until the ailing senator announced that he was ending medical treatment for brain cancer.
The Twitter announcement came from the McCain family on Friday morning, stating that while the congressman has "surpassed expectations for his survival" over the past year since his diagnosis, the disease has continued to progress. He has now decided to stop seeking treatment.
Trump's latest attack on the senator and Navy veteran came during a rally in West Virginia on Tuesday night. It was a tumultuous day for the White House as two of the president's former confidants, Michael Cohen and Paul Manafort, were deemed guilty of federal crimes. But Trump chose to bash McCain again for his health care vote nearly a year ago.
"I will tell you, it is being chipped away," Trump said of Obamacare during his speech. "You know, we had it beaten, but one man—I'm sure nobody knows who I'm talking about—voted no, shockingly. Really surprising to a lot of people, because he campaigned on repeal and replace, but we've really knocked it out, including the individual mandate."
McCain voted against conservatives twice on legislation to replace the Affordable Care Act. In his first vote against the proposal, McCain had just returned to the Senate floor after receiving brain surgery for a tumor.
Trump has continually mocked the senator, with the attacks becoming near nonstop since the health care vote. During his presidential campaign, then-candidate Trump bashed McCain for becoming a prisoner of war while serving in the Navy during the Vietnam War.
"He's not a war hero. He's a war hero because he was captured. I like people who weren't captured," Trump said.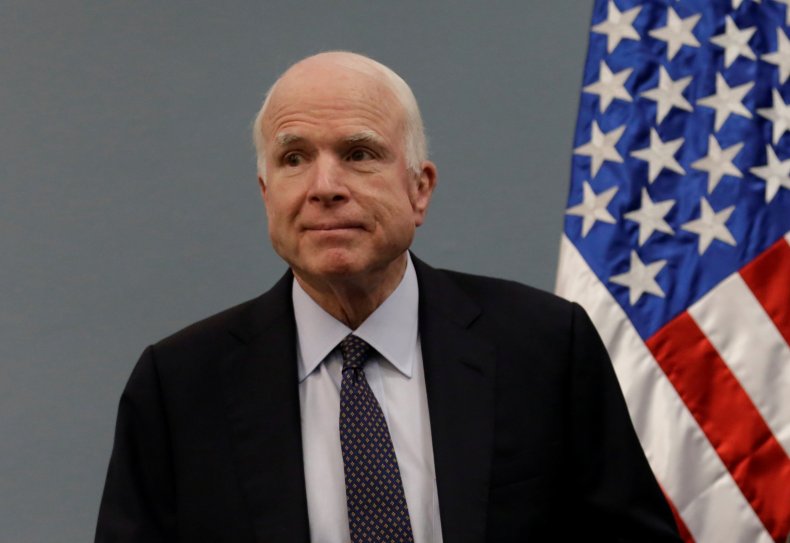 Directly after the controversial health care vote, Trump took to Twitter to express his disappointment in the longtime lawmaker. In a series of posts, Trump accused McCain of letting Arizona down and betraying his fellow Republicans in Congress.
Since then, Trump has denounced McCain at rallies and events across the country. At a conservative conference in February, Trump imitated the senator's thumbs-down vote, saying, "What happened? What was that all about? Who was that? I don't know, I don't know, I don't want to be controversial so I won't use his name. What a mess."
Then, at a rally in Nashville in May, Trump told the crowd that McCain's vote "cost our country a lot. That was a very, very terrible thing that happened that night."
In June, White House aide Kelly Sadler was let go after dismissing McCain for having brain cancer. Sadler had reportedly said during a meeting that they didn't need to worry about McCain's opposition to Trump's pick for CIA director because "it doesn't matter, he's dying anyway."
The White House fired Sadler but never apologized for or addressed the comment.
This past month, the largest defense spending bill in over a decade was signed and named in honor of McCain. But when Trump put his signature on the legislation and addressed a crowd of military members at Fort Drum, he did not mention the senator once.
McCain has hardly been a staunch supporter of Trump either. The senator bashed the president for his performance with Russian President Vladimir Putin in Helsinki, calling it "one of the most disgraceful performances by an American president in memory."
Meghan McCain, the senator's daughter, has said that she is "never going to forgive" Trump for his attacks on her father.
"[Trump's] comments are never going to be OK with me, especially at this moment in my life. I'm never going to forgive it," she said while accepting an award on behalf of her father in June. "I'm never going to move on from it."