Joseph Schmitz, Donald Trump's Foreign Policy Adviser, Left the Pentagon Amid Controversy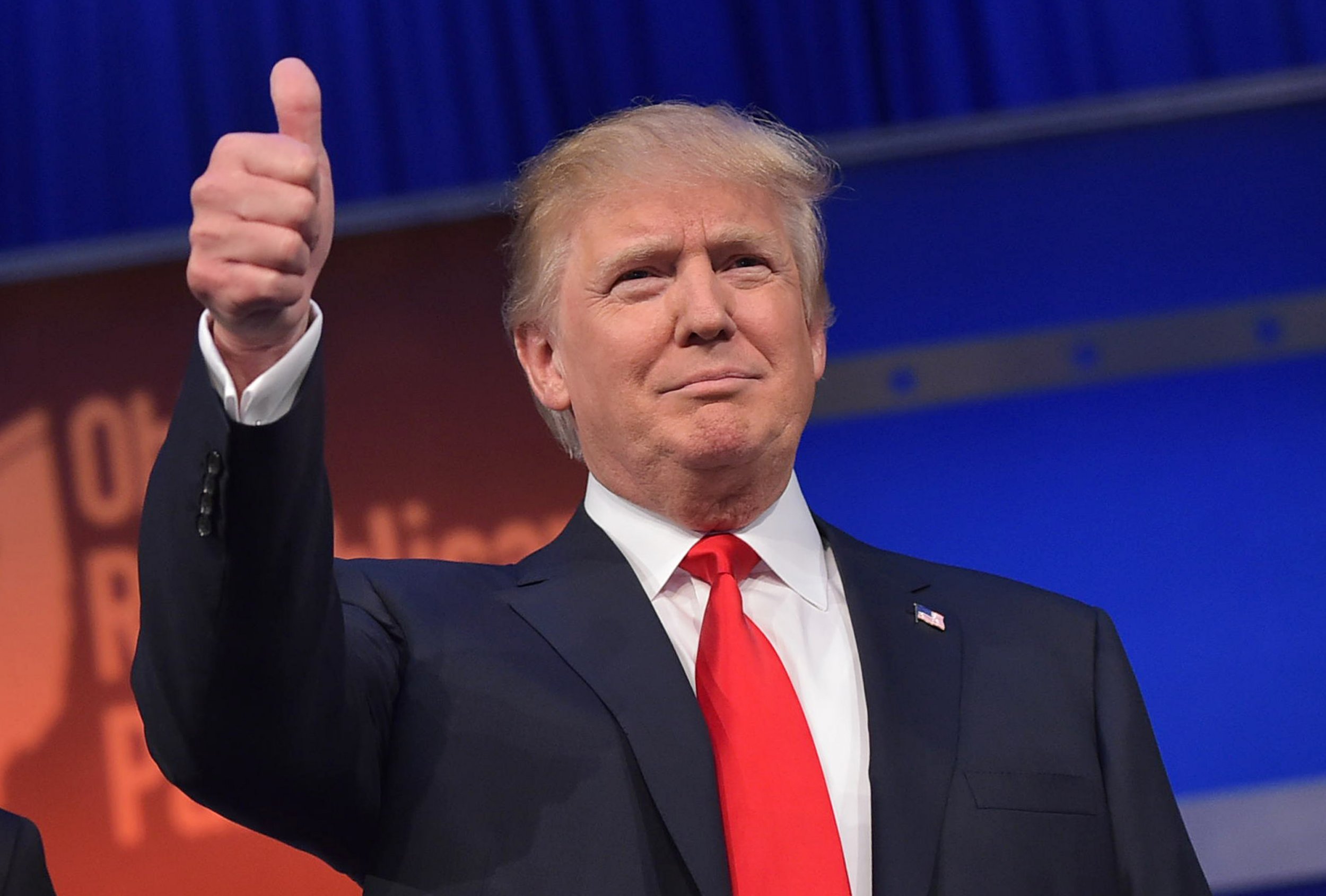 Updated | Joseph Schmitz, named by Donald Trump as a key foreign policy adviser on Monday, left his job as the Pentagon's top watchdog 11 years ago, amid accusations that he protected top officials in the George W. Bush administration suspected of wrongdoing.
Trump, the Republican front-runner for the presidential candidacy, named Schmitz as one of his five top foreign policy advisers during an editorial meeting at The Washington Post on March 21. The group will be chaired by Republican Senator Jeff Sessions of Alabama.
Schmitz's rocky three-and-a-half-year tenure as the Defense Department's inspector general ended in September 2005 amid a barrage of attacks questioning his leadership, mostly notably from Senator Charles Grassley, the long-serving Iowa Republican who has championed whistleblower rights at the Pentagon. Grassley, then-chairman of the Senate Finance Committee, accused Schmitz of blocking investigations of Bush administration officials tied to Iraq and Afghanistan war contracts and questioned his ties to lobbyists. Schmitz also drew scrutiny for naming L. Jean Louis as his chief of staff. Louis was a bank investigator who gained notoriety for raising accusations, later discredited, against Bill and Hillary Clinton during the Whitewater scandal.
Schmitz argues that Grassley's many accusations are false and that he gave notice of his resignation in September 2004, long before any of the public allegations against him had surfaced. He underscored that a high-level review board, the President's Council on Integrity and Efficiency, later cleared him of wrongdoing in 2006. And though he claims his resignation had nothing to do with Grassley's allegations, before he resigned in September 2005, accusations were swirling that he had downplayed troubling relationships between Bush appointees and defense contractors—as well as the torture scandal at Abu Ghraib prison in Iraq.
"Schmitz slowed or blocked investigations of senior Bush administration officials, spent taxpayer money on pet projects and accepted gifts that may have violated ethics guidelines, according to interviews with current and former senior officials in the inspector general's office, congressional investigators and a review of internal e-mail and other documents," The Los Angeles Times reported in 2005.
In May 2006, the Project on Government Oversight (POGO), a nonpartisan watchdog in Washington, D.C., noted that Schmitz "resigned under a cloud of allegations that he had allowed inappropriate political interference in a Boeing tanker lease investigation by the White House, as well as other politically sensitive investigations."
Republican Senator John McCain was particularly incensed by the Boeing leases and related deals, calling them "a textbook case of bad procurement policy and favoritism to a single defense contractor." Schmitz's review "concluded that Pentagon officials broke laws and regulations of the matter," according to a contemporary report in The Washington Post. But Virginia Senator John Warner, a Republican and the chairman of the Armed Services Committee, noted that his report deleted 45 references to senior White House officials involved in the affair. Senator Carl Levin, the panel's top Democrat, said Schmitz's report had "critical gaps" that "have placed a cloud over it—indeed, over the inspector general's office," the Post reported. (The President's Council on Integrity and Efficiency found no wrongdoing on Schmitz's part "in the matters under review," and through a lawyer, Schmitz claimed the Boeing affair was among those matters.)
The Boeing affair wasn't the end of controversy surrounding Schmitz, whose job had put him in charge of eliminating waste, fraud and abuse in Pentagon programs. When he resigned as inspector general, he took a job with the Prince Group, the parent company of Blackwater USA, the controversial defense contractor whose operatives killed 17 civilians in Baghdad in 2007.
In September 2005, POGO's executive director, Danielle Brian, excoriated Schmitz's move to Blackwater. "The inspector general is a standard-bearer for ethics and integrity for the Pentagon," she told The Washington Post. "To see a person who has been holding that position cash in on his public service and go work for one of their contractors is tremendously disappointing."
In 2008, Schmitz reportedly argued that a lawsuit against a Blackwater subsidiary brought by widows of U.S. servicemen killed in a 2004 crash of one of its planes in Afghanistan should not go forward in the United States because it took place in a country where Sharia law largely predominates, and where, conveniently, it "does not hold a company responsible for the actions of employees performed within the course of their work," according to a report by Jeremy Scahill in The Nation. (Speaking through a lawyer, Schmitz denied he made this argument.)
A Naval Academy and Stanford Law School graduate, Schmitz grew up in Washington, D.C., the son of a far right–wing Southern California Republican congressman and 1972 presidential candidate whose views were too extreme for the conservative John Birch Society, which expelled him.
During his time as inspector general, Schmitz revealed a fascination with Germany, in particular the Prussian militarist Baron Friedrich Wilhelm von Steuben, whose service to General George Washington during the Revolutionary War earned him the moniker of being the U.S. military's first inspector general. "Schmitz even replaced the official inspector general's seal in offices nationwide with a new one bearing the von Steuben family motto," The Los Angeles Times reported. When Grassley complained about Schmitz's plans to travel to Potsdam, Germany, at taxpayer expense in 2005 to speak at a ceremony commemorating Baron von Steuben, the inspector general decided to cancel the trip, according to reports at the time.
Scahill also reported in his 2008 book, Blackwater: The Rise of the World's Most Powerful Mercenary Army, that on his official biography Schmitz proudly listed his membership in the Sovereign Military Order of Malta, "a Christian militia formed in the eleventh century, before the first Crusades, with the mission of defending 'territories that the Crusaders had conquered from the Muslims.'"
Another new Trump foreign policy adviser, Walid Phares, is connected to anti-Muslim sentiments and causes. A Lebanese Christian, Phares served as a top adviser to a Christian militia blamed for atrocities during the Lebanese Civil War, according to investigative reporter Adam Serwer. "He was also a close adviser to Samir Geagea, a Lebanese warlord who rose from leading hit squads to running the Lebanese Forces," Serwer wrote for Mother Jones magazine in 2011. At the time, Phares was a counterterrorism adviser in Republican Mitt Romney's presidential campaign.
Trump previously suggested he didn't need any foreign policy advisers. "I'm speaking with myself, number one, because I have a very good brain, and I've said a lot of things," the candidate said March 16 on MSNBC's Morning Joe.
After naming his advisers on March 21, however, Trump said he had "quite a few more" he would announce in coming days.
"But that's a group of some of the people that we are dealing with," he told The Washington Post. "We have many other people in different aspects of what we do. But that's a pretty representative group."
Corrections: The headline of this article has been updated to better reflect the accuracy of the piece. A previous version of this story said that Schmitz was "forced to resign." The text has been charged to reflect that Schmitz tendered his resignation in September 2004, nine months before multiple allegations questioning his stewardship of the inspector general's office began to surface. An earlier version of this story also said that Schmitz was "forced" to cancel a trip to Potsdam Germany in 2005 due to complaints by Senator Charles Grassley. The text has been changed to reflect that Schmitz chose to resign after Grassley's complaints. An earlier version of this story also said that as a lawyer for a Blackwater Worldwide in 2008, Schmitz argued that suits against the company related to the killing of civilians in Baghdad should not go forward in the United States "because the shootings took place in Iraq, where Islamic Sharia law predominates." That case involved a suit against a Blackwater subsidiary by widows of U.S. soldiers who died in a plane crash in Afghanistan, not Iraq. A previous version of this story said that POGO's executive director, Danielle Brian, excoriated Schmitz's move to Blackwater in an article in The Washington Post in 2006. Brian excoriated Schmitz in a quote in the Post article from 2005. We regret these errors.
The story has also been updated to include a denial by the former Pentagon inspector general that he made the argument about Sharia in the Blackwater case. This update also includes an account of a Senate Armed Services Committee hearing in June 2005 that criticized Schmitz's handling of a controversial Boeing tanker leases deal. Finally, this update includes Schmitz's claims that the Boeing affair was part of "the matters under review" by the President's Council on Integrity and Efficiency, which found no wrongdoing on Schmitz's part.