Donald Trump Jr. Accuses Democrats of Using 'Gestapo Tactics,' Calls Impeachment Proceedings 'Kangaroo Court Stuff'
Donald Trump Jr., the president's eldest son, this week accused Democrats of using "Gestapo tactics" against his father "to try and overturn an election because they don't like the results" amid rising partisan tensions over an impeachment inquiry into President Donald Trump.
During his appearance on Premiere Radio Networks' The Sean Hannity Show on Monday, Trump Jr. called the Democrat-led impeachment inquiry "kangaroo court stuff" and "Soviet-era tactics."
"It's being pushed out there by the quote unquote 'party of tolerance,' they're not so tolerant when you don't agree with them, they're far from it, frankly, there's nothing less tolerant than a leftist who's preaching tolerance," Trump Jr. said. "And we've seen all of that, so the whole thing is crazy and the fact that the media is totally complicit in it."
"They won't question the process or say 'is this even remotely fair that the President can't ask questions, can't have his counsel present?'" he added. "This is Gestapo tactics used against the duly elected President of the United States of America to try and overturn an election because they didn't like the results."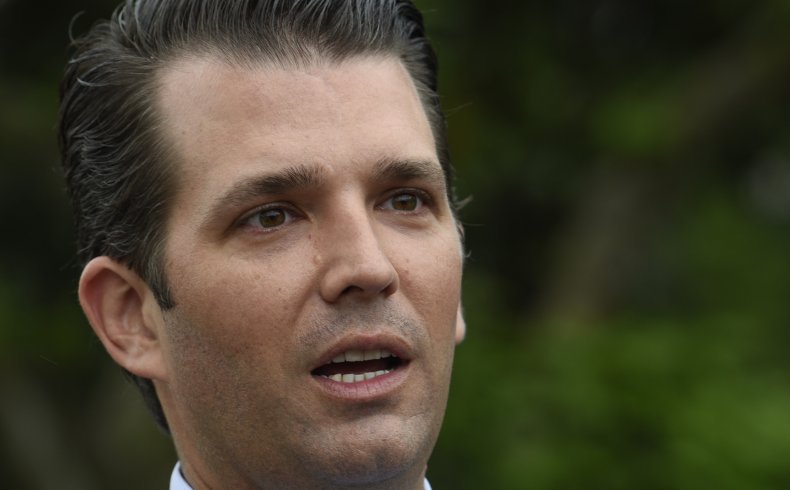 Earlier in the show, Hannity, a staunch supporter of Trump, railed against Fox News polling for being unfavorable towards the president. "I believe—Trump doesn't poll well, and I don't know what's up with the Fox poll," he said. "I look at their poll, I'm like, okay, you're sampling—oversampling Democrats by eight points. I'm like—some outside company they hire, I'm like, okay, they need new methodology because it's really wrong."
Later on Monday, at a rally in Lexington, Kentucky, the president accused Democrats of creating a "deranged hyper partisan impeachment witch hunt" and warned that if the left gained power, then the U.S. would "have a depression that likes of which you've never seen." "Mark my words," Trump added.
The House impeachment inquiry centers around a July phone call made between Trump and Ukrainian President Volodymry Zelensky, during which the U.S. leader asked his foreign counterpart to probe the family of 2020 frontrunner former Vice President Joe Biden. House Speaker Nancy Pelosi announced the impeachment inquiry in late September after news emerged detailing a complaint filed by a whistleblower who was concerned about the conversation.
Trump has repeatedly dismissed the inquiry and claimed there was no quid pro quo in his exchange with Zelensky. Despite the president's denial of wrongdoing, some Republicans have condemned his actions, but most stopped short of calling it an impeachable offense.
"The president should not have raised the Biden issue on that call, period. It's not appropriate for a president to engage a foreign government in an investigation of a political opponent," GOP Senator Rob Portman told The Columbus Dispatch.
Donald Trump Jr. Accuses Democrats of Using 'Gestapo Tactics,' Calls Impeachment Proceedings 'Kangaroo Court Stuff' | U.S.