Donald Trump Jr. Says His Father 'Regifted All of the Things' Monogrammed for Him Because They Have the Same Name
Donald Trump Jr. admitted that his father, President Donald Trump, is a regifter. He knows firsthand, because he has received things monogrammed for the president on numerous occasions.
"I'm the namesake, so I got regifted all of the things that were monogrammed for him at times," Trump Jr. told Extra TV this week.
What's worse, Trump Jr. said that his father may have once regifted a present Don Jr. gave to him the previous year.
"There was one Christmas where he may or may not have given me the gift that I had given him the year before because I monogrammed it," the first son said. "And I'm like, 'I know you didn't get this,' 'How do you know that?' 'Because I gave it to you last year.'"
Trump Jr. added that he has not had much personal time with his father since he entered the White House, and that he looks forward to "getting him one-on-one and hanging out" during the holidays at the president's Mar-a-Lago resort in Palm Beach.
"It's going to be interesting," Trump Jr. said.
He also put his father, who is combative on social media and in press conferences, in a positive light.
"If you think my father is funny on TV, you should see him around the holiday table, when everyone is vying for the food," Trump Jr. said.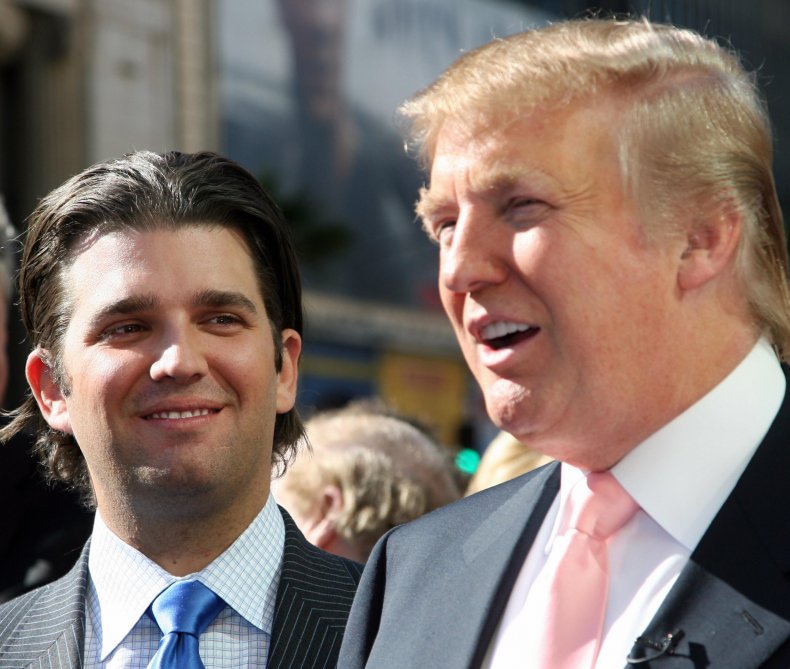 Trump Jr. has not had the closest relationship to his father, unlike his sister Ivanka Trump.
Donald Trump was hesitant to name his first son after himself, the president's first wife Ivana Trump wrote in her memoir Raising Trump. "You can't do that!" Donald Trump apparently said when she proposed the idea: "What if he's a loser?"
Trump Jr. was 12 years old when the couple divorced and reportedly did not talk to his dad for a year. Trump Jr. has become a burden of sorts to his father in recent months, due to his participation in a 2016 Trump Tower meeting with a Russian lawyer who promised damaging information on Democratic presidential candidate Hillary Clinton. Special Counsel Robert Mueller continues to examine that meeting, and Trump Jr. has reportedly told friends he expects to be indicted.
But the president's appreciation for his eldest son appears to have grown, as Trump Jr. has campaigned for his father and been one of his biggest defenders on social media.
"Don's gotten really good. My people love him," the president said in August while watching his son speak on Fox News, according to The Washington Post.