Donald Trump Jr. and Kellyanne Conway Lose Secret Service Protection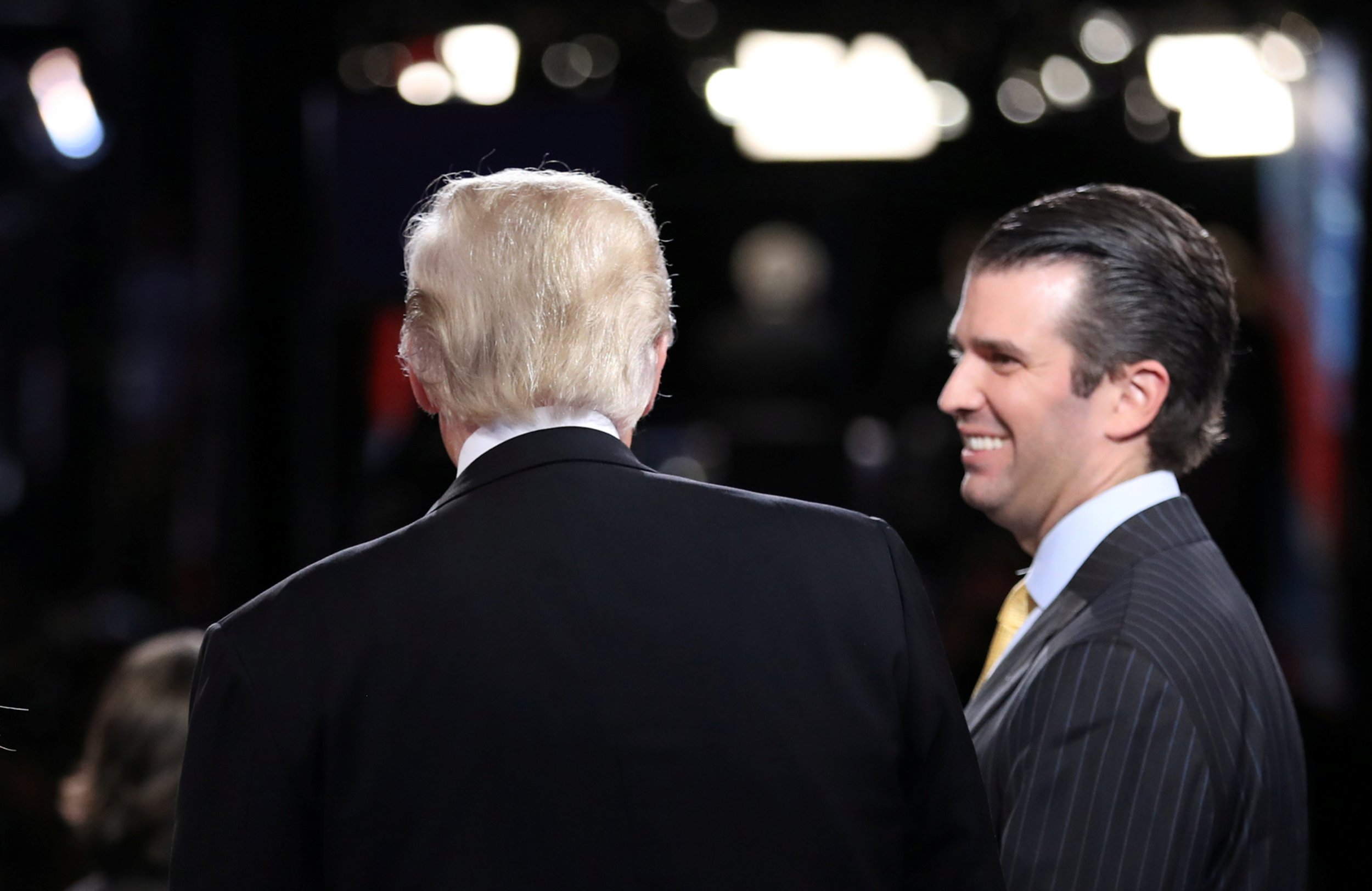 The president's son Donald Trump Jr. and senior White House adviser Kellyanne Conway will no longer be protected by the Secret Service, offering relief to the agency's stretched budget.
The president's oldest son has elected not to be protected by the agency, which stopped following him last week, as he seeks more privacy, a senior Trump administration official told The New York Times.
Trump Jr. has told friends that he wants more privacy than what is available under a 24-hour security detail, two sources briefed on the decision told The Washington Post Monday.
Secret Service spokeswoman Catherine Milhoan declined to comment on whether Trump Jr. and his wife and five children will continue to be protected. "To ensure the safety and security of our protectees and their families, we will not confirm who is currently receiving Secret Service protection," Milhoan told the Times.
Trump Jr. heads the Trump Organization with his brother Eric Trump, and the two have received Secret Service protection as they travel the world brokering real estate deals in far-flung places. The two traveled together for a ribbon-cutting ceremony at a Trump-branded golf course in Dubai this spring and later to the opening of a new Trump hotel in Vancouver, Canada.
Related: White House staff worried colleagues are spying for Trump-Russia investigation's Robert Mueller
Eric Trump has also visited Uruguay and the Dominican Republic. His trip to Uruguay cost the Secret Service close to $100,000 for hotel rooms alone.
By law, the Secret Service must protect the president's extended family. But the size of Trump's family and their responsibilities as top executives have stretched that budget. President Trump has around-the-clock protection for 42 people—including 18 family members—compared with 31 under Barack Obama.
At the end of August, Secret Service director Randolph Alles told USA Today that more than 1,000 of his agents have hit federally mandated caps on their salary and overtime. The funds were supposed to last the entire year.
It's not only Trump's children but the president himself who has taken a big bite out of the Secret Service's resources. During his first seven months in office, Trump took multiple trips to his Mar-a-Lago resort in Florida and golf club in Bedminster, New Jersey, as well as a trip to Trump Tower in New York City. Trump's seven trips to Florida cost about $3 million each, making his combined travel costs nearly on par with what Obama spent during eight years in office.
In response, Congress is looking at bumping up overtime pay caps for Secret Service agents this year and in 2018.
Conway will also lose protection from the Secret Service. This, however, is in response to changing threat assessments, an official briefed on the decision told the Times. Conway, who is a counselor to President Trump, received several threats after the inauguration.
The Secret Service has said it will run out of money to cover the cost of protecting the president and his family by the end of September.
The agency will be tested this week as its agents are being flown to New York City from across the country to protect nearly 150 foreign heads of state at the United Nations General Assembly.