Donald Trump Jr. Bashes Democratic New York Officials Over Trashed NYPD Vehicle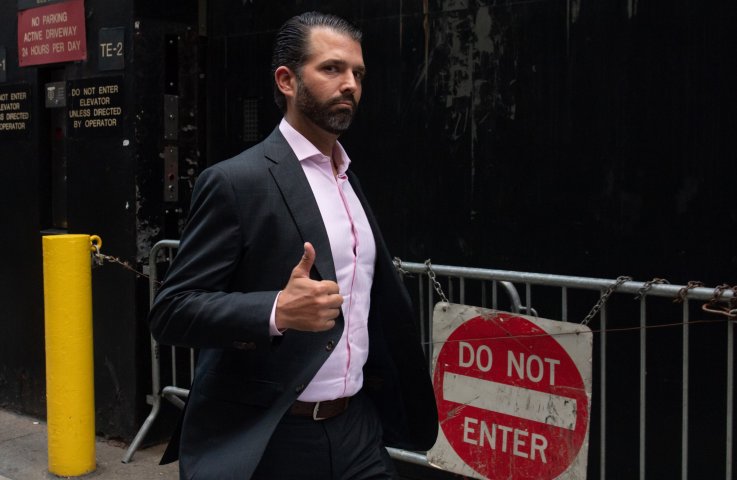 The president's oldest son took to Twitter Sunday to share a video of New York City police cleaning up trash that had been dumped on one of their vehicles, an incident that he connected to several Democratic New York politicians and what he views as their poor governance of the state.
Donald Trump Jr., son of President Donald Trump, shared a video of an incident that occurred on the night of October 31 during which New York Police Department (NYPD) vehicle was covered in garbage in Brooklyn.
The video the younger Trump shared was a cell phone video taken Halloween night. In the video, two uniformed officers can be seen removing cardboard boxes, eggs and other refuse that had been dumped on their car while some passerby taunt them. At least one other person can be seen also recording the police on a cell phone.
"This is what happens in the 'hood," someone in the video Trump shared could be heard saying. "Police get trash."
Another man yelled at the police, "Trick or treat!" followed by an expletive.
"A lot of people call 911 in this neighborhood," one of the police officers said in the video. "They're holding us up," he continued, referring to the trash that they had to clear before continuing their patrol.
WCBS-TV reported that other than being dirtied by the trash, the police vehicle was undamaged.
When he shared the phone video of the incident, Donald Trump Jr. ascribed blame for the show of disrespect to the NYPD to mishandling of the city and state government by Democratic politicians, including Governor Andrew Cuomo, Mayor Bill de Blasio and Senator Chuck Schumer.
"This is what the great 'leadership' of Gov Andrew Cuomo, Mayor DeBlasio, and Cryin Chuck Schumer has brought to New York," Trump wrote in a tweet published around 9:30 a.m. on Sunday. "Then they seem confused as to why people would be fleeing the state in droves. So woke you're a joke!"
The tweet came amid news that the president is officially relocating his address from New York City to Florida, an act which drew criticism and mocking from some of the people Donald Trump Jr. made jokes about in his tweet, including Schumer.
An article from Bloomberg published on August 29 cited statistical data to say that New Yorkers are currently leaving the area at a higher rate than any other part of the United States.
"New York leads all U.S. metro areas as the largest net loser with 277 people moving every day—more than double the exodus of 132 just one year ago," the article read.
However, New York City remains the most popular destination in the country for immigrants, according to the article.
Writer Jack Kelly, in an article for Forbes published last month, blamed the trend on a number of factors—among them an increased crime rate and businesses moving their bases of operations to the South and Southwest. He also said politicians were partly accountable.
"The politicians don't seem to care. Bill de Blasio, the mayor of New York City, was out of the state—busy with his Don Quixote quest for the presidency of the United States—while New York suffered a major blackout," Kelly wrote. "Alexandria Ocasio-Cortez, U.S. Representative for New York's 14th congressional district, led a movement to stop Amazon from building a second headquarters—a deal that would have created over 10,000 jobs."
Both de Blasio and Cuomo have repeatedly condemned actions that have been deemed disrespectful to New York law enforcement, according to WCBS-TV.
Donald Trump Jr. Bashes Democratic New York Officials Over Trashed NYPD Vehicle | U.S.