Donald Trump Jr. Slams Beto O'Rourke's 'Spastic Rant' After Making False Claim About El Paso Crowd Size
First son Donald Trump Jr. on Wednesday called former Democratic congressman Beto O'Rourke's speech countering President Donald Trump's El Paso rally a "spastic rant" and invited a Trump critic to comment on the Democrat's performance.
Trump Jr.'s critic was Vox journalist Aaron Rupar, who on Monday tweeted a video clip of the first son speaking at his father's rally attacking liberals.
"The left, at this point, you know they're like a caricature of themselves. I see, I see, the Green New Deal. Yeah, we're going to ban airline travel we're going to ban the internal combustion engine," Trump Jr. claimed loudly. "We're going to let people who just don't want to work, we're going to take care of them anyway and it's all going to pay for themselves."
Rupar commented that Trump Jr. "sounds like the annoying guy yelling at you from the next barstool over."
Kurt Schlichter, a columnist for the conservative media outlet Townhall, quote tweeted Rupar's post and wrote, "Like you'd ever be at a bar that didn't involve ferns," and tagged Trump Jr.
Trump Jr. then quote tweeted Schlichter and wrote: "I really look forward to his commentary on Beto's spastic rant... pretty sure he won't put them side by side. #unhinged"
The president's eldest son on Monday night mocked O'Rourke by tweeting a photo of some of the overflow crowd at Trump's event and belittling the crowd size at the Democrat's event.
"Beto trying to counter-program @realdonaldtrump in his hometown and only drawing a few hundred people to Trump's 35,000 is a really bad look," Trump Jr. tweeted. "Partial pic of the Trump overflow crowd below! #AnyQuestions."
Schlichter, a frequent guest on Fox News, on Tuesday quote tweeted an image of O'Rourke's rally that looked lightly attended and commented, "Byreto Fest," a play on the disastrous Fyre Festival.
The conservative columnist also retweeted a clip of Trump Jr. saying at the rally, "You don't have to be indoctrinated by these loser teachers that are trying to sell you on socialism from birth," and, "You can think for yourselves."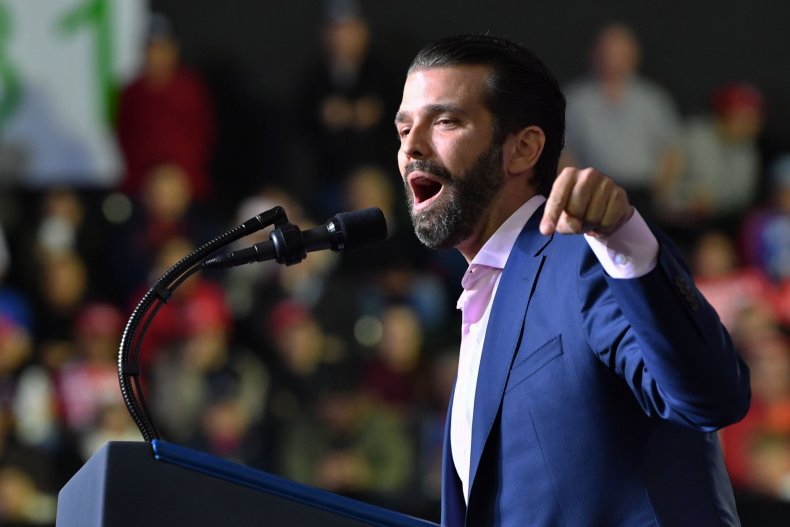 Trump Jr. repeated his father's false claim that only 200 to 300 people attended O'Rourke's rally, while news outlets estimated that 7,000 to 15,000 people attended. The president bragged that 35,000 people went to his rally.
President Trump bashed O'Rourke's rally and crowd size by saying, "What I would say is that may be the end of his presidential bid."
O'Rourke in his speech said that El Paso, his hometown, is "safe not because of walls but in spite of walls."